Toolset's front-end forms include a comprehensive email notifications system. When someone submits a form, it can send notifications to both clients and site admins.
When editing a Toolset form, look in the E-mail Notification section. You can create several notifications for the same form. Each notification has:
A name – to easily identify a notification
An option to enable or disable the notification
An event – when to send the notification
Email destination and source – who receives the notification and who sends it
Subject
Body
Notify when submitting a form
Email notifications work just the same for forms for submitting content or registering users.
When visitors submit a form, Toolset can send a notification email. It's usually a good idea to send an email to the site admin and to the visitor (different notifications for each).
Setting up notifications
In the When to send this notification section, select When submitting the form.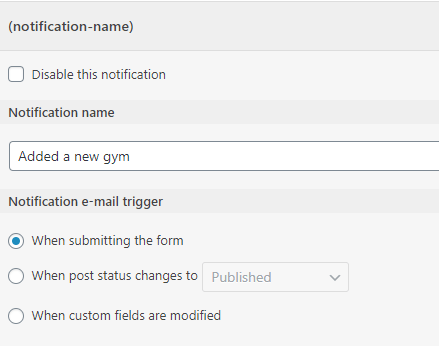 Toolset Forms Commerce note: if you have payments enabled for this form, the notification option changes to notify when going to payment.
Send different notifications to the site admin and visitor
Toolset lets you specify multiple recipients for the same notification email. All recipients will receive the same email and can see each other (except if you select them as BCC).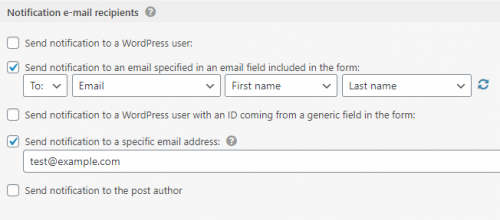 Toolset Forms Commerce note: you will see another option to Send this notification to the billing email.
Normally, you would want to send two different notifications, with different content, to the site admin and the visitor who submitted the form.
The admin notification would tell that there is something new to review. The visitor notification would be a confirmation that their content was submitted or account created and any additional information.
To send different notification emails, you should add new notifications and set each of their destination and content separately. You can create several notifications for the same event.