You can set posts created by Toolset forms to automatically expire after a specified period. This is useful when you have content that can be created by users and you only want the posts to be visible for a specified period.
An example would be a site that accepts adverts from users. The user might pay for placing the ad on the site, and it might only be shown for 30 days.
Enabling Automatic Expiration of Posts
You can enable automatic expiration of posts from the Forms tab, on the Toolset Settings page. You can have posts checked for expiration once hourly, twice daily, or once daily.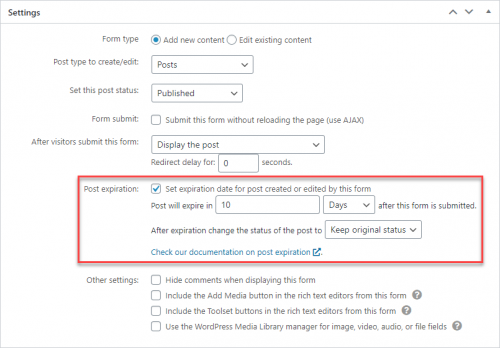 Using Automatic Expiration on Toolset forms
The Toolset form editor has an option in the Settings section for setting an Automatic Expiration Date per form. From here, you can enable automatic expiration for a form and set the expiration time. The expiration time can be set in minutes, hours, days or weeks.
You can also set what happens after expiration. The new post status can be set to the following:
Keep original status
Draft
Pending review
Private
Published
Trash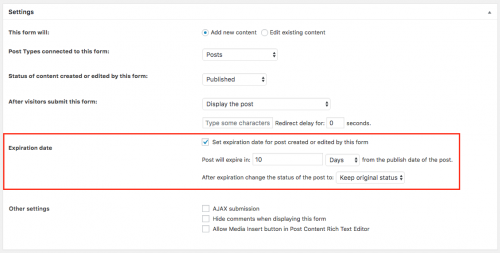 Sending email notifications when posts expire
When you enable automatic expiration for a form, a new option is available in the notifications for the Toolset form. You can choose to send a notification message in an amount of minutes, hours, days or weeks before the post will expire.
In the following image, we notify the user who created the advert that it is going to expire in 5 days.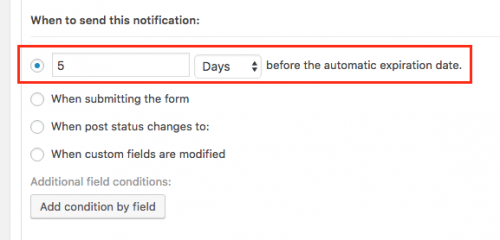 Post Expiration settings in the WordPress post editor
When Forms creates posts that are set to expire, the expiration time is also shown in the post editor.
You can manually change the expiration date and status for each post.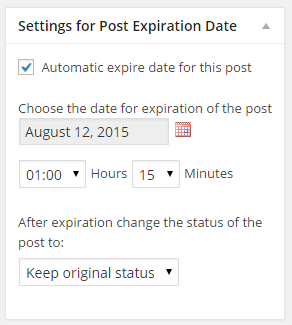 Send feedback to our documentation team