Product forms can include additional WooCommerce fields such as the sale price, SKU, etc. For this, you first need to "register" them with Toolset.
WooCommerce provides many fields for different types of product information. Toolset needs to know the type of each WooCommerce field so that it can include them correctly inside product forms. For this, you need to do a quick registration of such fields.
Steps to enable additional fields in product forms
Go to Toolset → Post Forms.
In the Manage non-Toolset Post Fields with Toolset Forms section click Manage non-Toolset Post Fields.
In the Show fields for dropdown select Products. In the second dropdown select Include hidden fields, and click Apply. Additional WooCommerce Fields appear. If you cannot see any product fields, add at least one WooCommerce product from the back-end and visit the screen again.
Locate the field you want to add, and click Add to register it.
In the pop-up dialog that appears select the type of field, and fill out the additional inputs if needed.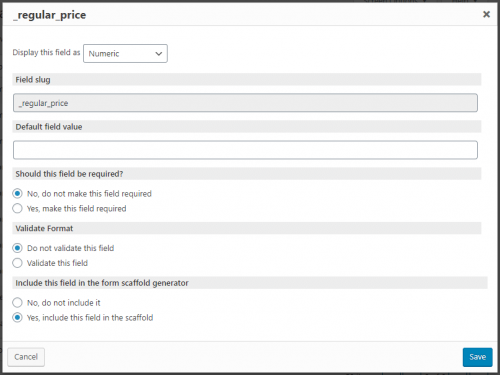 After enabling the additional WooCommerce fields, you can insert them into your Toolset forms. They will appear in the Custom Fields section: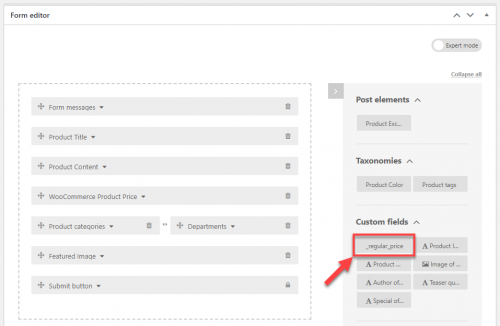 Correct types and default values for product fields
Use the following mapping table to register fields with the correct type and default value.
Checkbox
Value to store when Checked: yes
Checkbox
Value to store when Checked: yes
Radio
Label: Standard Product, Value: (leave empty)
Label: Application, Value: application
Label: Music, Value: music
_sale_price_dates_from, _sale_price_dates_to
Checkbox
Value to store when Checked: yes
Radio
Label: In stock, Value: instock
Label: Out of stock, Value: outofstock
Radio
Label: Do not allow; Value: no
Label: Allow but notify customer; Value: notify
Label: Allow, Value; yes
Checkbox
Value to store when Checked: yes
Single line or Multiple lines
Send feedback to our documentation team