In this lesson you will learn how to design a custom WooCommerce Shop page. You'll start with a blank design and create the layout and content that you need.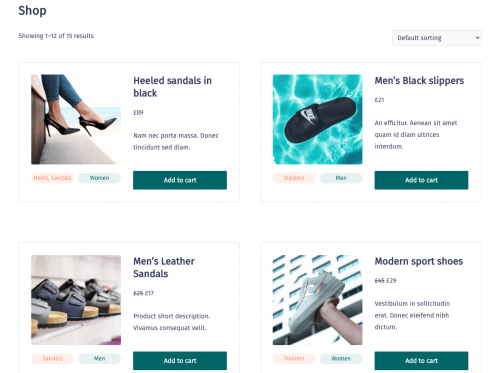 A custom WooCommerce Shop page can include anything that you want. It can be a simple "grid" (like many WooCommerce themes offer), and it can be any other kind of layout that you choose. Choose between a grid, table (great for comparisons), list and even sliders and masonry designs.
Once you're happy with the layout, add fields. You can display all the standard WooCommerce fields, like the product price, add to cart, etc. Then, add custom fields and taxonomy to your shop-page design.
Before you get started, make sure you have the Toolset WooCommerce Blocks plugin active.
Switching from WooCommerce to Toolset Templates for Archives
First, switch your site to use the Toolset template for product archives.
Go to Toolset → WooCommerce Blocks.
In the Product Archive Template File section select the WooCommerce Blocks plugin default product archive template option.
How to Design Your Shop Page
The WooCommerce "shop" page is your site's archive for the Product custom type. We'll need to edit or create this archive.
Go to Toolset → Dashboard and click the Create Archive button in the Products row.
Choose the layout of the archive (shop page).
Insert blocks into the WordPress Archive Loop area to design a single item of your archive.
Use the Toolset Heading and Single Field blocks with dynamic sources to display your product title, excerpt, custom fields, and taxonomies.
Choose blocks from the Toolset WooCommerce section to display WooCommerce elements such as the Add to Cart Button, Product Price, Product Rating, and more. You will notice that all Toolset WooCommerce blocks allow you to select a custom or native output type.
And that's it! Of course, you can upgrade your custom Shop Page with many other Toolset features. For example, you might add a custom product search, display items using a different layout instead of a grid, or apply the same archive to other product categories and archives.
Send feedback to our documentation team