Creating Custom Single-product WooCommerce Templates: Steps to Follow
You can follow the steps on the Toolset & WooCommerce training site, which is free for use.
The appearance of a single-product page is determined by the WooCommerce template and the theme you use.
If you want to create a custom template, first you must disable this WooCommerce default template and tell WordPress to use yours instead.
In the WordPress admin:
Go to Toolset -> WooCommerce Views.
If you cannot see this option, ensure that you have the Toolset WooCommerce Views plugin installed and activated in your site.
In the Product Template File section, select WooCommerce Views plugin default single product template.

6.2: Create new template layout for products
Create a new (blank) "Content Template" for products.
In the WordPress admin:
1. Go to Toolset -> Dashboard.
2. Scroll down to the Custom post types created by the theme and other plugins section.
3. Locate the row for Products.
4. In the Template column, click on Create template.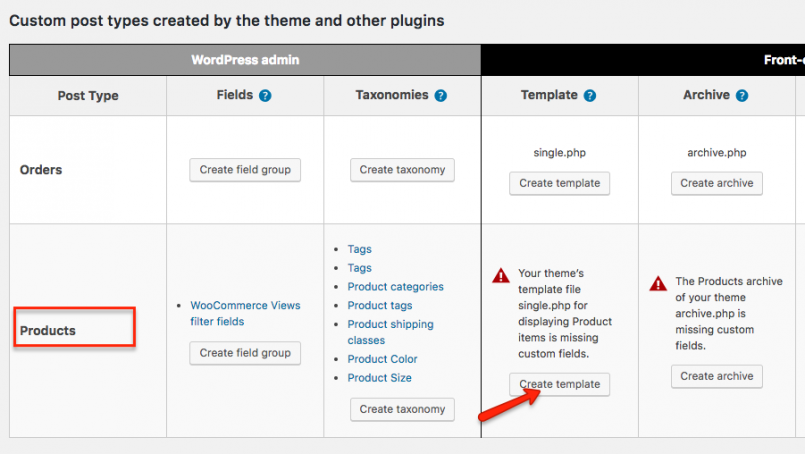 6.3: Add WooCommerce fields and other content
Our template starts as empty and you can add cells to it. These cells will include product fields.
A field can be anything that belongs to the product, including its title, image, description, and price. You can also add an "add to cart" button, custom fields, and even taxonomy.
For WooCommerce templates, you will use the Visual Editor cell most of the time.
Let us add a product image to your layout.
Add a new Visual Editor cell to your layout.
Click on the Fields and Views button.
Jump to the WooCommerce section and click the Product image.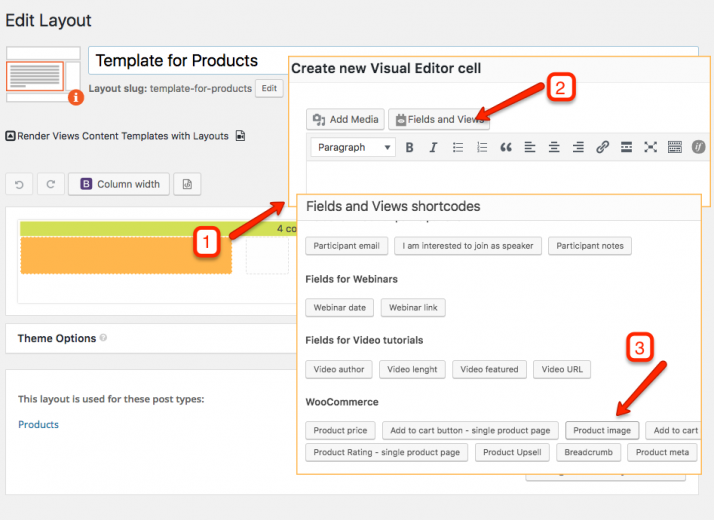 Your fields will be inserted as shortcodes. You can wrap them in additional HTML tags, if necessary.
Repeat the previous steps to insert more fields, such as:
Post title
Post excerpt
Product price
Add to cart button – single product page
Product tabs – single product page
In the next part, you will learn how to add custom fields and taxonomies to WooCommerce product templates.
6.4: Rearrange fields
Once the fields have been added, you can rearrange them by moving them up or down. You can even resize your cells.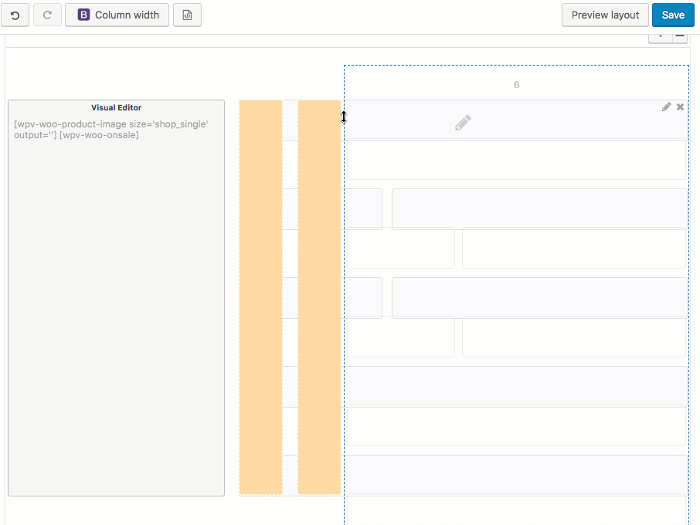 6.5: Style the product template using HTML and CSS
You can add HTML classes and IDs to any element in the template. You can apply styling in different ways. You can add classes:
for the entire row
for the entire cell
or inside Visual cells
Visit the Adding custom styling to a layout documentation page to review the details.
6.6 Summary
In this tutorial, you have learned how to replace the default WooCommerce template for individual product pages with your custom template. You have also learned how to insert WooCommerce product fields in your layout and to style your template.
Showcase
Visit the Toolset showcase by the eCommerce category to see more WooCommerce-based sites customized with Toolset plugins.