Go to the Toolset -> Post Forms page and click the Add New button at the top. A wizard will guide you through the steps.
First, you need to give your form a name.
In the next step, you need to select the main form options. This includes selecting a post type, status of the post created by the form, and other.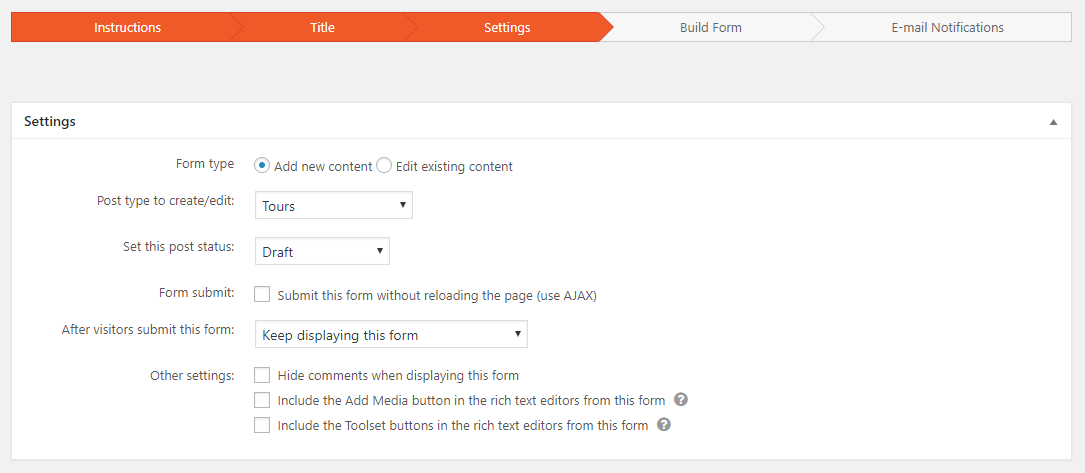 Designing the form
In the next step, you need to design the form's contents. To do this, click the Auto-generate form content button. A dialog will appear, allowing you to select fields for your form.
You can disable and reorder fields. Mandatory form fields cannot be disabled and you will see a lock icon next to them.
When you are done, click Insert and the form contents will be auto-generated.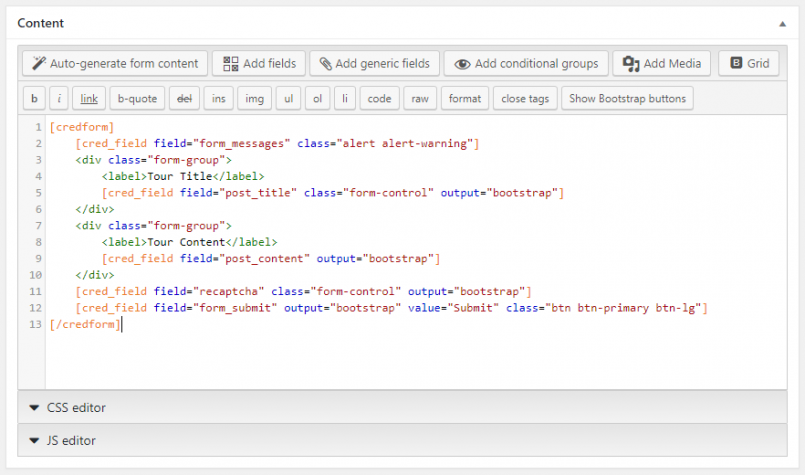 Of course, you can edit the auto-generated content manually. For example, you might insert generic fields into it, display certain sections conditionally, or simply change the labels of the form's inputs.
And if you need to add custom CSS styling or JavaScript to your form, click to expand the sections at the bottom of the Content editor.
E-mail notifications
In the final step of the form-creation wizard, you can add e-mail notifications.
Forms can send notification emails when forms are submitted. For example, if a post created by the form needs to be approved, you need to notify the site's editor or administrator.
You can set up multiple email notifications to different recipients having different content.
Automated Email Notifications With Forms
Displaying Toolset forms
You can insert Toolset forms into any WordPress content. This includes pages, posts and any custom type. When you edit content, click on the Toolset Forms button.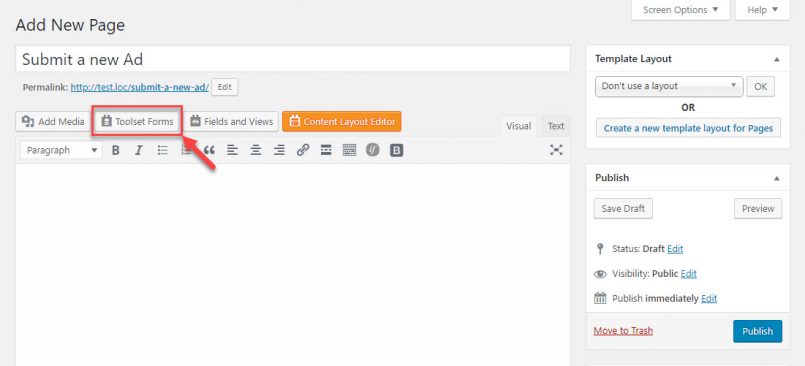 In the pop-up dialog that appears, select the form of your preference.
Displaying forms when using Layouts
If you are using Toolset Layouts to design your content, insert a Post Form cell into your layout and select the form you just created.
Need help?
Go to the Getting Started support page, leave a comment and we will reply to you.
What's next?