With Toolset Forms, you can create content from your website's front-end.
Go to the Toolset → Post Forms page and click the Add New button at the top. A wizard will guide you through the steps.
First, you need to give your form a name.
In the next step, you need to select the main form options. This includes selecting a post type, status of the post created by the form, and other.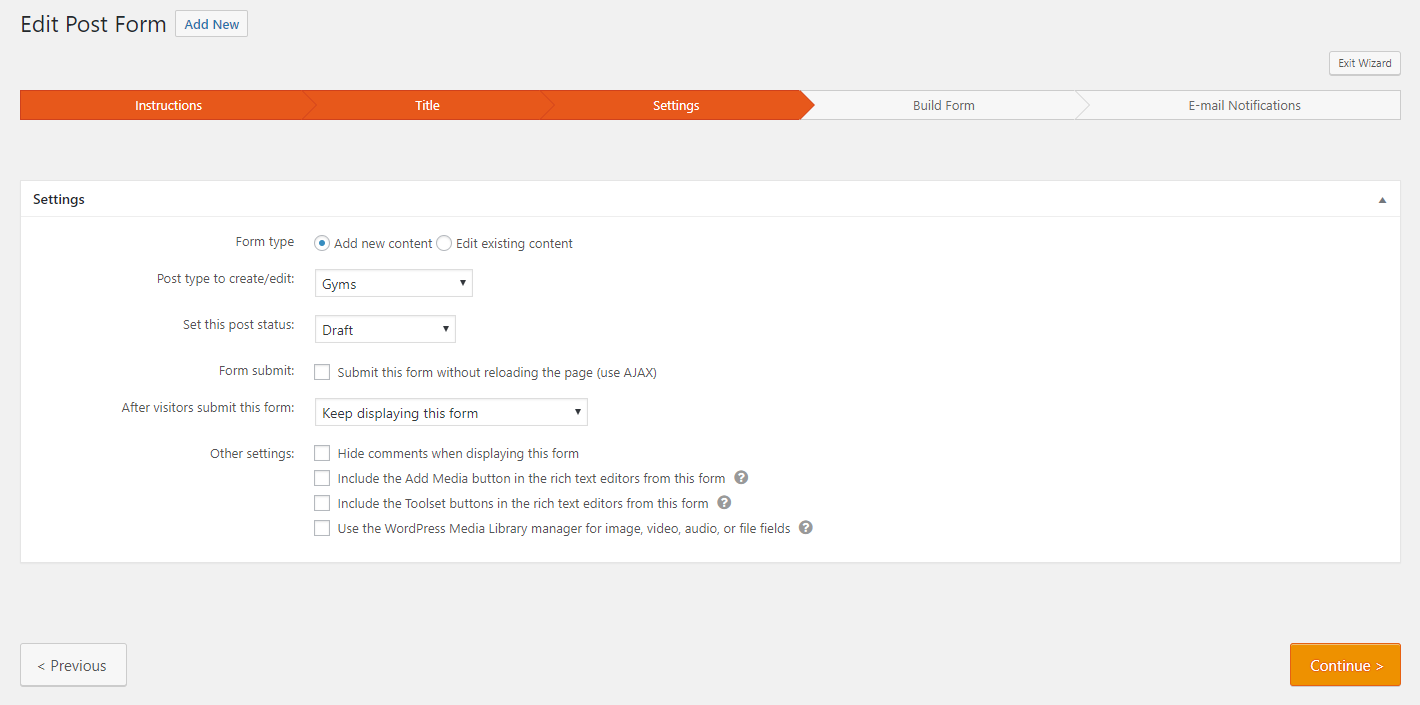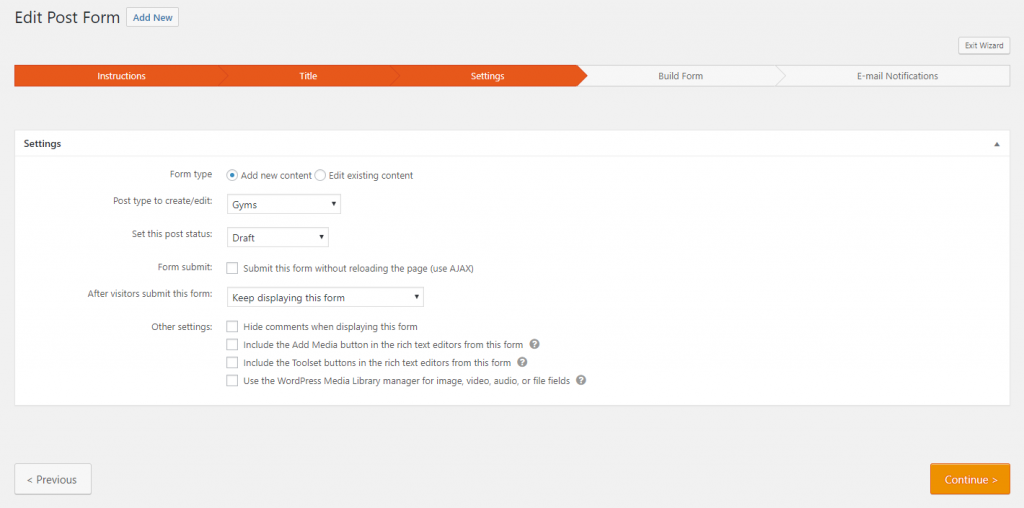 Designing the form
In the next step, you need to design the form's contents. You will see two main areas on your screen:
Form area
Available form fields and elements
Based on the post type you will see that some fields are already added to your form. You can delete and reorder fields. Mandatory form fields cannot be deleted and you will see a lock icon next to them. To add elements to your form simply drag and drop them to the desired location.
Use the Expert mode switch to switch to the markup editor. It allows you to make changes to form's automatically generated HTML code. For example, you might change the labels for the inputs, insert generic fields or display certain sections conditionally.
Please keep in mind that the changes you make in the HTML editor will be lost if you switch back to the Visual editor.
If you need to add custom CSS styling or JavaScript to your form, click to expand the sections at the bottom of the Content editor.
When you are done, click Continue to proceed to the final step.
E-mail notifications
In the final step of the form-creation wizard, you can add e-mail notifications.
Forms can send notification emails when forms are submitted. For example, if a post created by the form needs to be approved, you need to notify the site's editor or an administrator.
You can set up multiple email notifications to different recipients having different content:
Displaying Toolset forms
To display Toolset forms on the front-end, use the Toolset Form block. You can insert it into any WordPress content including pages, posts, and templates.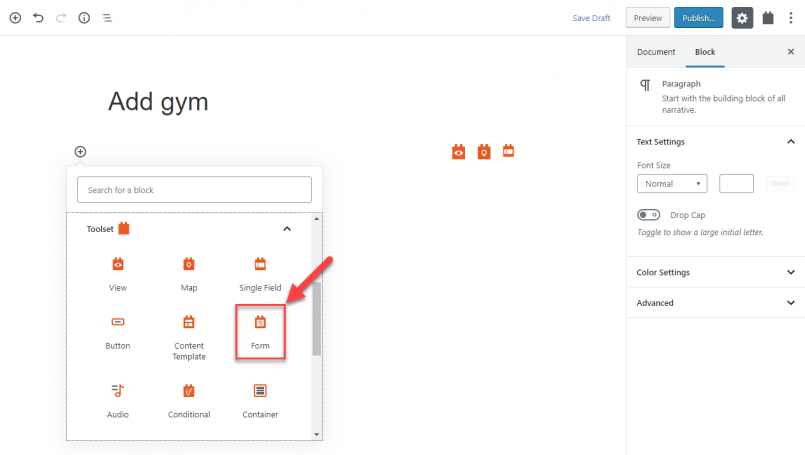 Custom access permissions for Toolset forms
Toolset forms allow users to add new content and users to your site so it is important to define who has permissions to use them. To set access permissions for Toolset forms you need to install and use the Toolset Access plugin.
Go to the Toolset → Access Control page and click the Toolset Forms tab. Click to expand the Post Forms Frontend Access section.
You will see a table that lists all user roles and their access to available front-end forms and permissions.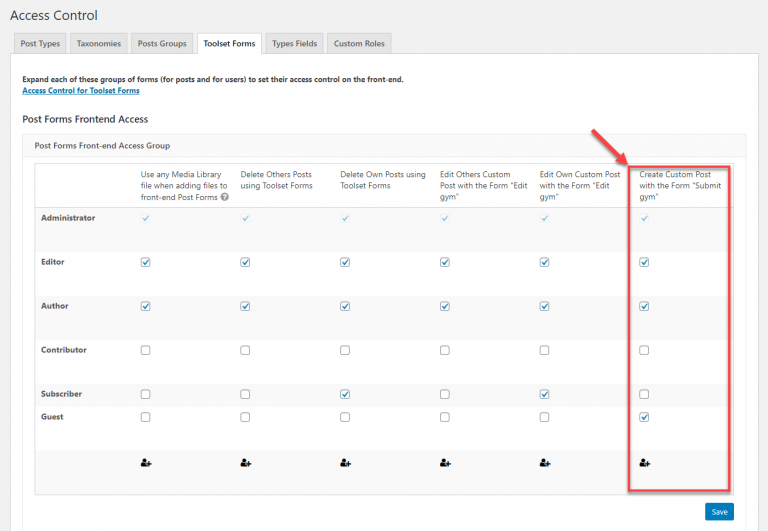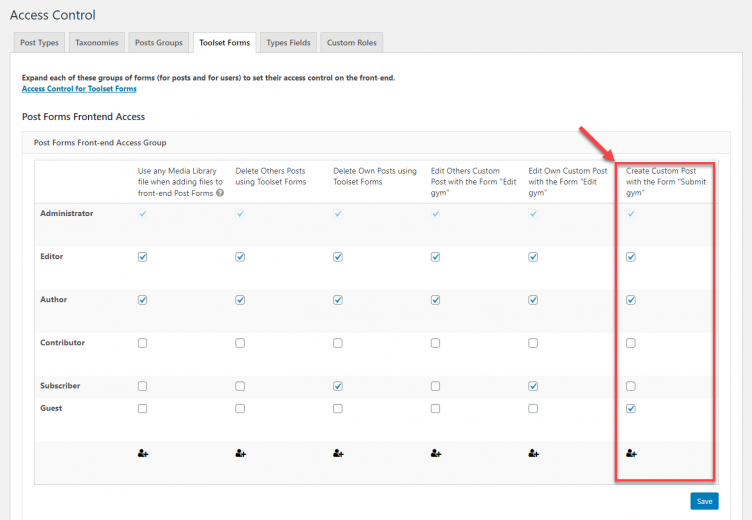 Forms for creating content have only one access column. It determines who can use this form to create new content.
Forms spam protection
You can add Google reCAPTCHA to protect your form from spam. You need to get API key from Google and enter it on the Toolset Settings page. After that, you can add reCAPTCHA field to your forms.
Need help?
If you run into any problems or need our advice, create a new support ticket and our team will be happy to assist you.
What's next?