Toolset Blocks 1.5 Beta – Test the Upcoming WooCommerce Features
Help us test Toolset Blocks 1.5 beta! It brings great new features for WooCommerce sites. This includes assigning templates and archives conditionally, creating archives for specific taxonomy terms, new Stock Management block, Kadence blocks compatibility, and more.
Assign Content Templates Conditionally
You can now set conditions under which Content Templates display for certain content.
Let's say you sell shoes and you have product categories for "Trainers" and "Heels". You can now have a completely different template for displaying single trainer shoes and another one for heels shoes.
When editing a new or existing template you will see a new Set conditions link next to the post types. Click on it and a dialog box will appear for setting the conditions.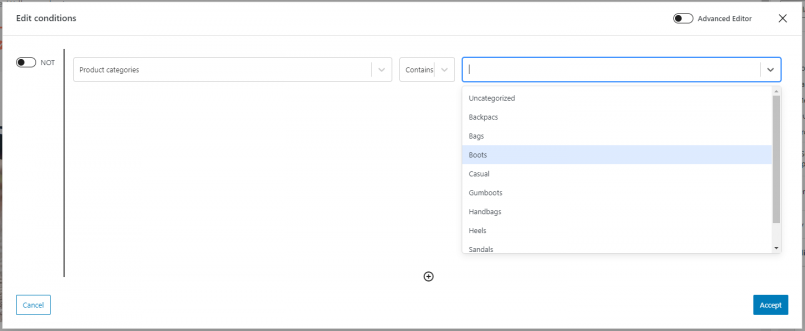 You can select conditions based on the available fields and taxonomies for the given post type.
Sometimes, you might conditionally assign multiple templates to the same content. In this case, you can use the Template Priority field to set the desired priority for the conditional template.
Assign Archives to Specific Taxonomy Terms
So far, you were able to assign archives to a whole taxonomy. Now, you can assign them to specific taxonomy terms.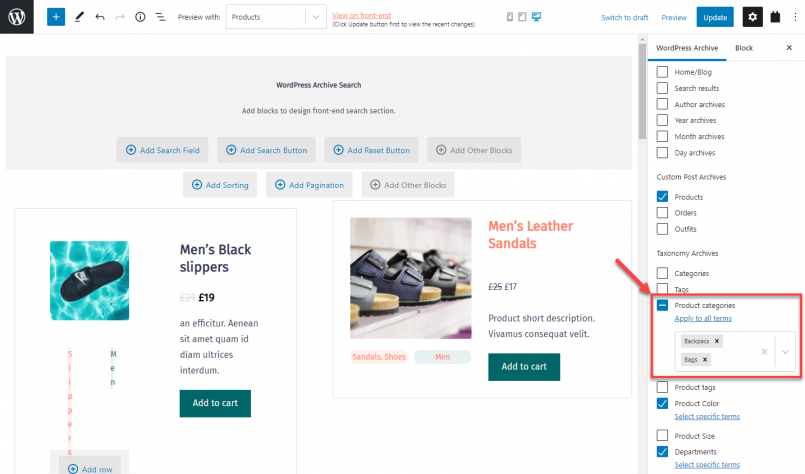 This is especially important for WooCommerce sites because you can now have different product archives for different categories of products.
WooCommerce Features
Besides the two big features listed above, here are the other ones we're introducing in this release.
Search Fields for On-Sale Status or Price
There are two new search fields you can now use in custom searches for products:
Filter products by their price
Filter product by their on-sale status
This is pretty awesome because you can now use a price range filter in custom searches.
Easier Assigning of Templates and Archives to Products
Now, when you create an archive or a template, it's applied. If there is no template or an archive for a particular item, the default WooCommerce templates are used instead.
There is no need to set any additional options on the Toolset → WooCommerce Blocks settings page anymore. Actually, that page became redundant so we removed it.
New Stock Status Block
You can now easily display the stock status of your products. Simply insert the new Toolset Stock Status block.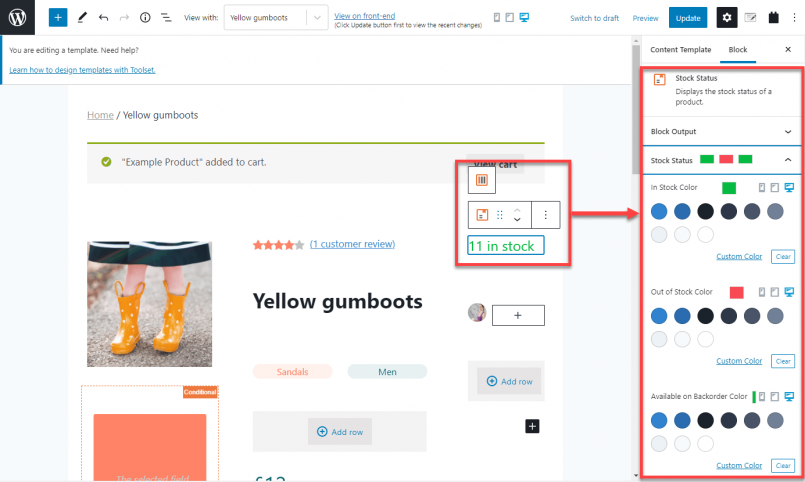 As with all Toolset blocks, you can fine-tune the styling and colors of the block's output.
Please note that to see the number of items in the stock for a product, it needs to have its stock management option turned on.
Use WooCommerce fields in templates, Views, archives and forms
WooCommerce adds a number of custom fields related to Products. Until now, to be able to use these fields in Toolset Forms and Views, you had to register them manually.
Now, all these fields are automatically registered by Toolset and you can simply use them in your front-end forms and Views.
You can even see all the fields and their options just like any other group of custom fields. Simply go to the Toolset → Custom Fields page and click the group named WooCommerce.
WooCommerce Pagination and Sorting Options for Archives
WooCommerce provides its own custom pagination and sorting filter on product listing pages. Both of these features are disabled by default but you can turn them on if needed.
When editing a WordPress Archive assigned to a product archive, expand the WooCommerce section in the right sidebar and toggle the needed option.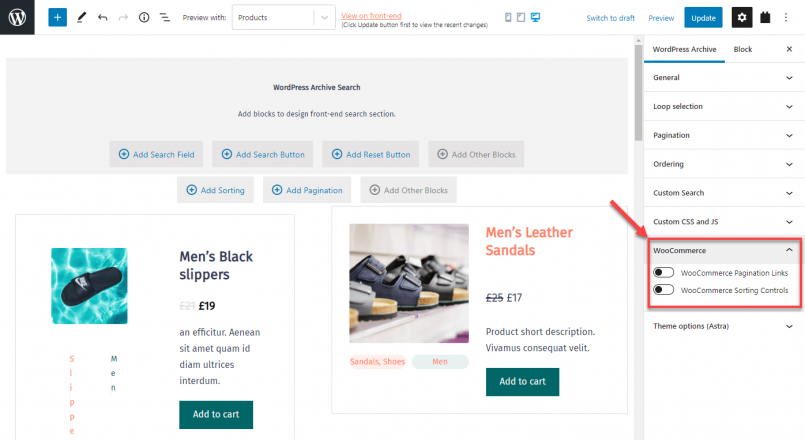 Compatibility with Kadence Blocks and Theme
This release brings full compatibility with both Kadence Blocks plugin and Kadence theme.
To test integration with Kadence, you must use the latest versions of Kadence:
Kadence Blocks Free 1.10.7+
Kadence Blocks Pro 1.4.28+
Kadence Theme 1.0.18+
Kadence Blocks Integration
All Kadence blocks (where it makes sense) feature Toolset's Dynamic Sources options. This means your arsenal of design tools just got one of the best collections of WordPress blocks – and they're dynamic.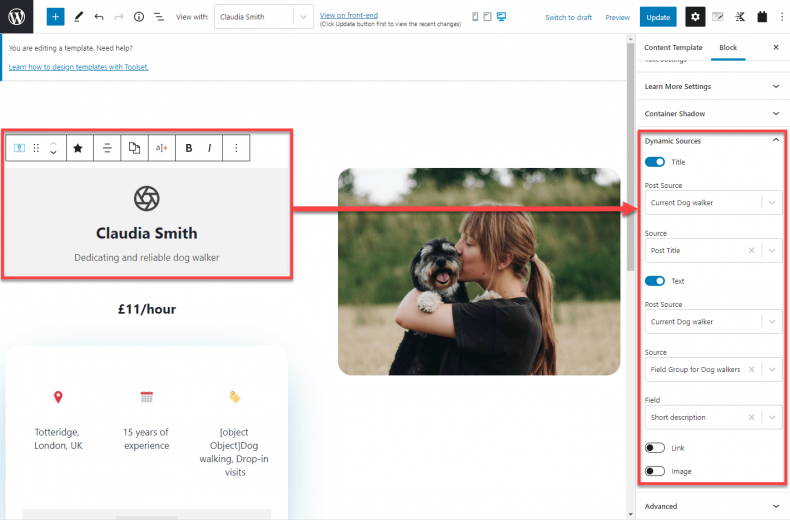 Kadence Theme Integration
You now have theme options for archives and single-post templates, as well as for WooCommerce.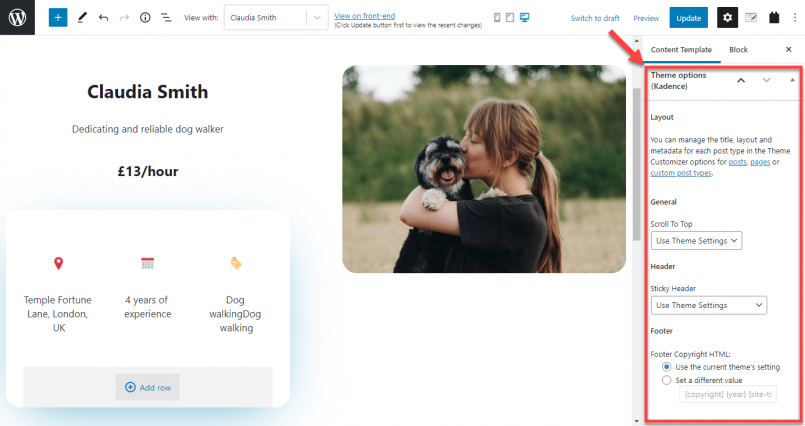 Please note that the Kadence theme allows you to set all its theme options per post type. To avoid confusion and duplicating the same options, we omitted those theme options from the template and archive editors.
Performance Improvements
You probably heard that in May, Google will start ranking sites by speed.
We've done a lot of work to optimize how Toolset loads resources on the front-end. This optimization is already present in this beta and keeps Toolset's impact on your site's speed to a bare minimum.
We'll publish a separate, in-depth article about this whole topic right after the official Toolset 1.5 release.
Other Improvements
As always, we added a number of other improvements across the board.
Improvements to Inline Fields
We greatly improved the Inline Fields feature adding a lot of new options:
Backend preview now changes the Inline Field values when you switch the template preview to another post
More output options for Date, Taxonomy, and Excerpt fields
Display "Post title with a link" and "Author Archive Link"
Wizard for easy creation of WordPress Archives
When you go to the Toolset → WordPress Archives page and click to create a new archive, you will see a wizard for setting it up. It's very similar to the View-creation wizard.
You can select the archive's main options like pagination, search, and output layout. And in the second step, you can select the content to which you want to assign this archive.
Improved text-alignment controls
Before, Toolset blocks didn't allow you to disable an already selected text-align option. Now, you can do this and simply disable any text alignment. In this case, the alignment will use the browser defaults. This is especially useful for right-to-left languages.
More specific CSS selectors on the front-end
Sometimes, your theme's styling can override the styling settings you set in Toolset blocks. There's now a new option which when enabled adds an ID to the body tag for use by Blocks CSS selectors. If the body tag already has an ID, it uses that one.
New Toolset demo sites
Finally, we also released three completely new Toolset reference sites.
How to Install this Beta Version
You should use this beta for testing purposes and not on production sites.
All Toolset plugins got this beta so download the ones whose features you want to test:
Toolset Types 3.4.8 Beta
Toolset Blocks 1.5 Beta
Toolset WooCommerce Blocks 3.0 Beta
Toolset Forms 2.6.7 Beta
Toolset Forms Commerce 1.8.4
Toolset Maps 2.0.7 Beta
Toolset Access 2.8.11 Beta
Go to the Downloads section on your Toolset Account page. in the Choose Channel dropdown select Beta. A list of available beta plugins appears and you can download them.
Alternatively, you could switch to beta versions directly from the WordPress admin. Go to the Plugins → Add New page and click the Commercial tab. In the Toolset section, click the Check for updates button and you should see the option to get the available beta versions.
Share Your Feedback
Last, but definitely not least, please let us know how it goes!
If you find a bug or have a usability suggestion, let us know in the comments and we'll reply!