Toolset Blocks 1.4 Brings Dynamic Sources and Inline Fields to Popular Block Plugins
Toolset Blocks 1.4. allows you to use dynamic sources in WordPress core blocks and popular block plugins. You can also display dynamic sources inside any text blocks. Finally, this release introduces the new Divi module for Views.
1. Dynamic Sources for All Gutenberg Block Plugins
Toolset Blocks 1.4 lets you use the magic of Dynamic Sources with blocks that come from WordPress core and from other plugins. This means that you can use any block that you like to design templates, Views and archives.
Our new integration covers:
For full details, see the table of Dynamic Sources in Popular Block Plugins.
See how Dynamic Sources in all Gutenberg blocks work in the following video:
No Glue Plugins and No Configuration Needed
The only thing you need is to run the recent version of Toolset Blocks (1.4 and newer) and one of the block plugins that we've integrated. Toolset takes care of the magic behind the scenes. You will notice the new Dynamic Sources inputs on the block inspector.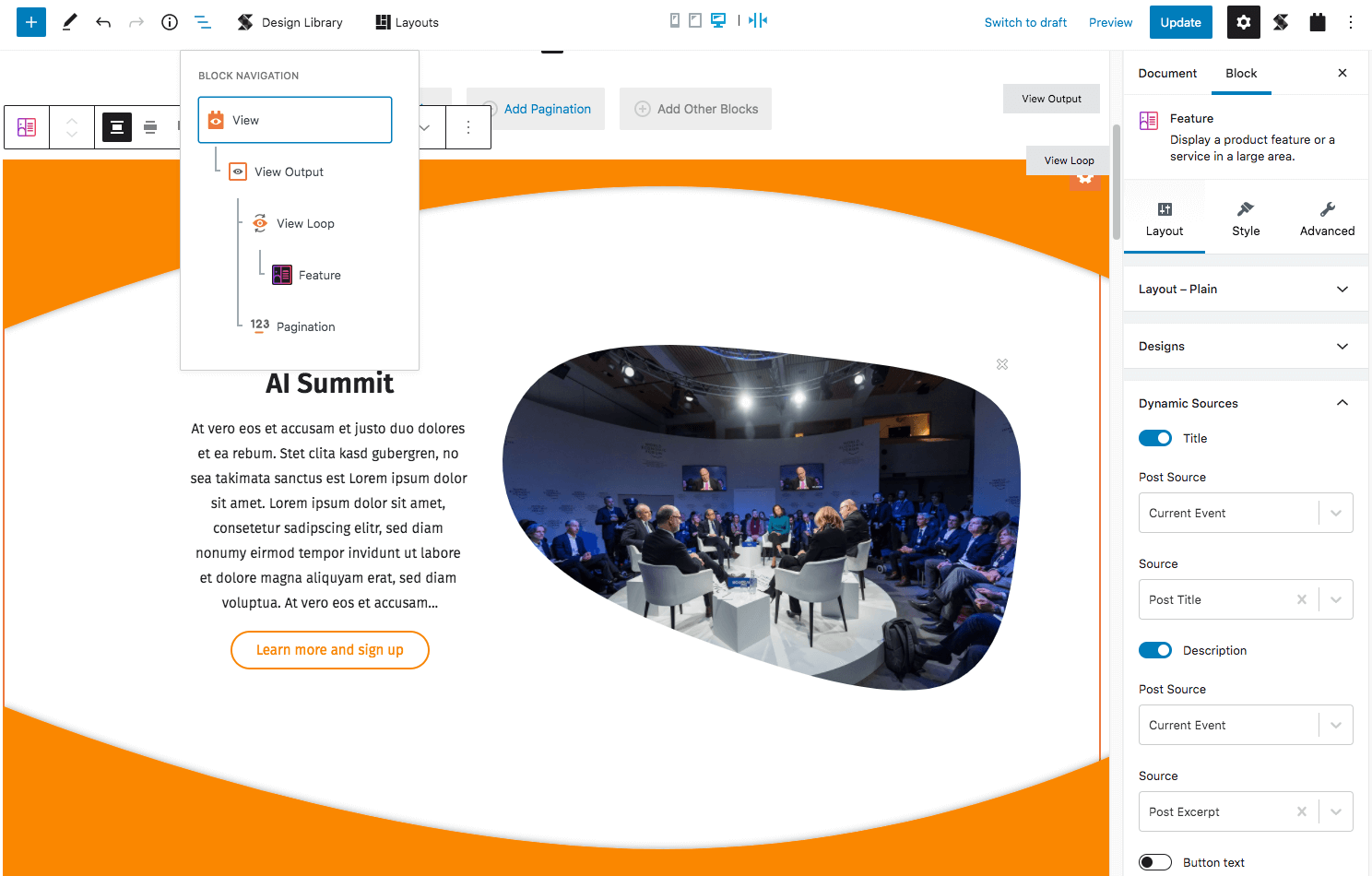 New Design Opportunities
New reference sites using block integrations
To show you the power of using popular blocks with Dynamic Sources, we created two separate reference sites.
You can install these on your own server using the Toolset Framework Installer plugin or use a free sandbox account on our Discover WP site.
What's next for popular block integrations?
We're happy to work with authors of other block plugins and hope to add more to our list of compatible blocks.
That being said, we're already working on integrating Toolset's Dynamic Sources with Kadence and Otter blocks.
2. Display inline Dynamic Sources inside text blocks
So far, you were able to display Dynamic Sources using separate Toolset blocks. But what if you need to display something dynamic, like a custom field, inline with some other text?
No problem, Toolset now allows you to display Dynamic Sources inside and inline all text blocks. This includes WordPress core blocks, Toolset blocks, and third-party blocks for content like headings, buttons, paragraphs, and more.
Just look for the Toolset Inline Field icon.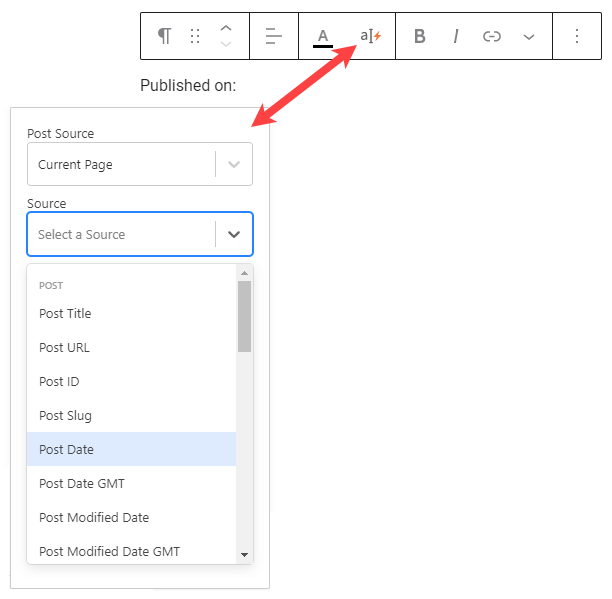 See how Inline Dynamic Sources work in the following video:
3. New Toolset View module for Divi
We're pleased to announce a brand new Divi module for displaying your Views. Build your custom lists of posts with Block Editor and then display them inside your Divi designs.
There are only two steps:
Create a new page and click Use Default Editor.
You're now in the Block Editor. Insert the View block and create a new View. If you're new to Toolset, check out our lesson (video included) about creating a View.
When you're done, publish/update the page where you just created your View.
Edit the Divi-designed page where you want to display your View.
Insert the Toolset View module into your design and select the View you created in the previous step.
That's it, your View will automatically load and display just as you designed it.
Of course, the Toolset View module will display any features your View might have, like custom search and pagination.
To learn more be sure to check Divi's own guide about using Toolset with Divi. Additionally, we also have a dedicated lesson about Toolset-Divi integration.
Bug Fixes
As always, this release also brings some notable bug fixes:
Types
Fixed a performance issue when rendering a page containing a large number of Types fields.
Fixed a performance issue when selecting existing posts to set up relationships.
Fixed a compatibility issue with WPML and WooCommerce that would delete custom fields from translated products.
Blocks & Views
Fixed a compatibility issue with WPML when translating Views and WordPress Archives with large loops.
Fixed sorting a View by a numeric field.
Forms
Fixed the forms notifications set to be sent when the post status changes.
Fixed the ability to set the post content and excerpt as required in a form.
Fixed some performance issues when editing post and user forms.
Check out the full changelogs here:
Download and Update
We send out the update notifications in batches, so not everyone will see the update notice at once.
To get this update now, in the WordPress admin go to Plugins → Add New and click the Commercial tab. There, click the Check for updates button in the Toolset section.
Feedback? Comments?
What do you think of the new features and integrations? Which one excites you the most?
Let us know in the comments and we'll reply!