Toolset and Divi work smoothly together. Divi lets you design the page frame and Toolset allows building custom elements.
You can use Toolset and Divi side-by-side to build beautiful and powerful websites. If you're using Divi, we recommend using its builder for building static pages. Then, use Toolset to build and design the dynamic elements of your site.
To avoid compatibility issues you shouldn't mix Divi and Toolset elements on the same page. This will ensure that all the features keep working in the future.
Watch the following video to see how to use the suggested workflow and learn the basics of designing Toolset elements using the Block Editor. The video explains how to:
create a page with a dynamic list of team members whose design matches your Divi site's overall design
create a Content Template for single-post pages and display custom fields
create an archive with your custom design and custom fields
Installing Toolset
Toolset is a modular package, with plugins for different features. Pick the features that you need and install their plugins:
Toolset Types (always needed) – lets you create custom post types, custom fields, and custom taxonomies
Toolset Blocks (always needed) – helps you display the lists of your contents, templates, and archives on the front-end, including custom searches for your visitors
Toolset Forms – lets users submit content via front-end forms
Toolset Access – lets you add custom user roles and control where each user role can visit on the front-end
Toolset Maps – lets you display anything on a Google or Azure map, including dynamic content such as search results
Adding Custom Types, Fields and Taxonomies to Divi
Sometimes, you need to organize the content of your site in a more customizable way than WordPress and Divi offer by default. This involves creating custom post types (like "Books" or "Events), adding custom fields to them (like "Book Cover Image" or "Event Date") and finally creating custom taxonomies (like "Book Genre" or "Event Type") to categorize the contents.
The process of creating these custom elements on your site is the same for any theme you use, including Divi. To learn how to do this, please take a look at our chapter about setting up custom post types, fields, and taxonomy needed for directory sites.
When you are done, please return here and keep reading to learn how to display the newly set-up custom content with Divi.
Displaying the custom content on the front-end
How to switch to the Block Editor when using Divi
To design a new page using the Block Editor and Toolset, simply click the Use Default Editor button when creating a new page.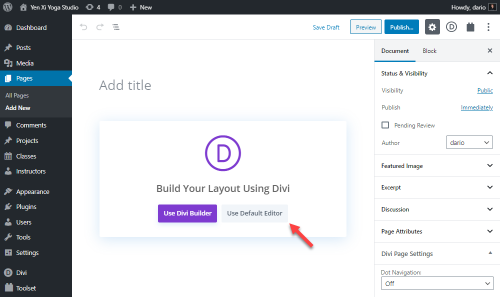 Legacy integration with Divi 3
There is an existing "legacy" integration between Toolset and Divi 3 version. It allows building Toolset elements like Views, archives, and templates using the Divi Builder.
This integration should keep working for existing sites built using Divi 3. We will do everything we can to maintain this in the future. However, don't update these sites to Divi 4 version because that would likely break your designs.
Additionally, this kind of integration is not possible and will not be implemented for Divi 4 version and newer.