There are several ways you can apply your Content template to Single posts.
Usage for Single page
When you create your Content template, you can select to display Usage for single page. This will list all WordPress Post types and your Custom Post types and give you the option to create a Single post Content Template for them.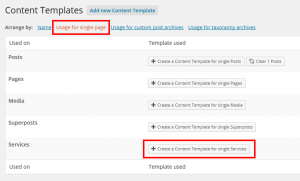 Content Template Settings
From the Content Template edit screen, you can use Content Template Settings to set or change the post your Template will be applied to.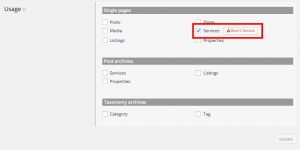 If your template has existing post data, you'll get a warning and you can apply your new Template to display for all of the existing post's in this Post Type.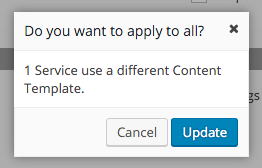 Individual content items
Besides setting Content Templates globally, you can also change them for individual content items.
When you edit a post or page, you'll see the Content Template drop-down: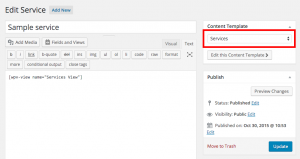 Batch unassign of Content Templates
You could later decide not to use this Content Template globally for all the posts of that given type, or you might want to reset all your posts of that type to use no Content Template at all. First, select Change Content Template in the Action column and click on the option Don't use any Content Template for this Post Type. This will make that future posts of that type will not have this Content Template assigned by default.

But what about existing posts? You will see a button to unassign them all from a Content Template at once. If you click it, all the posts of that type will be reset to not use any Content Template.