Toolset Layouts provides a drag-and-drop editor to create templates for displaying single posts that include the content you specify. The same editor is also available to design post archives and individual posts and pages.
First, remember to install and activate both Toolset Views and Toolset Layouts plugins.
You design a Template Layout and assign it to a post type to use it to render all single posts of that type. The same template can be reused for different post types, and you can override the template on individual posts.
The header, footer, and sidebars are generated by your theme, while Layouts renders the content area.
Creating a Template Layout
To create a new template go to the Toolset -> Dashboard page and click the Create template button in the row of your custom post type. This will open the template with the Layouts Editor.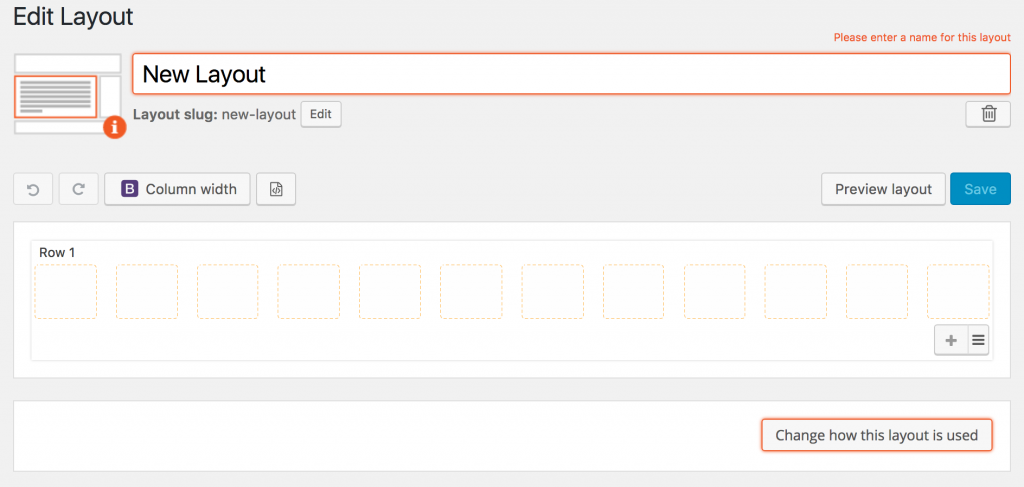 The Layouts grid
Layouts are based on the Bootstrap grid, with content arranged in rows of 12 columns. Content is inserted using cells, and there are different kinds of cells to add different kinds of content.
The Visual Editor cell is a general-purpose cell used to add static text and to insert shortcodes for dynamic content such as custom fields and taxonomy terms of the post being displayed.
The Post Content cell renders the contents of the post body. Use an Image cell to insert an image from your media library.
You can see a full list of cell types here.
Adding dynamic content to templates
Toolset makes widespread use of shortcodes in templates to generate content. The shortcodes can be entered manually, but typically you will use buttons such as the Fields and Views button to generate the shortcode with the required attributes or options.
A template for events might render the event name using the[wpv-post-title] shortcode which displays the standard post title field.
It might render the time and date of the event using the [types field='event-date' style='text' format='F j, Y g:i a'][/types] shortcode.
The taxonomy for the type of event might be rendered using a shortcode such as [wpv-post-taxonomy type="event-type"].
Watch the video – How to create a template using Layouts
Create Richer Layouts
Learn about how rows can be displayed in different ways
Need help?
Go to the Getting Started support page, leave a comment and we will reply to you.
What's next?
Continue to the page about displaying custom lists of content or go back to the one about creating templates to display custom posts.