In this lesson, you will learn how to design templates for custom post types and for the built-in types in WordPress. You'll see how to display fields in templates, how to create beautiful responsive designs and more.
What's a Template?
A template is something that you design once and it controls the way a "group of posts" appear on the site's front-end. Toolset's templates work similarly to the WordPress PHP templates, but you design them visually through the editor without having to edit any files or write any code. The templates that you design with Toolset can include fields, taxonomy, related posts and anything else coming from the WordPress database.
How to Design Templates
To build a template, you insert fields, arrange them in any custom layout of your choice, and design how to display them on the front-end.
Go to Toolset → Dashboard and click the Create Content Template button in the row of the post type you want to design a template for.
Use the WordPress Block Editor to design your template.
Choose blocks from the Toolset section for any part of the template that displays fields (not static elements). For example, use Toolset's Heading block for any heading that will display a field.
Enable Dynamic Sources for blocks that should display fields of the post that the template displays.
Here's an example of displaying the post title in a template for single "property" posts on a Real Estate site.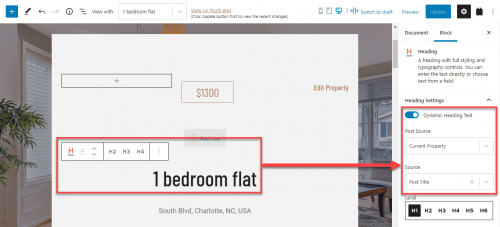 That's it, now you can further tweak your template. For example, you can arrange content in columns, use containers, display parts of the template conditionally, display a list of related posts, create responsive designs, and more.
Send feedback to our documentation team