Toolset Blocks 1.3 – WooCommerce, Post Relationships, WPML and More!
We just released Toolset Blocks 1.3, which may be the biggest leap forward since we started the Blocks project. Blocks 1.3 makes it easy to build beautiful sites, including WooCommerce ones, with post relationships and in any language.
WooCommerce Blocks for Toolset
Toolset finally gets a complete set of design blocks for WooCommerce. You'll be able to easily create custom WooCommerce sites without programming and without compromise on design.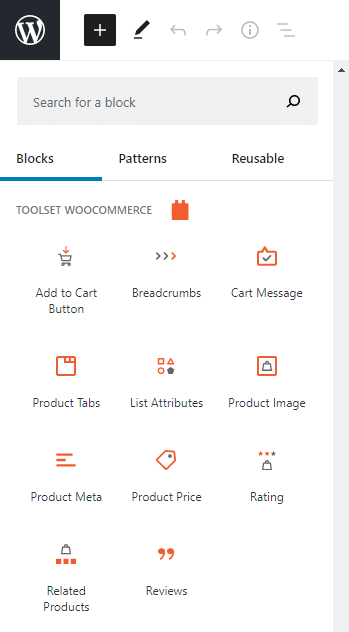 All the new blocks for WooCommerce come with styling controls. Blocks appear on the front-end just like they look in the editor, so you can design without having to preview every 2 seconds.
Native / Toolset Styling for WooCommerce Blocks
Our new WooCommerce blocks have two "output modes". One, is the native WooCommerce output (template). In this mode, the theme and other plugins can modify the look of blocks. This means that you enjoy customization for blocks on the front-end, but you don't exactly see what you're designing in the editor.
Our new Toolset-native output uses our own custom markup for WooCommerce blocks. It's super simple markup, which you can easily style from the editor. This markup doesn't go through the Woo filters, so it's a complete WYSIWYG experience. The block will appear in the front-end exactly like it appears in the editor.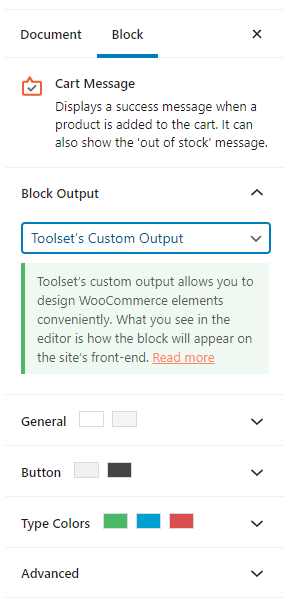 Which one to choose? This depends on your theme and preference. Give it a try!
Views for Related Products, Up-Sells and Cross-Sells
WooCommerce has built-in functionality to display related products, up-sells and cross-sells. While this is great, styling these related products is a bit tricky. Instead, we propose that you use simple View blocks to load related products. Since it's a View that you're creating, it can include any field and styling that you choose. Want to create a slider with related products? You already know how to do it!
When you're creating a View for WooCommerce products, you'll see additional filtering options:
Try it in our new WooCommerce Course
A new course on creating custom WooCommerce sites will help you learn how to use it.
Post Relationships
One of the most powerful features in Toolset is its ability to connect between different posts. Blocks 1.3 makes it super easy to both set-up related content and display it.
Selecting Related Content in Views
Let's say that you're editing a template for "real estate agents" and you want to display all the properties that this agent is handling. You can create either a one-to-many or many-to-many relationship between agents and properties (depending on how your business is set up, if agents have exclusivity).
When you're editing the "agent" template, you'll create a View to show this agent's properties.
When you select to display "properties", Blocks casually asks if you want to show all properties or properties belonging to this agent. That's it. You just created a View for related content. No need to craft query filters to select the correct items. It's happening automatically for you, no matter what kind of relationship you're targeting.
Displaying Fields of Related Content
When you're designing a View, template or archive, you can now easily access fields of related posts. Let's continue with our example of realtors and properties and design a template for properties. The property template needs to link back to the agent who's managing it, so that prospects can get in touch with the right person.
Blocks 1.3 makes this simple. I'll add a Toolset Button block, enable Dynamic Sources and choose the related agent post. You can select fields of related posts to display and to control conditional display.
You can select fields of related posts in all Toolset blocks, including the Conditional display block (see the "Post Source" selection):
Under the hood, there's a lot of magic going on to make this happen but we made sure that it looks straight forward in the GUI.
Amazingly Simple WPML Integration
Building custom multilingual sites just became trivial. There are no instructions to follow. Create whatever you need in Toolset and click to translate.
Please note that the new translation workflow requires WPML 4.4 (or later). We released this version of WPML at the same time as Toolset. If you're updating Toolset, but didn't yet receive the notification to update WPML, go to Plugins → Add New, click on the Commercial tab and then click on Check for updates.
We prepared detailed lessons on translating directory, membership, and business sites.
Translating Views, templates and archives
When you're designing a template, an archive or a page with a View, just click on the + icon to send it to translation. Of course, you can pick content for translation in WPML's Translation Dashboard.
Translating forms
Go to WPML → Translation Dashboard and you'll see a new filter for Toolset Forms. Choose it and you'll see the forms in your site, ready to translate.
Note: You'll need to save existing forms once before they appear in the Translation Dashboard. If you're building a new site, install WPML first and then create the forms. This way, forms will be available for translation without re-saving them.
Multilingual Sites with Post Relationships
If you're building listing and directory sites, you're going to love this new feature. Now, you can create content in any language and not only in the site's default language. Of course, you can translate everything to any other language. This means that you can build truly multilingual sites with user-submitted content. Each user will create content in his/her language. You can translate that content or leave it to be visible only to people browsing in that language.
Quickly Edit Templates for Visitors and Registered Users
When you're building membership and listing sites, you often want to create different templates for different people. Toolset Access allows you choose which template to use for people without full read-permission. Now, this information is clearly visible on Toolset Dashboard.
From here, you can see which templates your site uses for different people and you can quickly edit them.
Download and Update
Like all other Toolset releases, this release is backward compatible with previous versions. However, it's always a good idea to backup your site before applying major updates (such as this one).
The easiest way to receive updates is via the WordPress Dashboard. We send out the update notifications with a bit of delay, so that not all clients update at once. If you're itching to get this update for existing sites, go to the WordPress admin and then Plugins → Add New page, click the Commercial tab, and then click Check for updates in the Toolset box.
Feedback?
We'd love to get your feedback on these new features and we're also very happy to hear your general impression, needs and desires for what's next in Toolset.
We know that there are more features that you're probably waiting for (sometimes for a long time). We're eager to get to everything too! 🙂