Toolset Blocks 1.2 is Live – Masonry, Collage, YouTube and More!
It's ready and running on our own sites and now available for all Toolset clients. Toolset Blocks offers new image blocks and new ways to display Views and Archives.
New Image Blocks – Slider and Gallery with Grid, Masonry and Collage
Toolset Blocks now has two blocks, which allow you to display images in beautiful way:
Gallery (supports image grids, masonry and collage)
Slider
You can use these new blocks with static content or with dynamic content. What does this mean? If you create a page and want to show some images as a gallery, insert the new Gallery block and add images to it. That's a "static gallery". If you're creating a real estate site and what to display a gallery of images on each property, you'll add the Gallery block to the template for properties. That's a dynamic gallery.
The new image blocks replace (and greatly extends) functionality that was previously in the Repeating Fields block. Now, the Repeating Fields block only handles text fields. If you have designs that have galleries as Repeating Field blocks, Toolset will auto-update your content to use the new Gallery and Slider blocks.
Grid, Masonry and Collage Layouts in Views and Archives
We've added the new Masonry and Collage layouts also to Views and Archives. When you create Views and Archives with Blocks 1.2, you will be able to choose Masonry and Collage layouts (among the many other layout options that Views and Archives offer).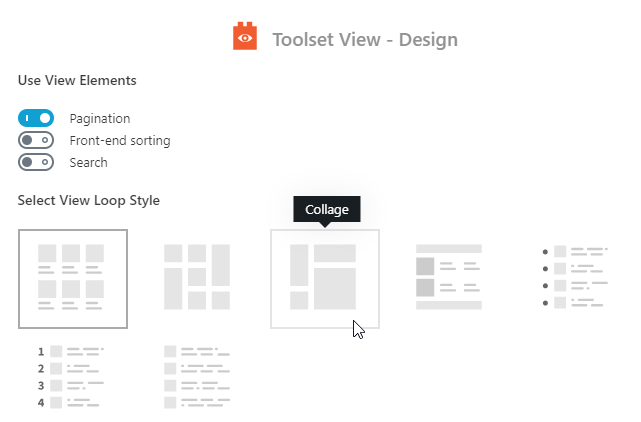 A Toolset YouTube Block, Supporting Dynamic Videos
Toolset Blocks 1.2 offers a new YouTube block. This block offers all the settings that YouTube offers and allows to choose dynamic videos. This means that you'll be able to create templates that show a video set by a custom field.
Download and Update
As always, the easiest way to get updates to Toolset plugins is to register your site and update automatically.
We push out new releases gradually. If your site is registered and you're still not seeing this new version, follow this:
In the WordPress admin, go to the Plugins → Add New page
Click the Commercial tab
Click Check for updates.
This will force the installation of the recent Toolset plugins.
Feedback?
How is this update of Toolset working for you? Leave your comments and we'll get back to you.