Maps 1.7.3 and new Toolset Blocks beta bring Dynamic Map Markers and other improvements to Blocks
Did you know you can design your templates using Toolset and WordPress Block Editor? You can now create markers based on custom fields in the Toolset Maps block. We also improved the "Fields and Text" block so you can more easily use custom markup when needed.
Dynamic Markers in the Map Block
Toolset Maps 1.7.3 release allows you to create map markers based on values coming from your custom fields. For example, if your custom "Tour" posts have a custom Address field, you can now create markers that will be based on this field's value (address).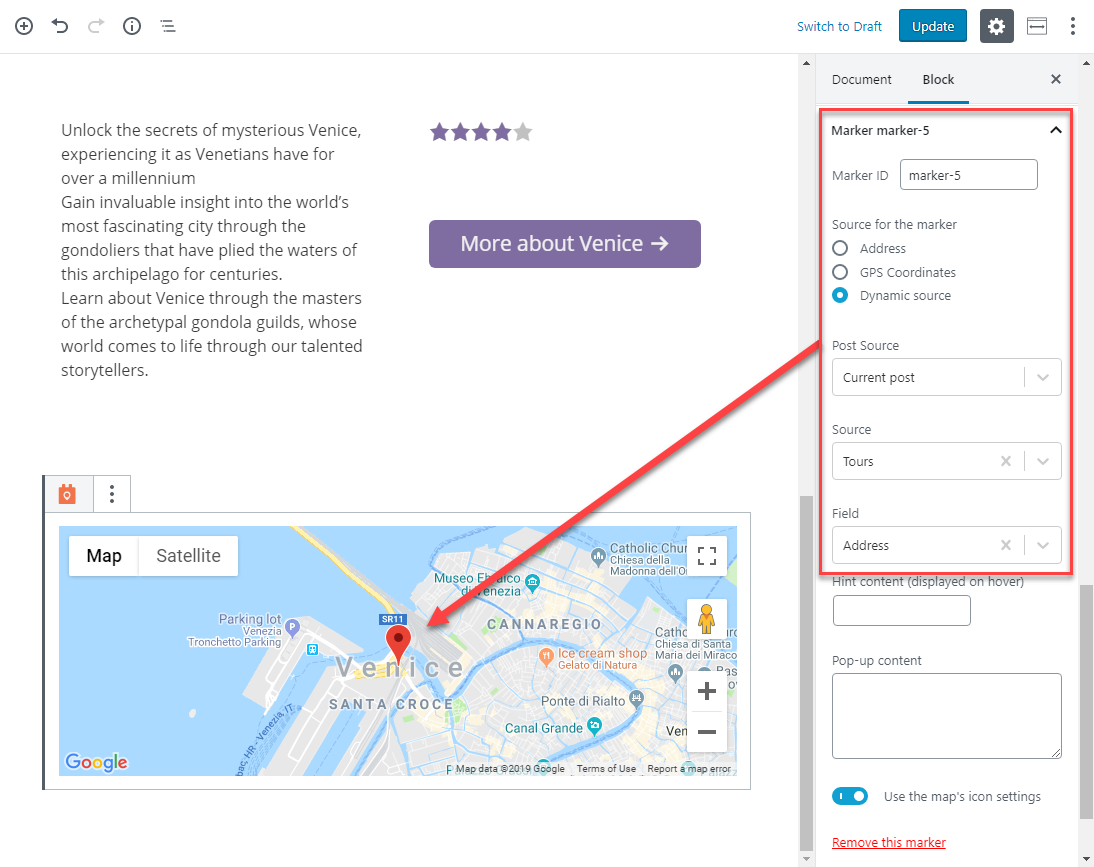 Much Improved "Fields and Text" Block
The Fields and Text block allows displaying any field, together with text and styling. We upgraded this block so that you can design more "pixel accurate" displays for custom fields.
You can now switch from Visual to HTML mode, just like in the classic WordPress editor. In the HTML mode, you can add any custom markup and Toolset fields.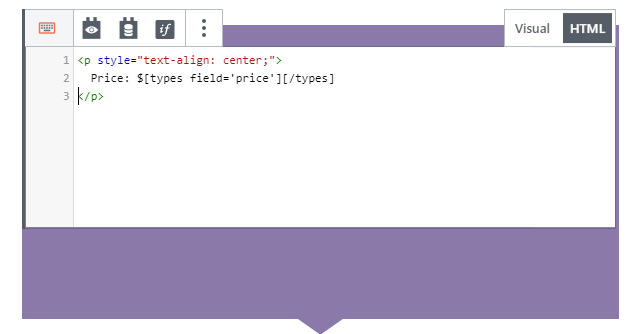 You can apply styling to fields while in the Visual mode. To do this, select any field and apply styling from the block toolbox.

Since the primary purpose of this block is to display custom fields, we've moved the fields, Forms and Conditionals controls to the top of the block.
Other Toolset Blocks Improvements
Besides many bug fixes, we also improved usability in some important other places:
Added a new Post title with a link source to blocks Dynamic Sources.
Added a separator option to the TB Repeating Field block.
Renamed the TB Repeating Field block to TB Repeating Field / Gallery for easier recognition.
Other improvements to the Fields and Text block:

Fixed an issue with selecting a shortcode inside this block.
Fixed an issue with adding a space after inserting a shortcode.
Fixed an issue with putting a cursor before shortcode when shortcode is the only element.
Fixed an issue with deleting shortcodes.
We improved the visibility of Toolset buttons.
What's next
We are already working hard on next features and integrations of Toolset with the Block Editor. The biggest one is coming next, very soon – the ability for you to create and design Views without ever leaving the Block Editor interface.
Besides this, we finished working on the API which will allow any block developers to use dynamic sources (custom fields, etc.) in an extremely easy way. We are already arranging this with some of the most popular block developers in the community.
Give it a Try and Give Us Your Feedback
Toolset Blocks is still in (stable) beta. If you are getting started, we recommend that you quickly read how to build Toolset-based sites with the Block Editor.
Then, you can either install everything locally or try it on Discover WP, where we've installed everything for you in the Travel Destinations site.
Installing Locally
You will need to download:
Types latest stable release
Views latest stable release
Toolset Maps latest stable release (for maps features)
Toolset Blocks 0.9.1 beta release
You can download the plugins on your Toolset account by clicking on Downloads.
To build flexible layouts with the Block Editor, we also recommend installing the Kadence Blocks plugin.
Feature Requests
We are still open to add any important missing features. By trying Toolset Blocks yourself you will find more important features and improvements we can add.
Even though the production release date is getting near, there is still time for you to do this and request features.
We love getting your feedback and consider each and every feature request. Please leave your comments and we'll get back to you.