Toolset 1.6.3 – Full Compatibility With PHP 8
Keeping your site's PHP version up-to-date is highly recommended as it makes your sites safer and faster. We just released an update to all Toolset plugins, making them fully compatible with PHP 8.
Using New Versions of PHP Is Important
PHP is one of the foundations on which your server, and ultimately your WordPress website, are built. Every new version of PHP brings enhanced security and better efficiency. For example, tests show that PHP 8 is about 33% faster than PHP 7.1.
However, it takes a lot of effort to ensure that plugins as complex as Toolset are completely compatible with new PHP versions. After a lot of testing, we are finally there and you can safely update your Toolset sites to PHP 8.
This release brings PHP 8 compatibility to the following Toolset plugins:
Types
Blocks
Views
Forms
Access
Maps
WooCommerce Blocks
Layouts
Module Manager
How to Update Your Site to PHP 8
How and if you can update your site to PHP 8 depends on your hosting. For example, not all shared hosting packages allow you to change the PHP version.
Usually, you access your hosting account through some sort of panel. For example, cPanel is a popular solution many hosting companies use. It is inside a control panel such as this where you can often change your site's PHP version.
In the following image, you can see how to change the PHP version using cPanel. Please note that even if a hosting service uses cPanel, the PHP selection tool might still be unavailable to you.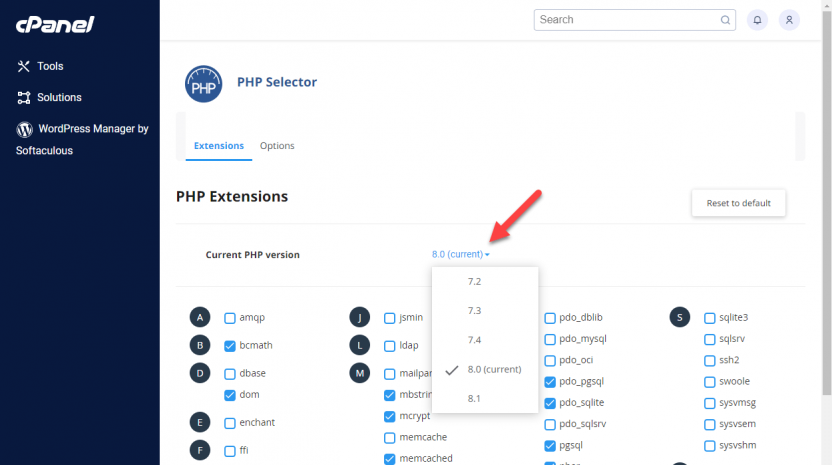 Of course, not all hosting companies provide this level of control. If this is the case, it's best to contact them directly and ask them to do this for you.
Better Performance for Multilingual Toolset Sites
If you have multilingual Toolset sites powered by WPML, this release also brings a significant performance boost. Users who are translators on your site will notice this performance boost the most. Working with translations should now be much faster for them.
This was implemented on the Toolset Access plugin by optimizing some expensive queries that happened in the admin and are no longer necessary.
Last but not least, this improvement will help make a greener planet as faster sites need less electricity. 🙂
Other Fixes In This Release
As always, this release also brings a number of important bug fixes.
Types
Fixed a problem where WYSIWYG fields were not properly saved in the classic editor.
Views / Blocks
Fixed a problem with the styles of a View block containing a post body field.
Fixed some compatibility problems with plugins accessing the global query too early.
Fixed some styling problems when inserting an already existing View block into another page.
Forms
Fixed a compatibility issue with the Events Calendar plugin.
Fixed a problem with notifications when editing posts in the backend.
Fixed a problem with having multiple forms in the same page that affect the same post types or user roles.
Fixed a compatibility problem with PHPMailer.
Maps
Fixed a problem with the Filter by distance feature not gathering proper existing addresses.
Download and Update
We send out the update notifications in batches so not everyone will see the update notice immediately.
To get this update now, in the WordPress admin go to Plugins → Add New and click the Commercial tab. There, click the Check for updates button in the Toolset section.
Feedback? Suggestions?
Are you planning to update your Toolset sites to PHP 8? Which version are you running currently?
Let us know your thoughts in the comments below and we'll get back to you.