Toolset Post Relationships Release
We just released Types 3.0, Views 2.6, Layouts 2.3 and CREDToolset Forms 2.0 – making up the "Post Relationship" package.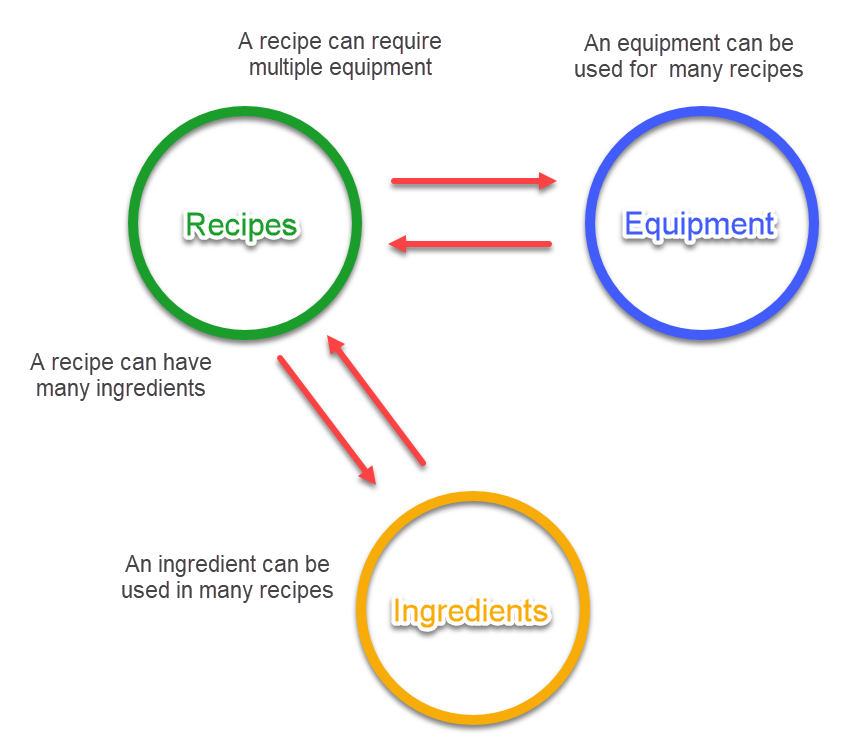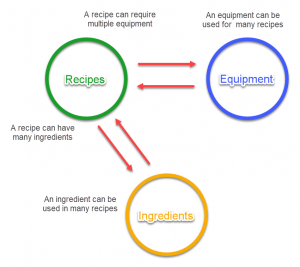 Types 3.0 allows connecting posts as either one-to-many, one-to-one or many-to-many. It includes a wizard which explains what the different relationship means and helps you set-up relationships easily. Relationships use a dedicated table, so they're fast and efficient on your database and CPU. With this release of Toolset, you can build anything from a tiny site to huge sites quickly and not worry about performance.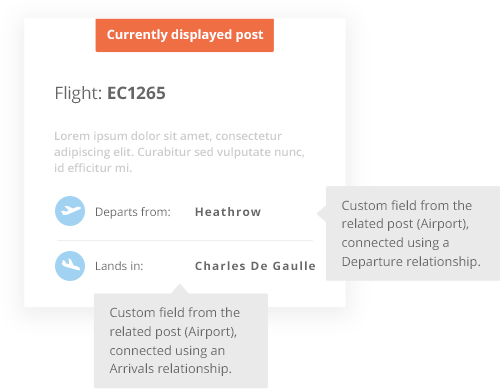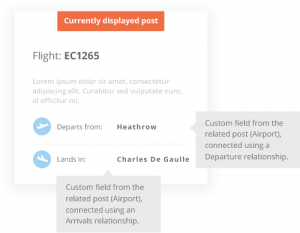 Types lets you set-up post relationships and Views 2.6 allows to display it. You will be able to display fields that belong to related posts, as well as create lists of related posts. Post relationship is now a native part of Views plugin. You can use it to filter queries, for custom searches and for selecting fields.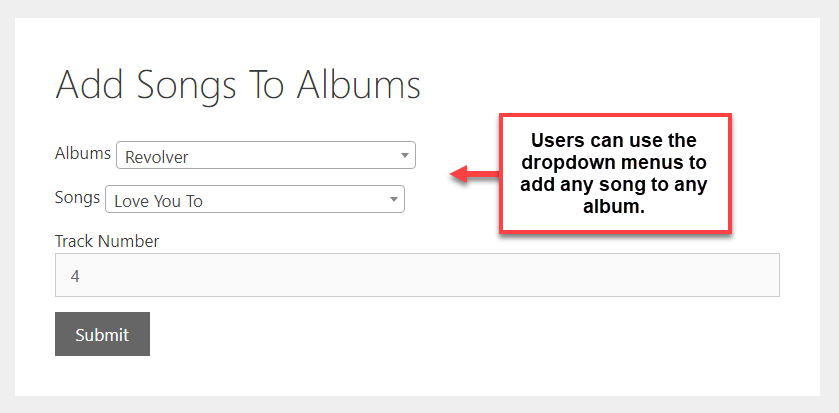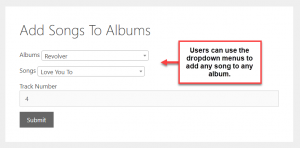 CREDToolset Forms 2.0 allows to build front-end forms that connect posts. The forms will include the selection of the posts to connect and the fields for the connection (if you need them). Forms can create new connections, edit existing connections and delete connections.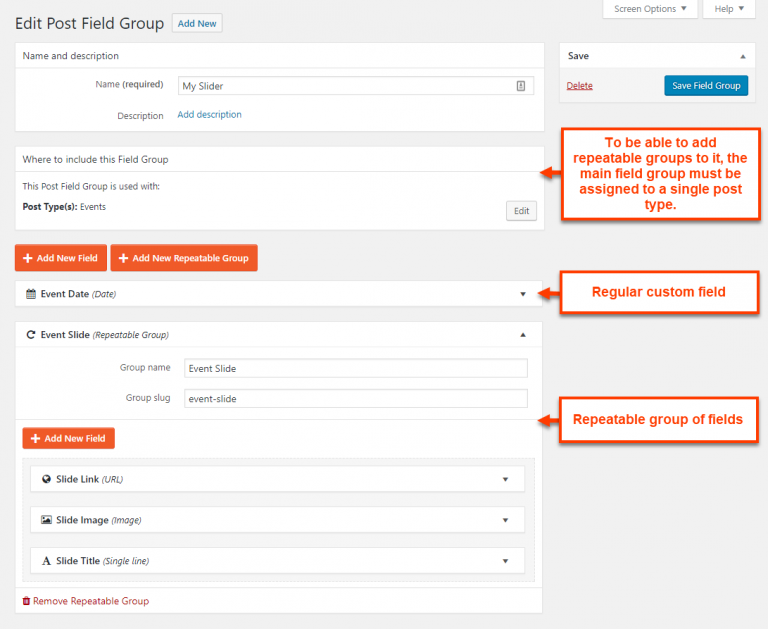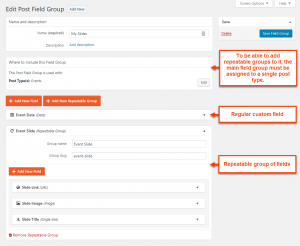 Types 3.0 allows to create not only individual custom fields but also groups of fields that can repeat. These groups can even be nested, as deep as you need them. Now, it's one-click to set-up a group of repeatable fields. You can display these groups using Views, so you have full control over their appearance and content.
Types will check if your sites have "old" relationships and will offer you to migrate them to the new database table. This way, you can update Toolset on existing sites and not worry about losing any of your work. Right after you migrate, everything should continue working normally. Then, you can take advantage of the new power of the post relationships.
CRED Renamed to "Toolset Forms"
When we first came up with the name, CRED stood for Create, Read, Edit & Delete (actually, we started with CRUD, but later discovered that the English meaning doesn't compliment the plugin).
Turns out that besides us, almost nobody connected with this meaning, so CRED was just a magic name and required explanation by itself. New clients using Toolset had to learn yet another term that we came up with.
To simplify things for everyone, we renamed it to "Toolset Forms". We've updated the documentation. We haven't changed the plugin's "slug", so the plugin doesn't vanish from your production sites when you update.
Importing Related Posts from CSV files
Custom posts created with Toolset Types 3.0 can be imported from CSV files.
The authors of the WP All Import plugin have released the WP All Import – Toolset Types Add-On which allows you to import Types fields. Support for post relationships and repeatable field groups is coming soon. You can find more details on our documentation page about importing data from a CSV file using WP All Import.
The authors of the WP Ultimate CSV Importer Pro plugin have added support for maintaining post relationships. Support for repeatable field groups is coming soon.
Before Updating – Remember to Check for Compatibility
This release uses new storage for connections between posts. Previously, Types used custom fields (postmeta) and now it stores the connections in a custom table. Types 3.0 comes with a migration wizard that will copy the old connections to the new schema.
Your Toolset-based sites will work without changes, except for one case. If you wrote your own custom PHP which loads related posts using get_posts or with filters disabled, it will not be compatible with Types 3.0. If you wrote your custom code to load posts, we strongly recommend that you review the migration instructions. You can add a single line to the get_posts call to enable filters, which will ensure compatibility.
If you load content using Views and not with custom PHP, you don't need to worry about compatibility with Types 3.0.
Download and Update
This update of Toolset is a major change from previous versions. It comes after a series of betas, full QA and is live on our sites. However, as this is a huge update, we warmly recommend that you back up your sites before applying it. Depending on your site, the migration process from old relationships to the new schema can take anything from a few seconds to many minutes. We've placed our own sites in maintenance mode during this migration so that the process can continue without any content changes.
The easiest way to update Toolset is automatically. WordPress should show you the new versions in the Plugins admin screen (assuming you registered Toolset on that site). You can always download manually from your Toolset account.
Coming Next to Toolset
We've been working on post relationship for a long time, without giving too much love to other things in Toolset. Now, we can finally take new projects.
Here are some of the things that we're going to take next:
Types and Views – Schema.org support and pre-made Toolset packages for popular schemas
Views – more output options (like removing the wrapper DIV)
Forms – be able to use Toolset Forms for wider applications. Here, we need your feedback. I created a short survey, asking what you're doing today with Toolset Forms and what you'd like to see next. If you can take this survey, there's a good chance that you'll get what you need soon.
Feedback?
If you have any questions, suggestions, ideas or anything else, leave your comments here and we'll get back to you.