Views 1.6.1 released: wonderful Custom Search and Bootstrap Layouts
We are delighted to announce the release of Views 1.6.1. After a short QA (no issues found!), we present you with the best version of Views ever. It packs some of the more awaited features for Views, and we realy hope you'll enjoy using it as much as we did creating it.
Custom search
This release is mainly focused on improving our Custom Search. We have added so many new features here that it is quite difficult to make a summary:
New custom search for post relationships: now you can add inputs for Types parents and even grandparents to your custom search form, and display them as select dropdown, a set of checkboxes or radio inputs.
Update the View results on-the-fly: after any change in any input on the custom search form, the results will be updated automatically.
Values dependency: you can limit the options in each input in the form, so it only displays options that will actually return any result. You can hide or disable non relevant options, and it will even work with BETWEEN comparisons and with manually added values (think of a filter by price range, for example).
We have worked hard on this new feature so it covers all your needs. There are other small enhacements that will be covered in our documentation, like the new Clear form button or the addition of optional containers with spinners that will be displayed only while the new refresh actions are run (they make perfect overlays, for example).
Check a little example of what can be done here:
Bootstrap Layouts
The wait is over. From now on, Views can produce Bootstrap layouts out of the box: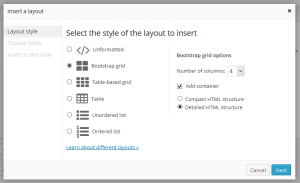 We will generate the appropriate layout for you, and you will even have the option to style any of the cells differently. The Bootstrap layout in Views is compatible with both Bootstrap versions, 2 and 3, so you can use it with whatever your theme provides.
Please check the details in our documentation.
Other improvements
This release contains a lot of small enhacements:
We improved several shortcodes, like wpv-post-title, wpv-post-featured-image or wpv-for-each, and created new shortcodes like wpv-search-term.
We added visual hints about usage for Content Templates and WordPress Archives.
We revamped the multimedia management in Views and WordPress Archives so you can use the new audio and video features in WordPress.
We added two new filters for developers: wpv_filter_custom_field_filter_typ and wpv_filter_force_wordpress_archive. The first one will let you filter by decimal numeric values with ease, the second one will let you do some nice things with archive loops.
The list of bugfixes goes on and on and you are more than welcome to check the changelog inside the plugin folder. We dare you to put Views 1.6.1 in trouble, and feel free to report any issue you might find in our support forum.
So what do you think? Please tell us in the comments whether you like all of this and what you expect in Views future to come.
And yes, we're hiring!
How would you like to join the great team who's building Toolset plugins? If you're an outstanding developer and write amazing code, we have a great job for you. To apply, visit the jobs page on wpml.org.