Types 1.4.0.2 and Views 1.3.1 with Better Usability and Fixes
We are happy to release another update of Types and Views, mainly focused on usability improvements and bug fixes.
Views 1.3.1 – Better Listing Pages and more
Better Listing Pages for Views and Content Templates
The major change in Views 1.3.1 is in better listing pages.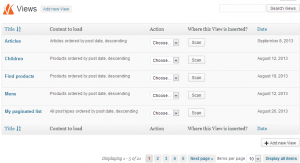 Working with many Views and Content Templates should be fun – not a punishment. This release attempts to make it so.
You will be able to find your Views faster and edit them quickly. Here is what's actually new:
You can sort by name or by update date. This way, the Views that you last worked on appear on top.
You can enable or disable the pagination. When enabled, you can control how many items appear in each page.
The listing page is formatted better, taking up the full width of the screen for easier reading.
It loads a lot faster, with fewer DB calls and a lighter feeling.
Search is improved, returning highly relevant results, by title or description.
Much of the feedback that we got about Views 1.3 was around the listing pages. We very much appreciate all the suggestions and comments that you gave us and we hope that this update does the trick.
Update All
Views 1.3 added 'Update' buttons for each section. The idea was to let you update local changes, without having the entire page reload and requiring you to scroll back to where you were before. What became missing is a simple way to save everything. So, if you created a View and edited all sections, you had to go through them one by one and click on the Update buttons. Not fun.
Views 1.3.1 adds 'Save all sections at once' buttons, to the top and bottom of the Views edit screens.
You can still update each section that you work on, but you can also update everything at once.
Notable Fixes in Views 1.3.1
We're pretty glad that Views 1.3.1 didn't require too many fixes. Still, some things slipped in before and they are fixed now:
Bug with Content Template assignment for posts created before Views was activated
Some templates were not showing when listing Views by usage
Glitchy Layout Wizard behavior
Content Template settings lost when saving WordPress Archives
Several fixes in Views filters
Added missing AJAX nonces and error handling in the settings page
Permission and access problems allowing editors to access Views and Content Templates
Export and import problems for specific taxonomy Views and Layout Wizard settings
AJAX pagination going to the wrong language when using WPML
Enabled translation for strings, by WPML, in Views widgets
Types 1.4.0.2 Changes
This Types update includes important updates for compatibility with Views 1.3.1 and WPML. These were a number of problems related to translation of repeating fields, as well as Types fields, displayed by Views.
Download
If you are using the Installer plugin, this update should be visible in your WordPress admin in 12 hours (the time it takes WordPress to show new versions). You can always download new versions manually and install in your site. To get the updated versions of Types and Views, log in to your account and click on Downloads.
Coming Soon to Toolset
We have some great new features coming for all Toolset plugins (and new plugins, but that's for another post).
Types – support for WordPress media fields, Google Map fields and crop feature for image fields
Views – support for users, allowing you to query users and filter by usermeta
CRED – a complete rewrite of the frontend HTML and CSS, allowing much easier customization
Access – control over what happens for declined URLs, allowing to build proper membership sites
WooCommerce Views – ability to create fully custom WooCommerce sites, without having to edit a single PHP template file
Toolset Bootstrap – better integration with Views, including the layouts wizard in Content Templates
I know that the half empty cup is big. There are always features that we really want to add, but are left out. If you urgently need a new feature, but it's not listed here, remind us. We'll see if we can help you and get your projects moving.
Let us know what you think. Leave your comments here and we'll get back to you.