9.1 Creating a page for the product categories slider
9.2 Creating a View for sliders
9.3 Setting up a View for product categories
The Edit View screen opens. Here, you set up your View that will display your product categories as a slider.
9.4 Designing the output
You should see the following shortcodes:
Click Save and Close this view and return to the layout.
Preview your layout.
The slider will rotate, displaying a few category images with clickable titles in each transition. However, it still needs some styling so that it looks like a slider.
9.5 Styling the slider
9.6 Adding navigation controls
To add navigation controls:
Open your View cell for editing.
Scroll down to the Filter section of your View.
Click the Pagination control button.
In the pop-up that opens, locate the Pagination Controls section.
Select the Navigation controls using dots checkbox. Insert the pagination controls.
Wrap the [wpv-pager-nav-links …] shortcode in the div tags with the transition-control class (refer to the picture) to easily add custom styling.
Open the CSS editor and copy and paste the following CSS

Transition controls CSS

Save your changes and preview your Layout.
Your sliders with categories should look like this: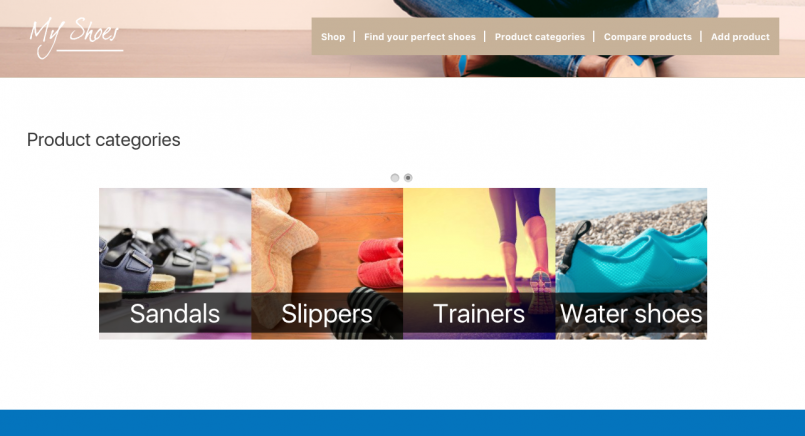 9.7 Summary
In this tutorial, you've learned how to design a slider with product categories. Remember
To create slider for WooCommerce products or product categories, use a View cell.
Your View for sliders needs to have pagination and AJAX transitions enabled.
You can display any product or product category fields in your slider.
Questions? Ideas? Suggestions?
If you have any questions on how to build a product slider, add your comments and we'll get back to you. Toolset clients can also create tickets in our technical support forum, where are support team works 6 days / week, 19 hours / day.