2.1 How to add your products to WooCommerce
We will start by adding our first product with a title and description. Go to Products -> Add New.
You will be taken to the WordPress edit screen where we can add the product name in the title section and the product description below it just like in a normal post.
This information will appear on the main product page on the front-end.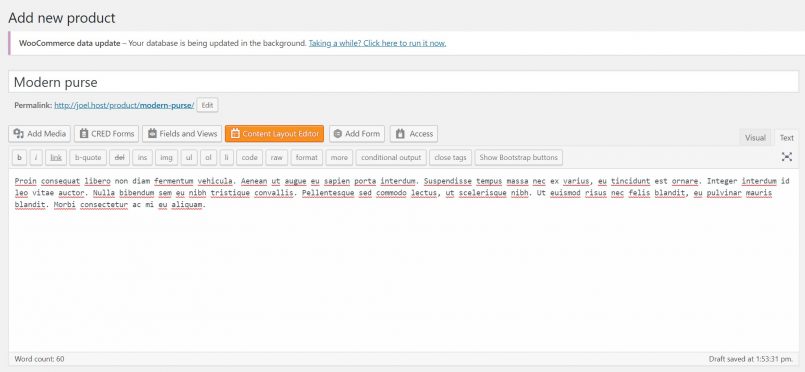 There are further types of information which you can add which you might recognize from editing products and pages:
Product categories – Allows you to group your products based on their type. You can create categories and subcategories. In addition, you can also use add taxonomies to WooCommerce products to organize them by different criterion such as the gender it is aimed at.
Product tags: Break your products into even more precise categories. For example, a jumper might be tagged as "blue" and "small." A great option to help customers search your inventory.
Product image: Your uploaded image will be the main one for the product.
Product gallery: Add further images of the product to create a gallery.
As you can see below, we have added a category, a featured image and a couple more images for the gallery.

2.2 Product data
Further down the same page, you will find a new section called Product data where you can organize your items and provide further information about them.
The first thing to do is to choose what type of product you are selling from the drop-down menu at the top. You can select one of four options:
Simple product – Are shipped and have no variations such as a purse.
Grouped product – Related simple products which can be individually bought. For example, iPhones with different amounts of memory storage (8GB, 16GB).
External/Affiliate product – Items you might list but are sold on external websites.
Variable product – You can have different variations of a product, different prices and SKUs. An example would be a t-shirt with a number of colors and sizes.
The tabs on the left-hand side will change based on which one you pick. For the purposes of this demonstration, we will opt for the Simple product.
Note how we can also select whether or not our product is Virtual (removing shipping) or Downloadable (offering a space to attach the file).

You can see that below there are a number of tabs on the left-hand side which allow us to customize our item further.
Let's look at what you can do within each one:
General – Set the regular and sale price for your product. The sale price can also be time sensitive. You can also choose the tax rate for the product and exactly what is taxable (the whole product or just shipping).
Inventory – You can customize your stock options here by adding

An SKU (identification number)
The quantity
Whether it is out of stock
If you allow backorders (so people can continue ordering even if a product is temporarily out of stock)
Low stock threshold email warning
Sold individually option to prevent multiple buys of the same product

Shipping – Configure your product's weight, size and shipping class.
Linked Products – Upsell or cross-sell this product with similar ones. For example, shoes and shoe polish.
Attributes – Add any custom product attributes such as size or color
Advanced – Add a personal note to customers after they purchase, order the position of products and enable/disable reviews.
2.3 Add a product short description
You can add a brief description of your product which will go just underneath the title.
Now that we have added everything we need we can click Publish and see how our product looks on the front-end.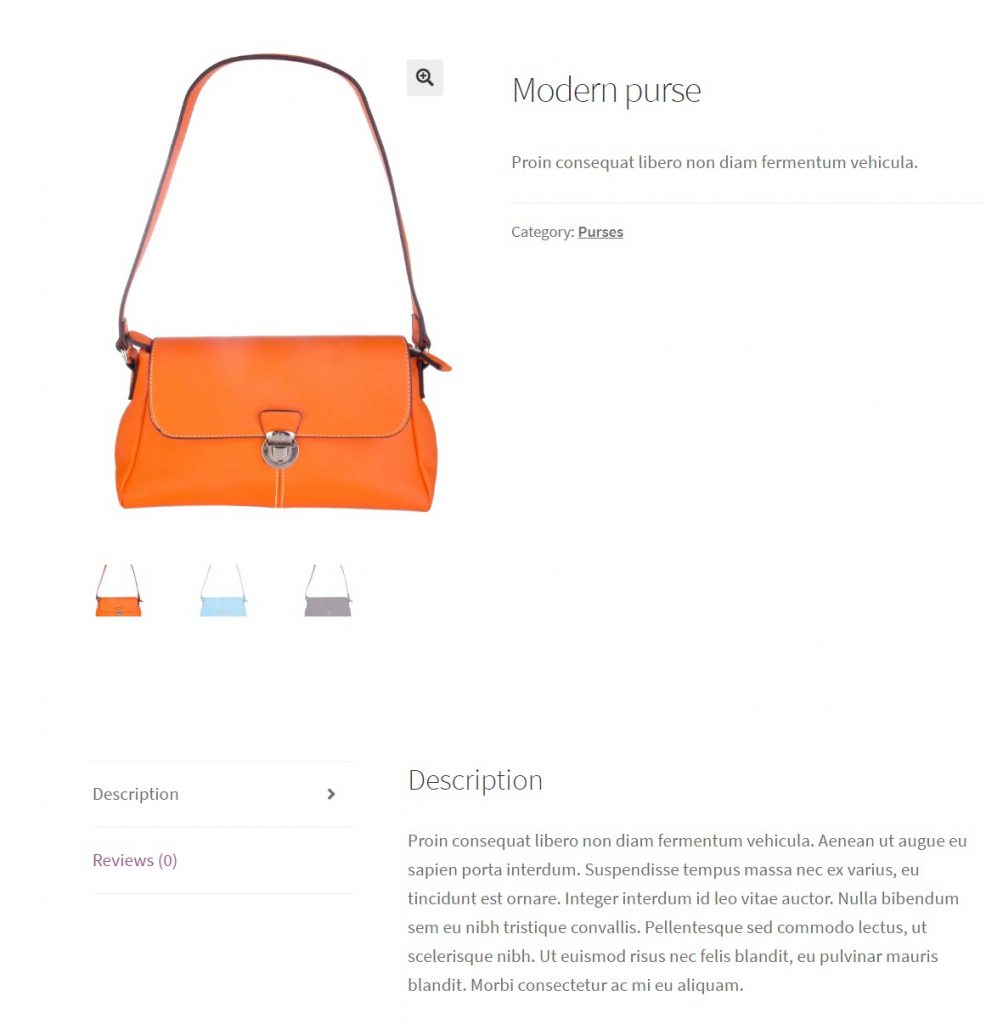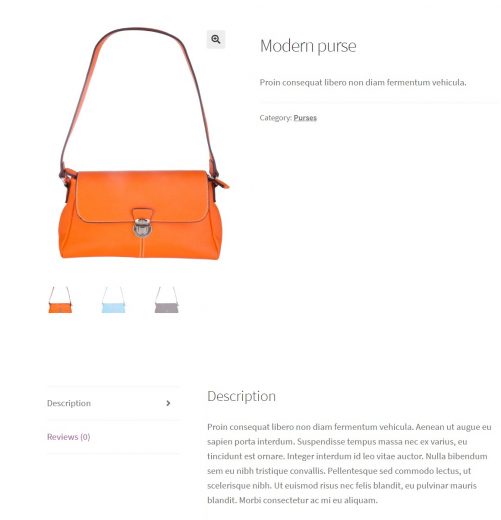 It looks good but we can make it look even better. In one of the future steps, we will go through how we can use Toolset to customize our WooCommerce product page template.
2.4 Other tabs under "Products"
There are four more options within the Products tab which we will briefly mention.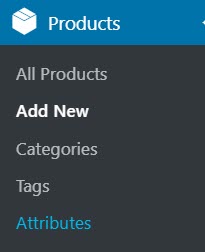 All Products – View everything that you have added.
Categories – View and edit your product categories including description, parent categories and a thumbnail image.
Tags – Add and manage your product tags
Attributes – Add and manage your product attributes