With Toolset, you can use WPBakery Page Builder (formerly Visual Composer) to design templates for your custom post types.
Using this, you can create one design for all posts of the same type. When you need to adjust the design of a post type, you have to edit that one template and the changes will be applied to all the related custom posts.
The following images show how the same template, which was created with WPBakery Builder and Toolset, is applied to two different posts:
Content Template built with WPBakery Page Builder and Toolset fields
Appearance of a tour on the front-end with the WPBakery template:
This is another tour in Amsterdam –

As you can see, the same template is being used:
To design templates for your custom post types, follow the steps below:
Go to Toolset -> Dashboard.
Locate the custom post type for which you want to create the template and click on the Create Content Template button.
You will be taken to the Content Template editor. Click on the WPBakery Page Builder button to design the template.

Click on Add Element, Add Text Block, or Add Templates to start creating your content template. In the Usage section, make sure that your content template is assigned to the correct custom post type, which is Tours in our example.
Now, use the three basic building blocks (Row, Columns, and Elements) to continue building your template: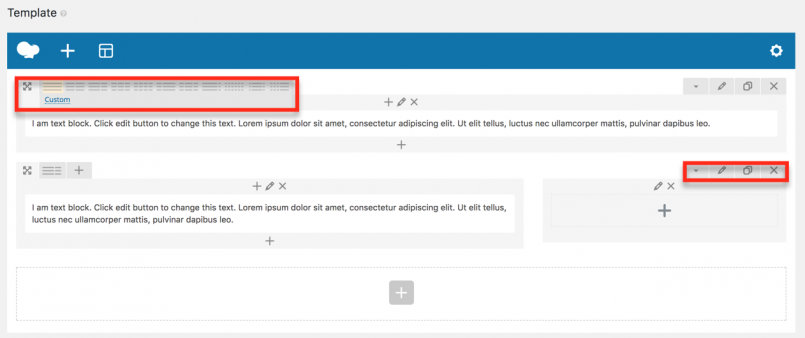 In this integration, almost all WPBakery Page Builder Elements can be used to insert Toolset custom fields into your templates.
You can insert fields into Elements in two ways:
Use fields in the Text module when you simply want to display the fields. To do this, click on the Fields and Views button and select the field you want to insert.
Use fields inside any of the WPBakery Page Builder Elements when you need to use them as arguments. For example, you can insert a shortcode in the Tabs Element. In this case, use the Toolset Shortcodes dropdown at the top of the WordPress bar and click on Fields and Views to select the field you want to insert.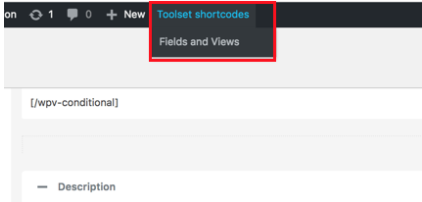 The WPBakery Page Builder templates that you design can include static elements and fields from your content. You can learn more about this on the page about inserting Toolset shortcodes into your designs.
This is how our finished Content Template for Tours looks like: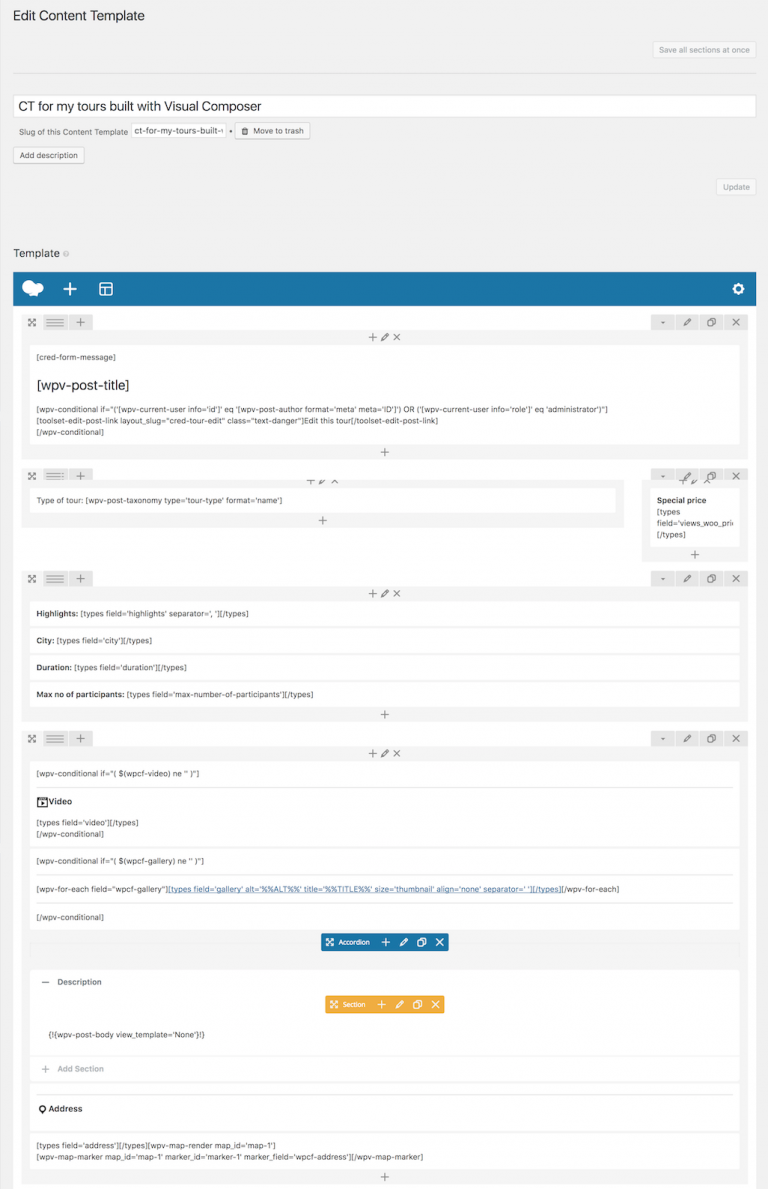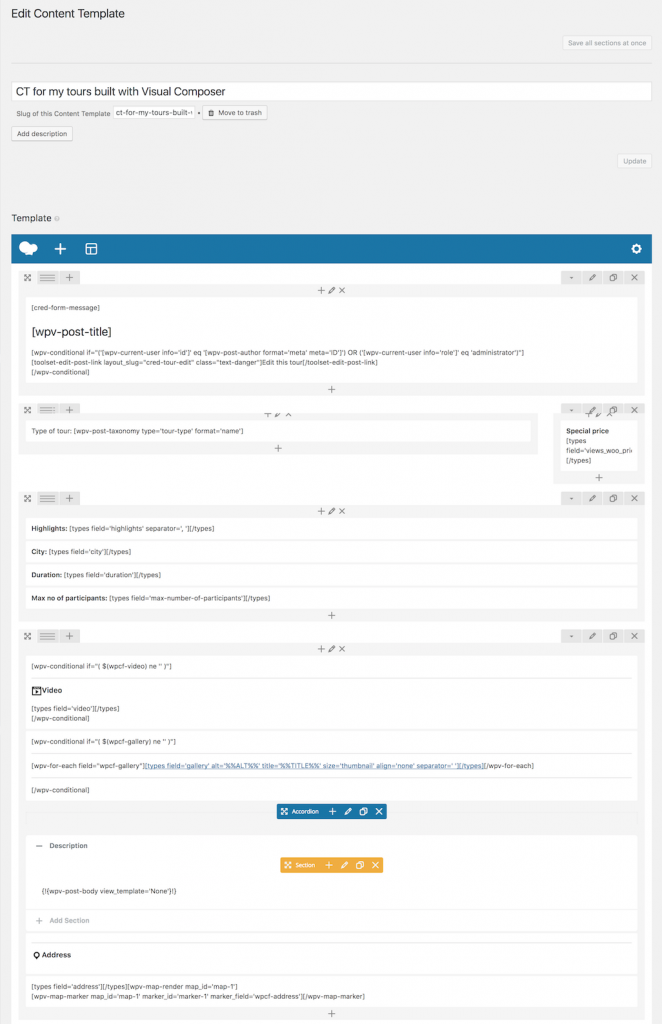 All the items in your custom post type "Tours" will use the exact same template that you build using the WPBakery Page Builder. If you modify this template later, the changes will be reflected for all the tours.
My template is automatically applied for all my tours: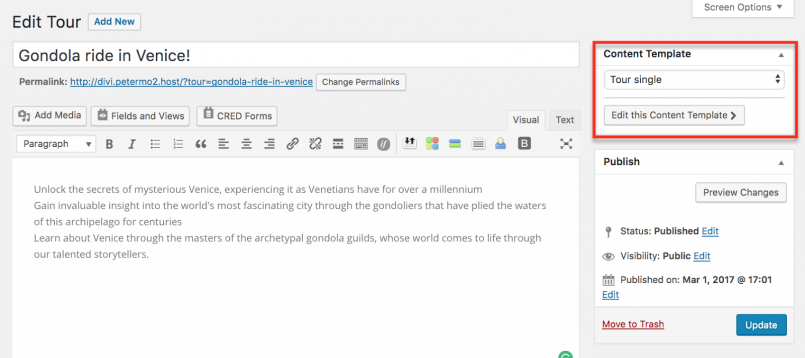 Themes bundled with the WPBakery Page Builder
Toolset can be further integrated with a theme to allow users to customize specific theme options for each template separately. If you are a theme author and want to see this kind of integration, contact us. If you are a theme user and would like to see it integrated with Toolset, you can request this from the theme author.
An example of what the theme options control panel looks like for the archive, if the theme is integrated with Toolset, is shown below.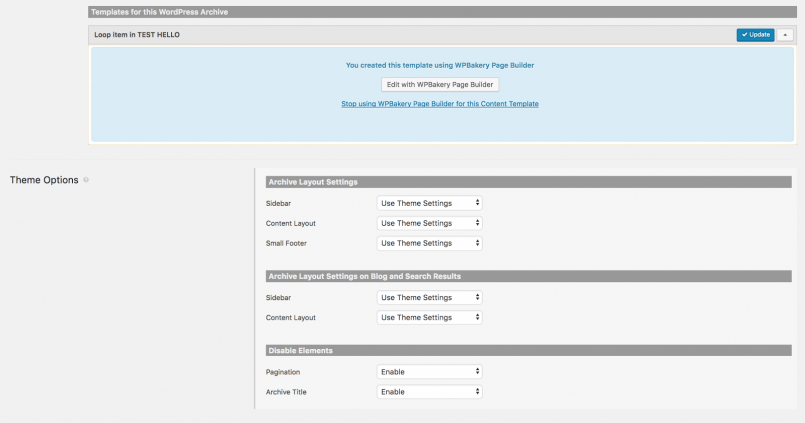 What's next?
Next Create templates for WooCommerce single-product page with WPBakery Page Builder

Need help?
If you need assistance with using Toolset in combination with WPBakery Page Builder, please visit our professional support forum dedicated to this topic.