Toolset Reference Sites are like dedicated WordPress themes. They are fully working designs that were created using Toolset plugins and without writing PHP. Pick one, customize it to meet your project's requirements, and you can then deliver it to your client!
This page explains how to create a copy of a Toolset reference site
on your WordPress site
. This can be performed in only a few minutes when you use the
Toolset Framework Installer
plugin.
How to get started
What you will need
The Toolset Framework Installer plugin to install the reference sites.
The Toolset Types plugin to quickly install Toolset plugins required for a given reference site.
A blank WordPress site (you do not need to reset the site manually, as our Framework Installer will do it for you).
Watch the video
Steps to follow
Ensure you have the Toolset Types plugin installed and active.
Go to the Plugins -> Add new page and switch to the Commercial tab.
Scroll down to the Toolset – Plugins for WordPress development section.
From the plugin list, check Framework Installer and Activate after download, and click the Download button.
The Framework Installer plugin will be installed and activated.
Go to Toolset -> Reference sites.
Select the site you want to install.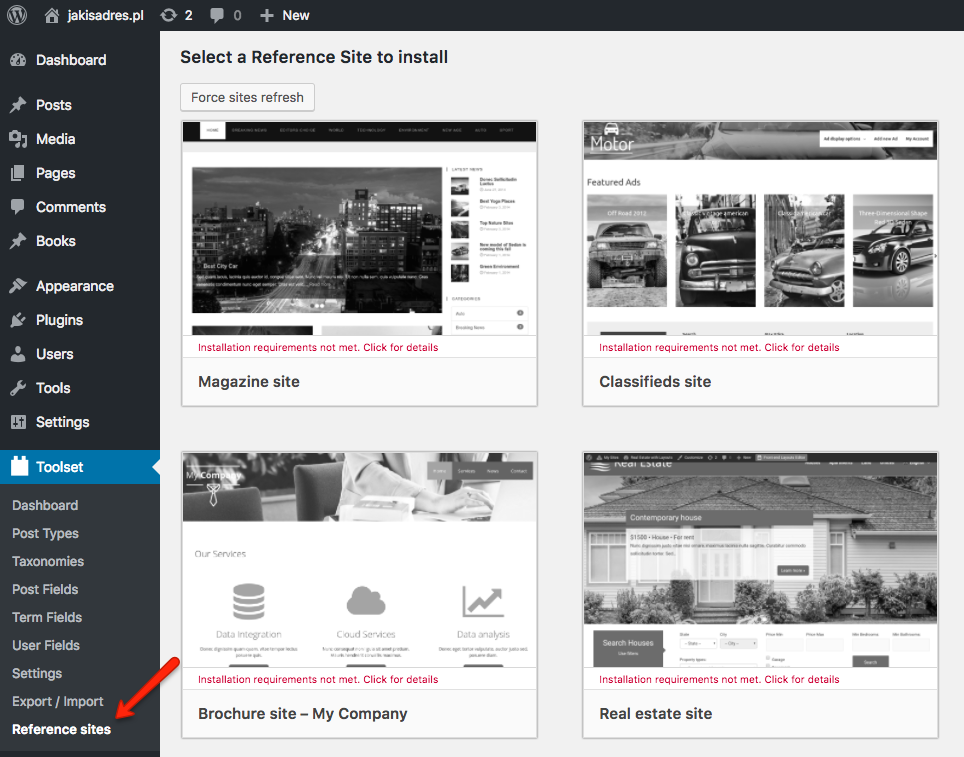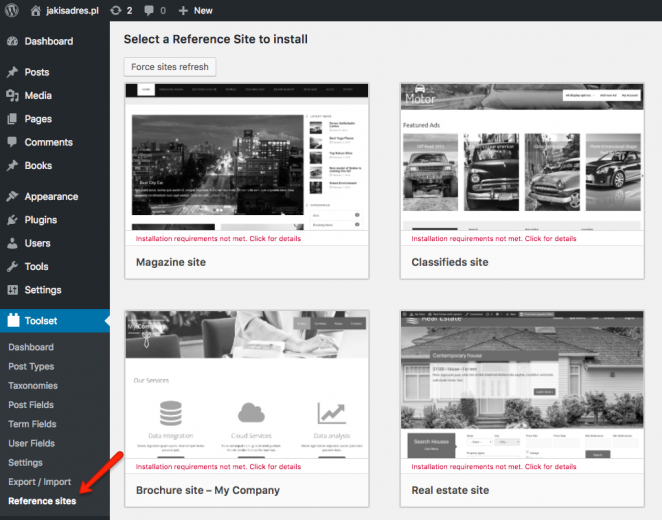 You will see a list of required plugins. If your site is missing any required plugins, visit the Plugins -> Add new -> Commercial tab again and install them.
Framework Installer requires a blank site and will erase your current content when installing a new reference site. Check the boxes that give your consent to this erasure and that confirm you have created a backup of your data: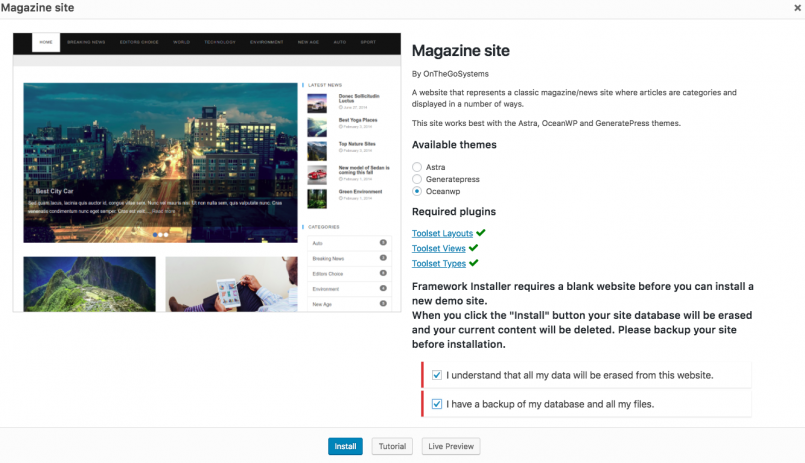 Click Install.
Your site will be installed in approximately one minute.
Please remember: All the images used in the reference sites are temporary placeholders and should be replaced by your own graphics.
Note for WordPress Multisite users If you are running your WordPress in the WordPress Multisite mode (network), you need to install one of the required themes (Astra, OceanWP, GeneratePress) and activate it manually from the Network Admin.
Reference sites exist for magazines, companies, directories, classifieds, real estate, e-commerce, and more. Therefore, starting your project from scratch is not required. Does this sound interesting? Why not give these references sites a try?
jump right to the reference sites