Toolset 1.6.4 – Compatibility with WordPress 6.1 and Bug Fixes
We just released Toolset 1.6.4 with compatibility fixes for WordPress 6.1. It updates all major Toolset plugins and fixes some other bugs as well.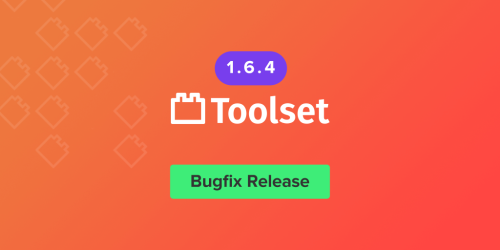 WordPress 6.1 was released in November and introduced some breaking changes with third-party plugins. In Toolset, the most notable issue was with the Fields and Text block which completely broke in the Block Editor.
Toolset 1.6.4 fixes this and some other issues to make Toolset fully compatible with WordPress 6.1.
Please note that last month, we released Types 3.4.17 with fixes for various issues.
Fixes and Improvements
Views 3.6.5 and Blocks 1.6.5
Fixed an issue that broke the Fields and Text block when using WordPress version 6.1 or newer.
Improved the post title shortcode with a new output mode.
Fixed an issue with an infinite loop that occurred when adding a pagination block inside a View block.
Fixed an issue with the View block's wizard icons when using WordPress version 6.1 or newer.
Forms 2.6.14
Improved compatibility with PHP 8.
Maps 2.0.13
Improved the accessibility of the distance filter.
Access 2.8.15
Improved the management of capabilities for post types to avoid conflicts with third-party custom capabilities.
Layouts 2.6.12
Improved compatibility with PHP 8.
Improved the mechanism to import data by deleting no longer needed files.
WooCommerce Blocks 3.1.4
Fixed various compatibility issues with the Customizer page.
Forms Commerce 1.8.5
Improved compatibility with PHP 8.
Fixed various issues on the Checkout and Thank-You pages.
Download and Update
We release Toolset updates gradually and you might not see this update in the admin right away.
To get it without waiting, go to the Plugins → Add New page and click the Commercial tab. There, click the Check for updates button, select the plugins you want, and click to update them.
Feedback? Questions?
For any questions and thoughts, use the comments below and we'll reply!