Toolset Types Removed from WPORG – Where to Download and What's Coming
Last week, we permanently removed Types plugin from the WordPress.org plugins repository. We wrote about it at the end of 2017 and it's time for us to move on. All Toolset clients can download Types from their accounts. Of course, if you're interested in Types, you'll get it when you buy Toolset.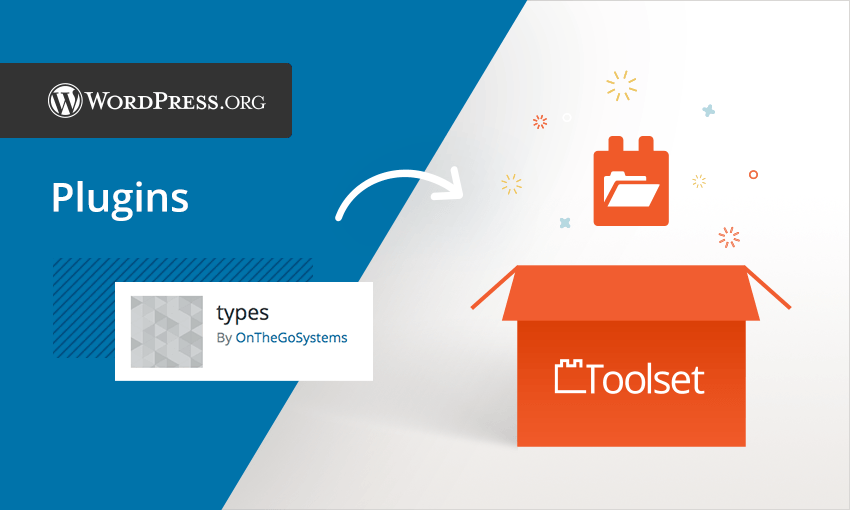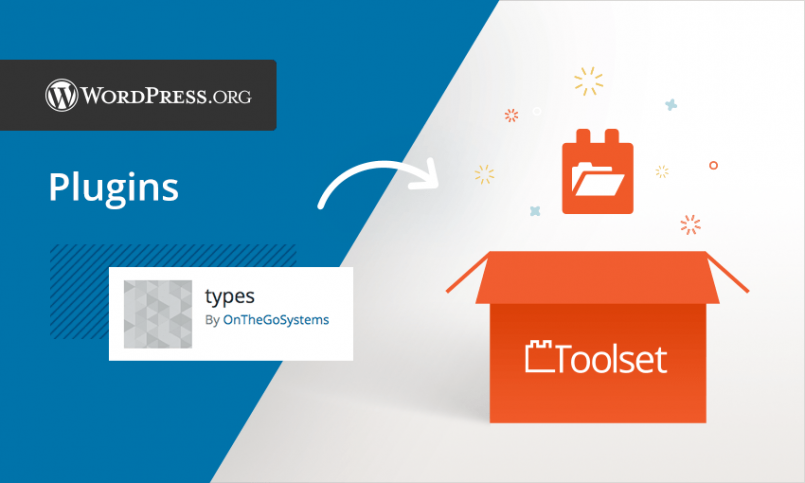 Why Move Away from The WordPress Repo
Moving away from the WordPress repository means moving away from the freemium model. This model has its advantages and disadvantages. After several years of running freemium, we decided that the disadvantages outweigh the advantages.
Going freemium means that you are getting "free marketing" and you can offer paid services to those people who try your free offering. It also means that you have an opportunity to impress people by your professional level and dedication before they make a decision to buy from you.
The freemium model also allows to position yourself as a market leader and allow an entire ecosystem to form around your free product.
Some of the most popular WordPress products have gone the freemium path and enjoy great success.
On the other hand, the freemium model also requires spending a considerable part of your resources into supporting people who will never pay you. It means that the (usually small) part of the clients who buy from you sponsor the engineering and support work that goes towards the majority who doesn't buy. This means paying for marketing with engineering and support. When the marketing benefits that you receive are much bigger than the engineering and support cost, it makes sense.
For Types, we realized that it doesn't make sense. So we made the decision to drop out of the WordPress plugins repository. We announced it at the end of 2017 and we've stopped updating Types there in the last few months.
Is this a Bad Sign for Types or Toolset?
Quite the opposite. Toolset powers tens of thousands of commercial websites and enjoys a solid reputation. We feel that we don't depend on a free version for promotion, so we've decided to move away.
Our move to be 100% "premium" here on toolset.com will allow us to prioritize what our paying clients need.
What's Coming to Types
Types is unique in WordPress because it offers everything for custom types, relationships, fields and taxonomy in one place. Other plugins allow to implement parts (and sometimes do it very well), but Types takes care of everything.
The big benefit in that is that Types allows much richer integration and control.
We are working on a new design for Types, which will allow you to really benefit from this integration. With the new Types design, you will be able to create custom post types, their fields and taxonomy from the same admin screen. There will not longer be separate management for custom post types, custom fields, taxonomy and relationships.
This is a very big project and it will take us a few more months to complete, but we believe that it's the future of custom Types for WordPress.
Anything Else Coming to Toolset?
Spoiler alert – if you enjoy surprises, skip this section.
Today, you need to be pretty good at HTML and CSS to produce nice looking websites with Toolset. This is changing and the first public release is coming this week.
Feedback? Need Help?
If you ran any initiative that depended on the free Types from WPORG, please contact us. We're sure that we can find a good solution together.
To leave your feedback, please add comments here and we'll get back to you.