How Toolset's new modules will make it easier for you to add important features to websites
Toolset's new modules library allows you to build rich sites faster. Choose complete elements for your sites from our modules library, install and customize to fit your exact needs.
Whether you are an experienced developer working on a number of complex website projects or a business owner creating their very first website, you might feel like you are always in a race against time to finish. Either way, you will have customers waiting to see a website.
Our new Modules Library makes it easy to put a rich site together in minutes, without having to build everything from scratch.
What are the new Toolset modules?
Here are the new modules we have added to Toolset Module Manager. For each type of module we have added multiple styles for you to try out.
Testimonials – We have five different ways for you to display a listing of your testimonials. Each one has its own design for you to choose from as well a custom post type and field groups.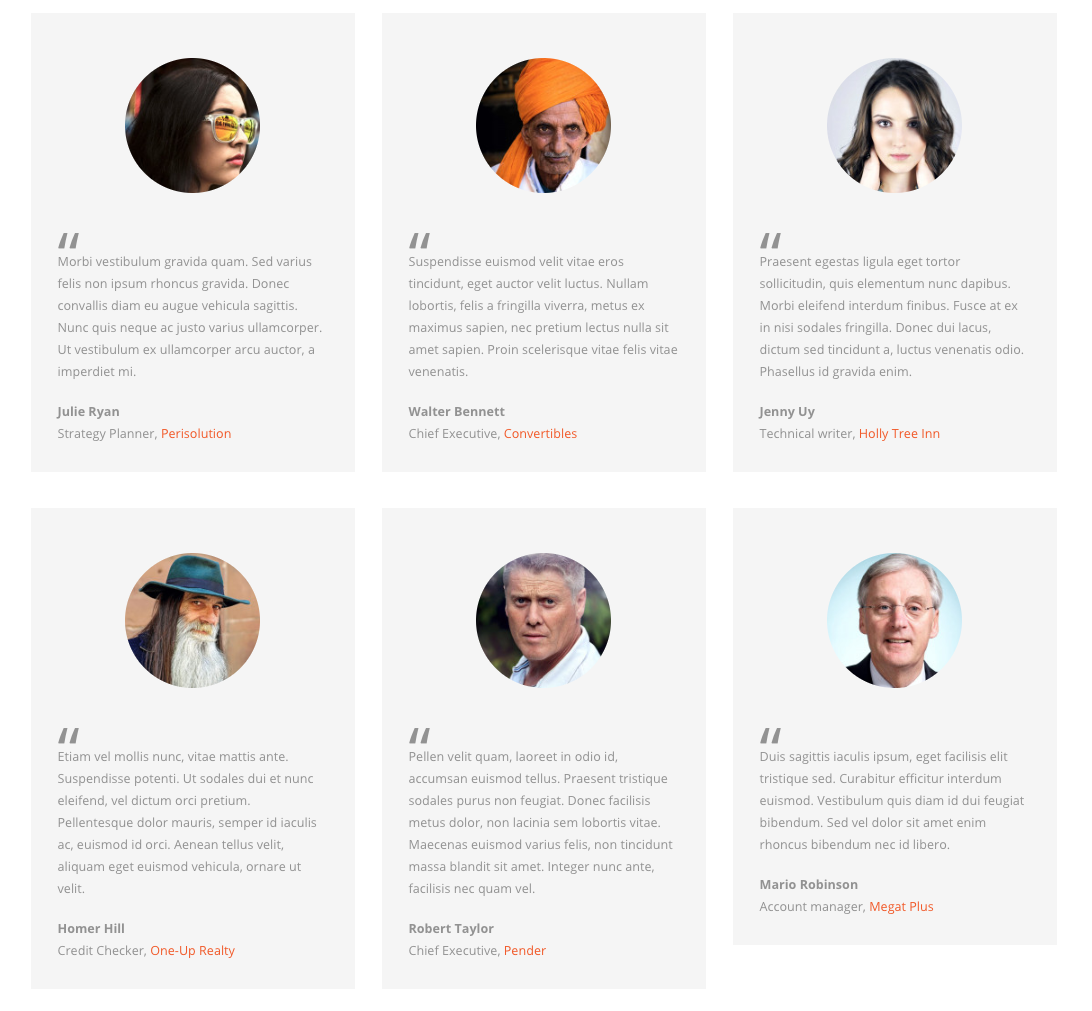 Check out how our other testimonial modules look.
Members – Display members (such as a company's employees) in a customized list with our four modules. Each one uses a different design such as sliders or grids and includes custom post types and custom fields for members.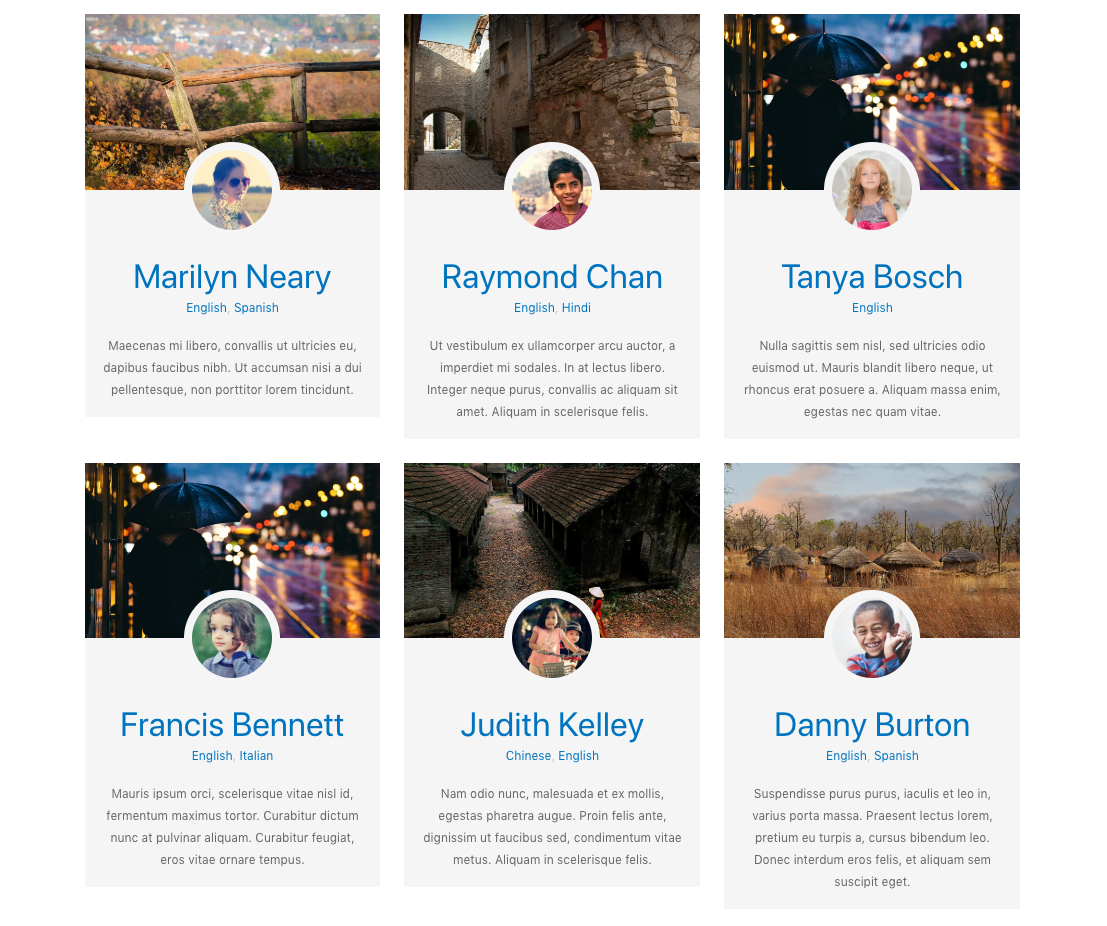 Check out how our other members modules look.
Portfolio– Showcase yours or your client's work with our portfolio modules. Each of the five offers various designs and functions for your websites along with custom post types and custom fields.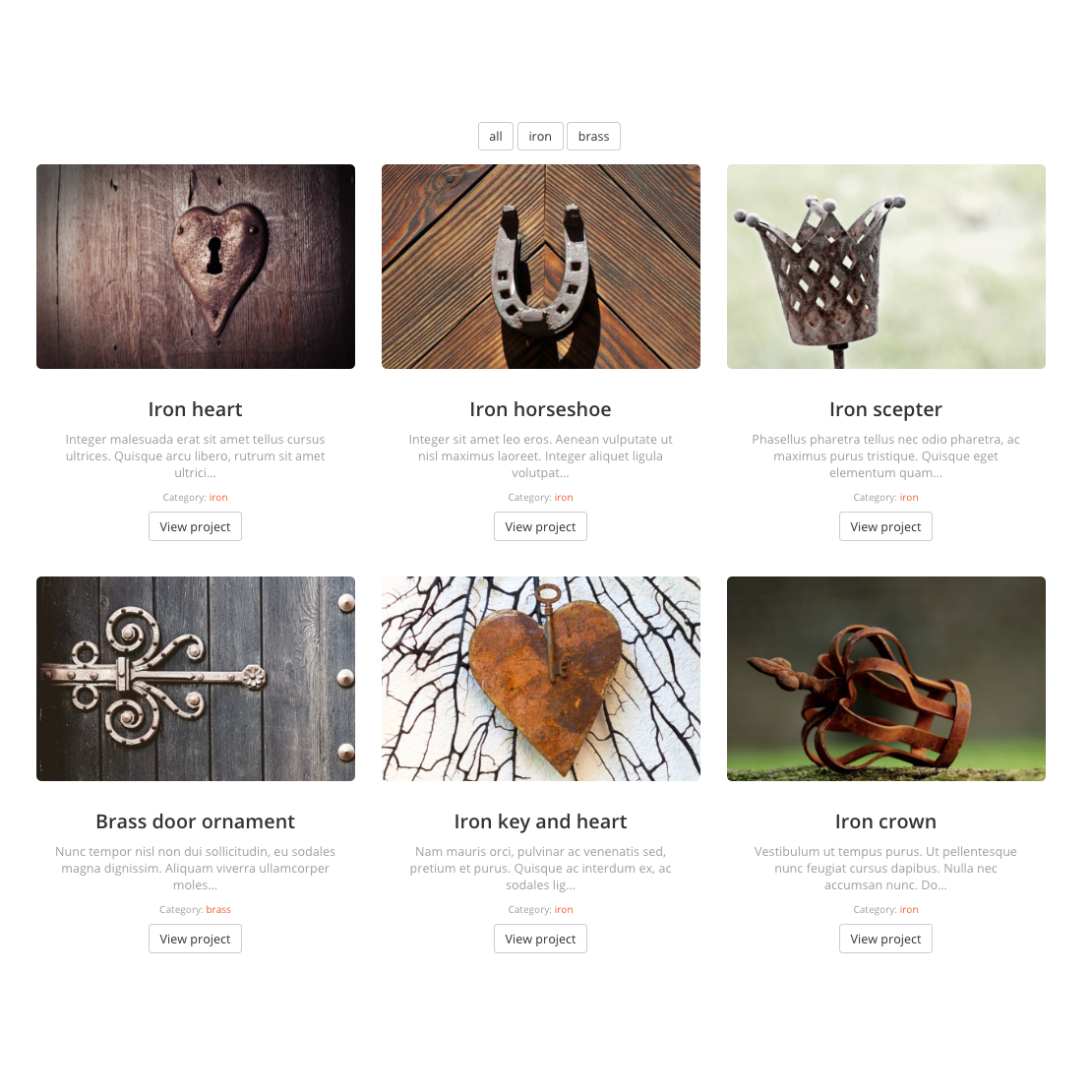 Check out how our other portfolio modules look.
What you need to get started
Here are the Toolset plugins you will need to use to install our modules:
Toolset Types
Toolset Views
Toolset Module Manager
How to add a module to your website
Let's see how quickly you can add a module to your website. As part of this demo, we'll import the Portfolio – one column list with large photo to our website. For this purpose, we will also add the demo content. Notice how we will not use any coding.
Install your module:
We first need to select the module we want to use and install it.
In your WordPress admin, head to Toolset > Modules and click on Modules Library.
Scroll down until you find the Portfolio – one column list with large photo and click on Import.
You can select which of the module contents you want to add. You can also import the demo content we have created to see how it looks. Once you have selected what you want, click Import selected items.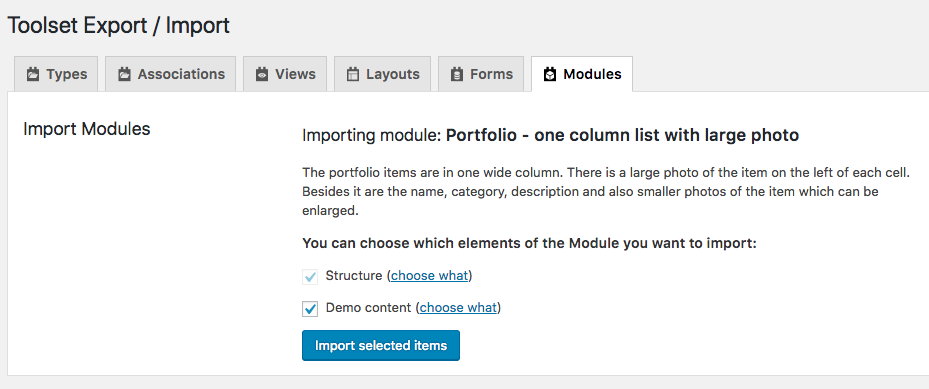 Add your View to your website:
Now that we have our View, we can display it wherever we want on our website. To display our module we need to:
Select which page we want the module to appear on
Click the Fields and Views tab under the title
Find the name of the View (Portfolio – one column list with large photo in this case) and click on it to insert the shortcode

Save your page
And that's it! We haven't had to use any PHP, CSS or HTML to add and style our content – it all comes ready made.
Your testimonials should like this: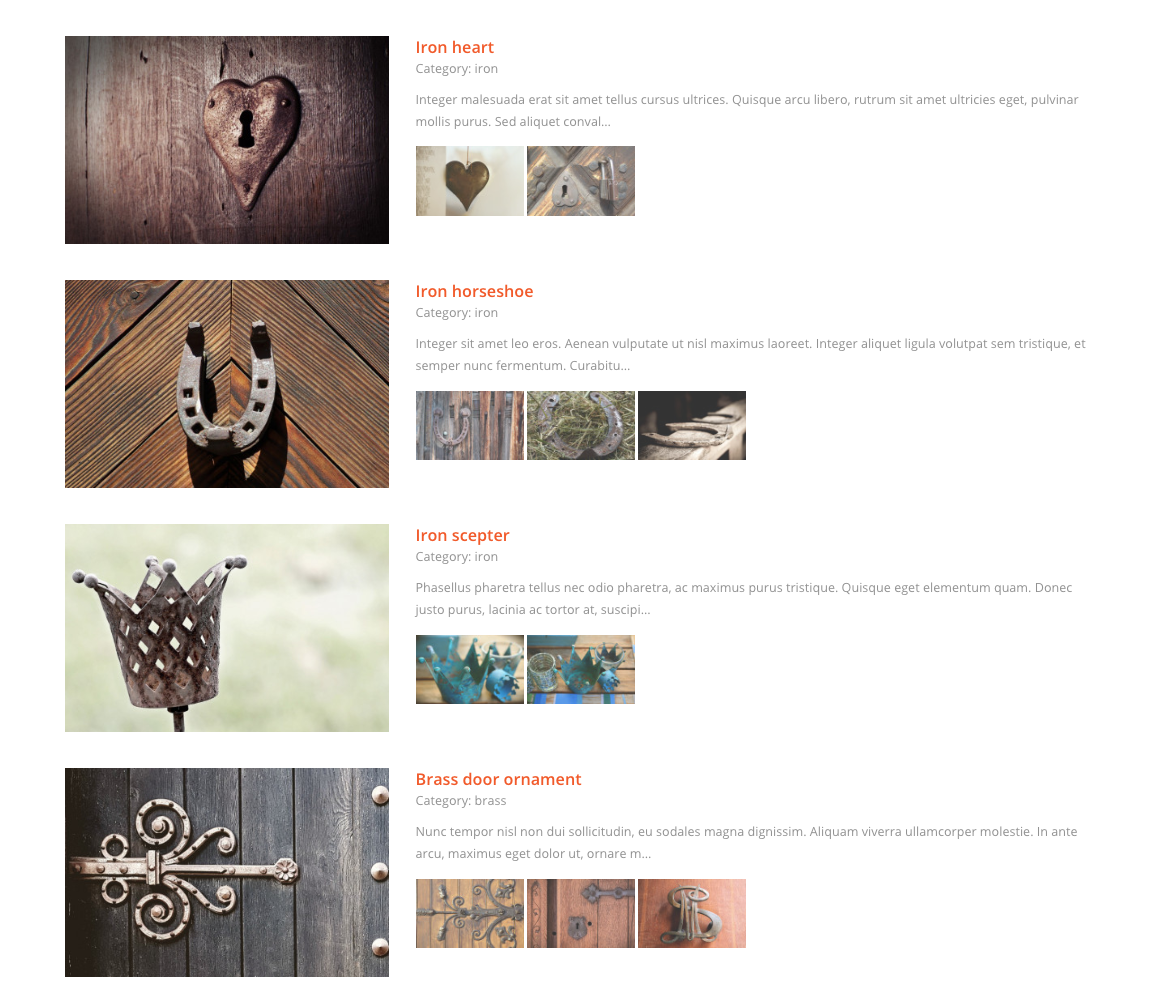 Replacing the demo content with your own
Every module in our library comes with demo content. This demo content allows you to see the module right after you import it. Of course, you should remove our demo content and replace it with your own. Remember to replace both our demo images and texts.
How to customize modules
The best part about using modules from our library is that you can modify them exactly as you need. You can edit anything in any module, including its structure and design.
Different modules contain different Toolset elements. When you go to Toolset->Modules, you will see the list of modules that you've already installed.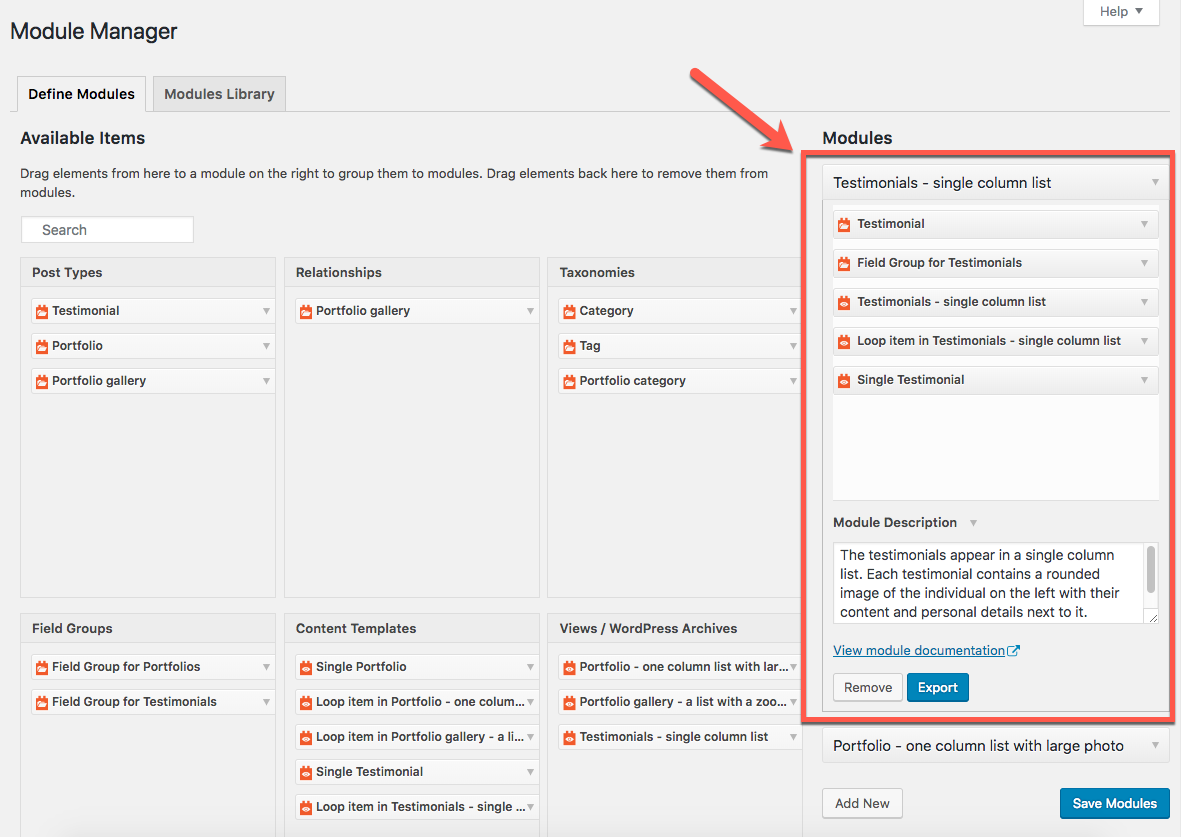 Each module lists the Toolset elements that are part of the module. You can edit anything you see, including the types, fields, Views, templates and forms. Nothing in the modules is "hard coded".
Preview the modules library "in action"
We created a new reference site where you can see all the new modules in action. This way, you can experiment with the different modules in a browser and see how they will appear on your site, without having to import them.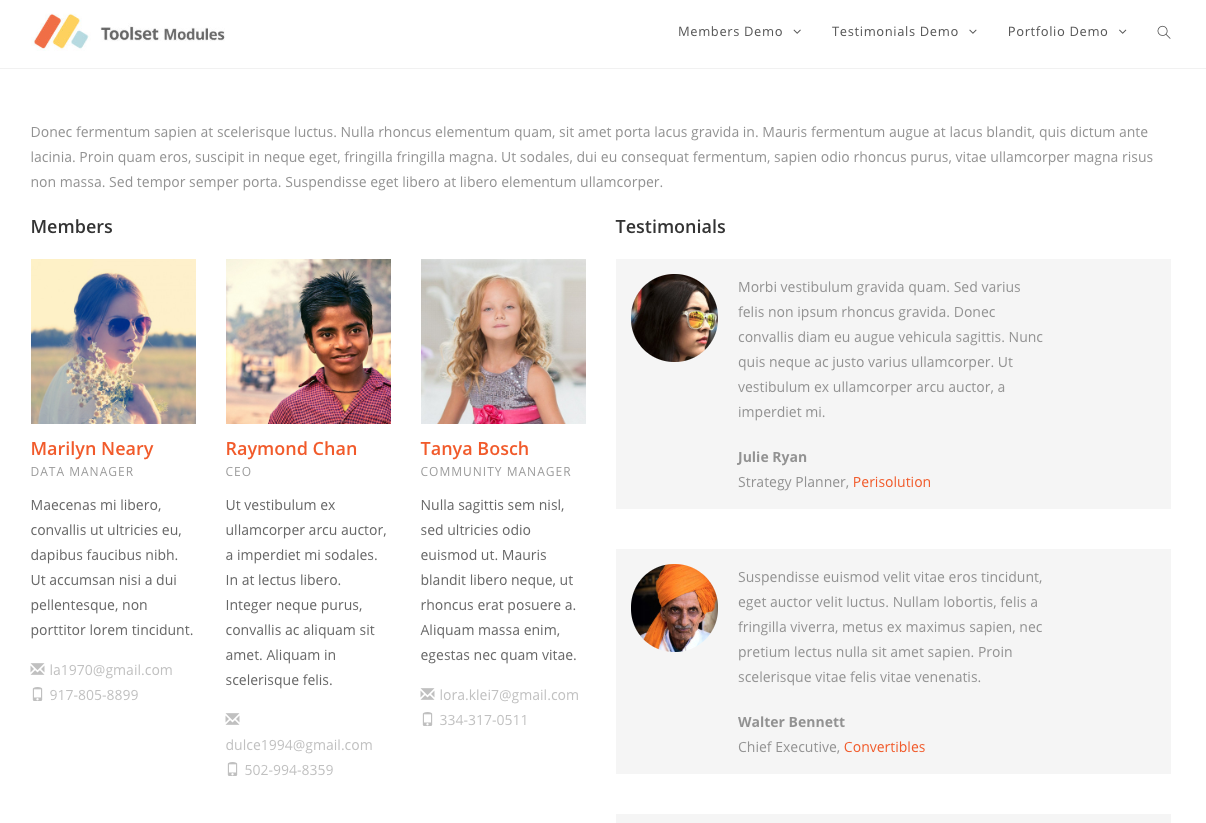 Other updates in Module Manager
Apart from adding new modules, we've also updated the Module Manager plugin to improve the overall user experience and the usability.
Here are some most significant changes:
We have added category icons. Now you can easily find the modules you need.
You can also import the demo content. No need to waste time to fill out your site with some dummy content to see the imported Views in action.
We have improved the summary report. The new table will help you know immediately what Toolset elements were created (please see screenshot below).
We have added the "What to do next" section. It especially useful when your module includes many elements and you are not sure which specific View to use. It also contains a link to the module documentation where you can read more about the module.
What other modules would you like to see?
We hope that with our new changes and modules you will see how easy it is to add features that once might have been complicating and time-consuming. Hopefully, you'll be able to take more jobs than ever before by using them.
Are there any modules that you would like to see us add next? Let us know in the comments below.