Release Candidate for Toolset's Post Relationship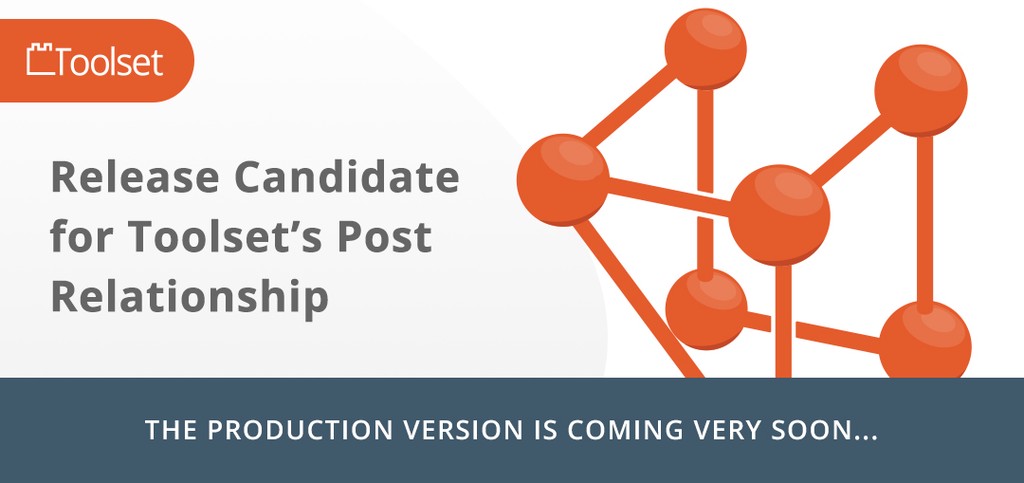 We're ready with a release candidate for all Toolset plugins. This should be the last version before a production update, very soon now.
As we get closer to the production release, the number of changes is going down. In this release candidate, we focused on completing the last remaining functionality and mainly polished up everything.
CRED plugin becomes "Toolset Forms"
The name CRED stood for Create, Read, Edit, Delete. Unfortunately, this name was clear to us and to a small part of our clients. To the rest, it was just another name to learn. To make Toolset easier for everyone else, we've rename CRED to Toolset Forms.
A bunch of usability improvements
We've been running usability testing on Toolset in the last few months and we'll continue them in the following months. Our aim is to find places that hurt usability, improve them and let you use Toolset with a lot less stress.
Our aim is:
From zero to mastering the basics in 45 minutes – new clients who've never seen Toolset before should be able to create their first templates, Views and archives in no more than 45 minutes.
Advanced topics in under an hour – things like creating a custom search, displaying results on a Google Map, front-end editing forms, etc. Each of these, to learn completely from scratch, should take under an hour.
When we started these rounds for the basic functionality, we measured around 60 minutes. We already implemented a number of changes to the GUI and documentation. In the next round, this week, we're aiming to see people succeed in under 45 minutes.
Support for CSV import with post relationships
Types 3.0 offers advanced post relationships, which we're storing in a custom table. This creates a challenge for content import because import plugins can only create post-meta (custom fields) and taxonomy.
To overcome this, we've created an importer tool which will convert from post-meta to Types' custom table. You will be able to specify the post-relationship information in the CSV file, import it in one pass and Types will set the correct relationships between the imported posts.
This approach has a number of benefits:
It works with all CSV importer plugins.
It allows you to set both simple and very complex relationships.
It allows to import all the content, including parents and children, in one pass.
Importing Content From CSV, with Post Relationships »
Download and try
The list in this post is nowhere near complete. This release candidate includes heaps of new features, usability improvements and bug fixes. The best way to see them is to try the beta.
You can download it from your Toolset account. Click on Downloads, switch to Beta and download.
We're starting QA now and we expect to release the production versions in about two weeks.
Feedback?
Tried the RC? Let us know how it's working for you and if you ran into any problem. Many of the improvements from previous betas came from your feedback. We appreciate the time that you already put into testing betas and we hope that you're happy with the way it's going.
The entire Toolset team is looking forward to reading your comments!