Types, Views and CRED Betas with Post Relationships and Repeating Field Groups
We're proud to hit another milestone in our journey for post relationship in Toolset. Today's beta release includes Types, Views and CRED with support for post relationship and repeating field groups.
Support in Views for Repeatable Field Groups
In the previous beta, Types included "repeatable field groups". This means that you can make entire groups of fields repeat and even nest repeatable groups under others. In this beta update, Views comes with complete support for displaying repeatable field groups. Actually, the process is simple. You set-up a View which will go through the items in the repeating group. In the View, you choose which fields to display and how.
It's a View, right? So, you get all the goodies that Views offer. You can display all the items or use Views filters to choose only specific groups to show. If the repeating fields are many, you can use pagination and even AJAX updates.
Read more on the documentation page about creating and displaying repeatable field groups.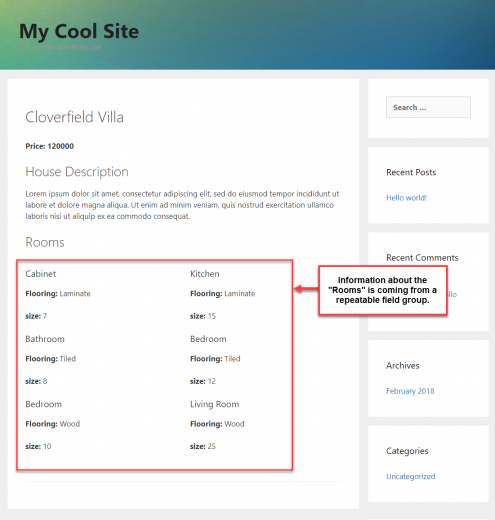 Support in Views for Post Reference Fields
Post Reference fields are a mirror image for repeating field groups. If a repeating field group implies adding many pieces of information to a post, the post-reference field allows connecting several posts to one (you can call it a parent). This update of Views lets you treat a post-reference field as a connected post, so you can include its fields in templates and in Views.

Post Relationship in CRED
Much of the work in this development cycle went into adding support for relationship forms to CRED. In this beta, you will discover a new kind of CRED forms called "Post Relationship" forms.
As their name implies, post relationship forms allow you to create and edit post connections, from the front-end. You can connect between any two posts (for post-types which you've defined a relationship in Types), or choose another item to connect to a given item. You can also edit the connection information between two posts.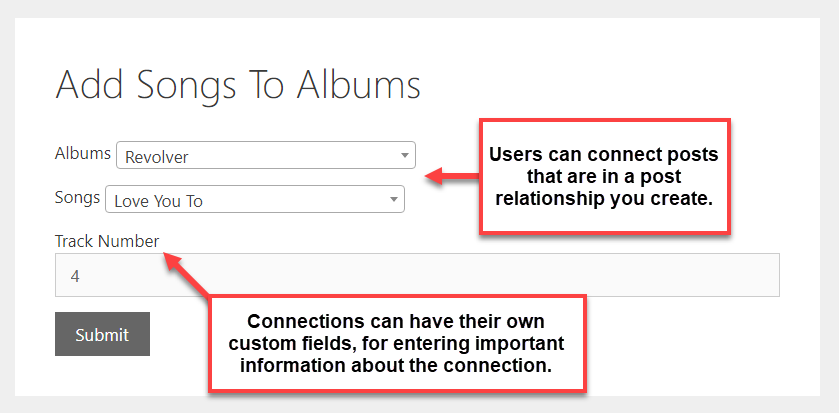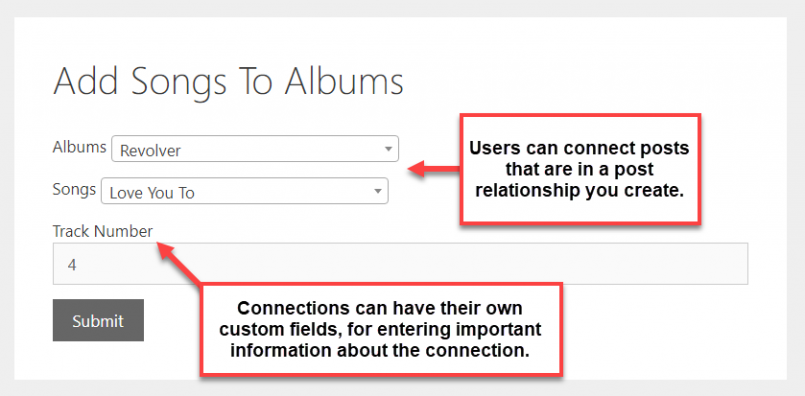 In all honesty, this is a complex subject. We ran several usability tests on it and we see that CRED forms for relationships are not a trivial thing. It's not so much because of CRED GUI, but a lot because the workflow requires careful planning (by you) and a good understanding of the elements involved.
We strongly recommend that you start by reading the new guide on CRED forms for post relationships.
There, we do our best to explain the idea, your possibilities and what's involved. Then, building it in the GUI will make a lot more sense.
It's worth your time. These CRED forms for post relationships are definitely not a beginner's subject, but they open up possibilities for building sites that were completely outside of our reach until now.
Gutenberg Integration
This beta of Views comes with first-time support for the new Gutenberg editor. It allows you to build Views and Content Templates using Gutenberg. You'll discover new Views cells in Gutenberg and enhancements for the HTML cell. An example site and full documentation are "in the works" right now. Next week, we'll have the complete demo and tutorials on how you can use Gutenberg with Toolset. This is our first part of the integration. We're continuing to work on integrating the rest of Toolset with Gutenberg, but what we have now is already a pretty good indication of where this is going.
BTW, I've seen a lot of concern about backward compatibility once Gutenberg is out. We want to assure you that there will be no backward compatibility issues. We're adding new Gutenberg cells and integration with Toolset. You can always run existing sites without Gutenberg (even once it's already bundled with WordPress). It's important for us to stay ahead and make sure that when you choose to work with Gutenberg, Toolset has everything ready for that.
Download and Try
These are betas, right? So, please don't use them yet for your production sites. We'd love to get your feedback about the new betas. Best is to try it on fresh installs. If you're trying them on sites that you're developing, please make a copy first, so that you can easily go back to the "production" versions of Toolset plugins.
To get the betas, go to the Downloads section of your Toolset account. At the top-left, select the Beta channel. You should download Types, Views and CRED (of course, only the ones that you use). Don't mix production with development versions.
Coming Next
We're at about 90% development of the entire post-relationship project. Just a bit more to go and we're closing development to start QA and prepare for production updates.
Gutenberg Tutorials
Next week we're planning to publish the tutorials on how to build Views and Content Templates with Gutenberg. If you're curious, you can try it already yourselves. The functionality is already in the current betas, but the documentation isn't yet ready.
Complete WPML Support
Next week we're also going to update the betas with full support for WPML. It's almost ready but needs a little more polishing. This support for WPML will allow you to run multilingual sites with post relationships, repeating field groups and post reference fields. The idea is to make everything translatable both via WPML's Translation Editor, when using translation services and when translating in the native post-editor.
If you've been using WPML and Toolset, you should know that you're getting pretty great integration. WPML team works with other developers (like ACF) on complete compatibility. Because we have full control over both WPML and Toolset, the level of integration and the convenience it offers (to you) is unique. Of course, we'll write about it separately.
Integration with Layouts for Post Relationship Forms for CRED
The final major development remains between Layouts, CRED and post relationship. We're planning to have this within about 2-3 weeks from now. This will allow you to use everything in Toolset and build sites that take advantage of post relationships (and repeating field groups, etc.). The planned beta for Types+Views+CRED+Layouts will be the last beta before a production release.
A Production Release
So, it looks like a production release for the next major version of Toolset will be ready around the end of March or sometime in April (and we've been known to make wrong schedule predictions in the past). At that time, we're planning to do two other important changes. We'll be moving our site from wp-types.com to toolset.com and we're moving the payments system to be based on automatic subscriptions.
Questions? Ideas? Suggestions?
It's been a long journey so far and we're almost there. Let us know what you think and we'll get back to you.