Layouts 1.9 Beta 2 – More Features for You
By this time, we planned to have Layouts 1.9 released. It's not out yet, but for good reasons. We pushed in a few killer features which will completely change the way you work with Toolset.
New in Layouts 1.9 Beta 2
Our goal grew since we released the first beta of Layouts 1.9. Layouts is turning into a pretty nice editor and is now a fully-featured page builder too.
The major goals in these new features are:
To achieve a single and simple workflow for building sites with Toolset, always starting with Layouts. No matter what theme you're using, we want you to follow the same process.
To make it easy to get started with Layouts (and Toolset), eliminating all pitfalls on the way. Everything should have a sensible default, which allows you to 'work'. From that point, you can customize, but you don't have to set up everything from scratch.
You can do everything, on any theme, without the PHP integration
| Content layout for custom post type Consultants | Consultant post on a site using the free Vantage theme |
| --- | --- |
| | |
Until now, you had to integrate Layouts with your theme in order to use it. We provide integrations with a number of great themes and there's our own Toolset Starter theme, which is built for Layouts. However, if you use any other theme, you were kinda stuck.
No more.
As of Layouts 1.9 (available in beta 2), Layouts uses two modes:
When integrated with the theme, Layouts takes over the entire output
When not integrated with the theme, Layouts takes over "the content" area, like all page builders do
The novel feature that we've added to beta 2 is the full support for designing also templates and archives with Layouts, when it's not integrated with the theme. These will work very similarly to the Content Templates and WordPress Archives from Views plugin.
So now, you can build an entire site using Layouts for any theme. If the theme is integrated with Layouts, you can design everything from the first pixel to the last. But, if it's not, it's still fine. You'll design the "middle" of the page.
This way, it's a ton easier to design templates and archives for your custom types. No more need to edit complex HTML to achieve beautiful designs. You can draw them with Layouts on a convenient (and responsive) grid.
Automatic loading of the right Bootstrap CSS
In order for Layouts to work, it needs to have the correct Bootstrap CSS loaded. We changed the loading logic, so that we're always loading Bootstrap 3, unless the theme or you choose otherwise. This small change makes it easier to use any theme with Layouts. Most themes don't load Bootstrap, so there's no conflict. If your theme does use Bootstrap, tell Layouts not to load its own and you're all set.
Improved all theme integrations, made them complete and offer much simpler customizations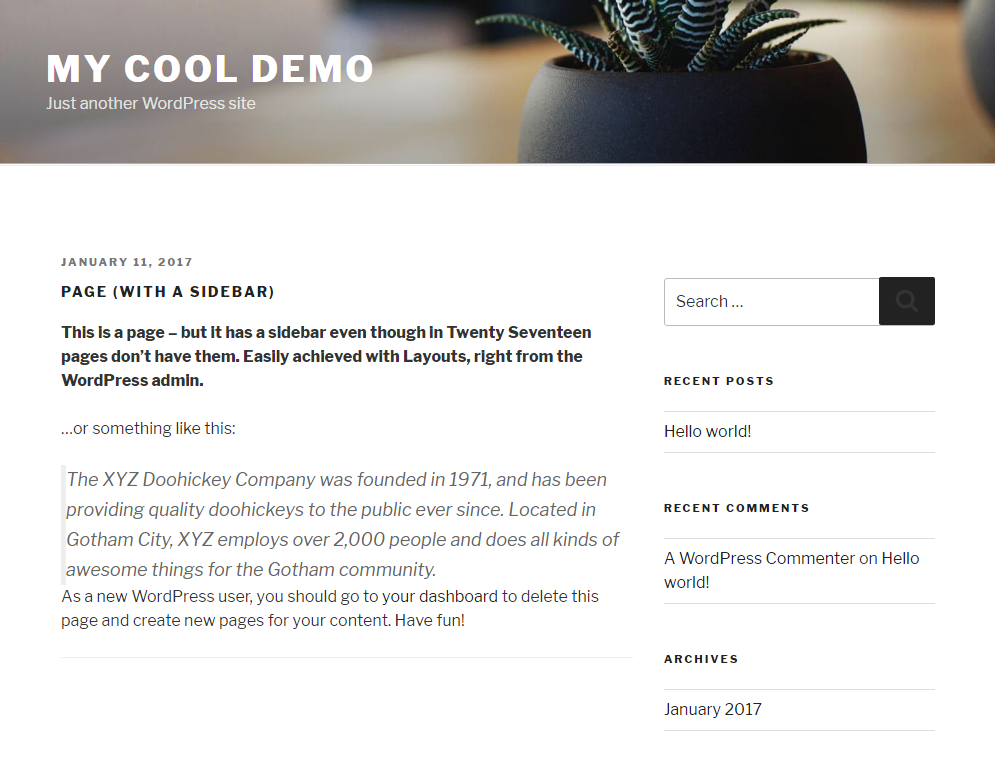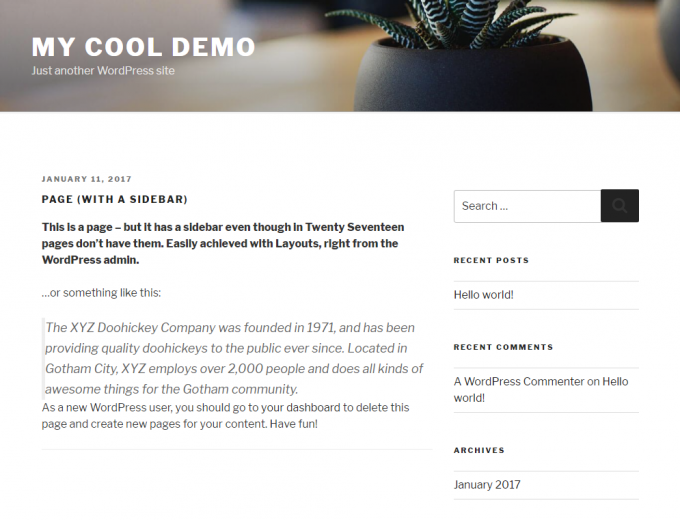 From now, when you use one of the pre-integrated themes with Layouts, your experience is exactly like you'd have with any WordPress theme.
The theme will work fully, with all elements created "out of the box". This includes layouts, templates, and archives. From this point, you can change layouts, add new ones or replace with your own.
Layouts will include the elements from Views plugin. To make this happen and work automatically for you, the theme integrations are coming with an installer derived from our Toolset-based themes project.
Accurate and intuitive "row mode" defaults

The Layouts plugin uses rows and cells. However, not all rows are equal. We've created different rows for different cases. There are rows that fit inside the grid, rows the extend to full width and rows where only the background extends.
The problem is, rows work a little differently, depending on where they appear. For example, a "full width" row really extends to the full width of the browser when it's the top-level row. The same row fits into its container when it's a child row.
Until now, you had to figure this maze for yourself. Most people picked the correct row modes by trial and error. A little frustrating and not very efficient use of your time.
Now, Layouts checks where a row fits and will choose the correct mode by default. Of course, if you want, you can choose otherwise, but if you're not interested, things "just work right".
Better editor, which tells you what you're editing and how it will appear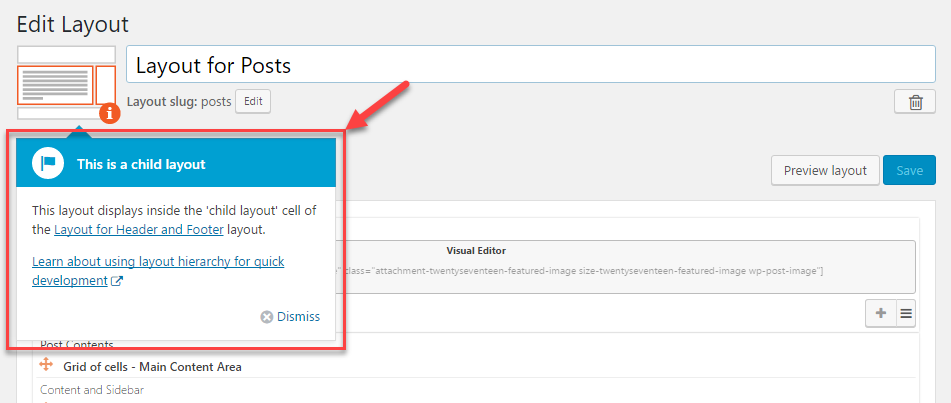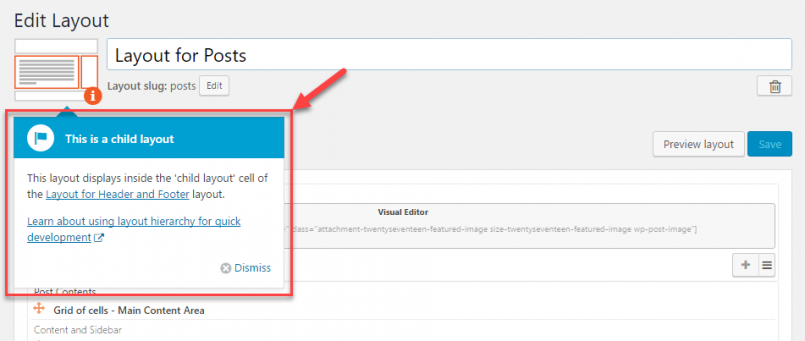 So now, a layout can appear in different ways:
Inside "the content"
As the site's header and footer (parent layout)
Inside a parent layout
As a template for something, but without a parent layout
A little confusing, right?
To make sure we're not getting lost in all these modes, the Layouts editor will show you exactly what you're editing. It will include little icons that highlight the part of the page that you're designing right now.
Finally, save editing and useful preview
Up until now, edits that you did on the layouts were part auto-saved to the database and part required a separate save. This made editing less convenient because visitors to the site would see some of the edits "in progress". In Layouts 1.9 we completely changed the saving mechanism. Now, all edits that you make are strictly local. Just like you edit content in WordPress, you can edit as much as you want and preview. Only you see the edits in the preview. Visitors to the site will see your edits once you've saved the layout.
Update for Toolset-Based Themes
You probably remember that we're working on a system that will allow you to build themes based on Toolset. This system is almost, almost complete. Mostly, it's waiting for Layouts 1.9 and Views 2.3. In the last few weeks, we've added a heap of new features to the first release.
Toolset-based themes will be available to all Toolset accounts, without additional charge, for "work for hire"
We had talked with over 20 clients about how they would use the upcoming Toolset-based themes. Most explained to us that they see it as a convenient way to develop and deploy sites for their clients. Indeed, the demo-content and deployment mechanism that we've built came out great (forgive the self congratulations).
And, you probably know that we're deprecating the old "Embedded Toolset" mode, which was very lightly used.
We want all our clients to benefit from this mechanism and we don't want to ask for more money if you're not planning to set-up a theme shop based on Toolset.
So, on the day we release the new Toolset-based themes, it will be open and available to everyone, without any additional payment. You will be able to create "themes", receive automatic documentation for your clients, develop locally and enjoy a streamlined deployment process.
We will ask you to upgrade to a more expensive Author account, only if you wish to enable unlimited distribution for your Toolset-based themes.
We also talked about "pay as you go" for Toolset-based themes. This is going to be major development and not available in the first release. I hope that the fact that the entire mechanism is open to you, will allow you to evaluate this system without risking anything.
Toolset-based themes will auto-generate user documentation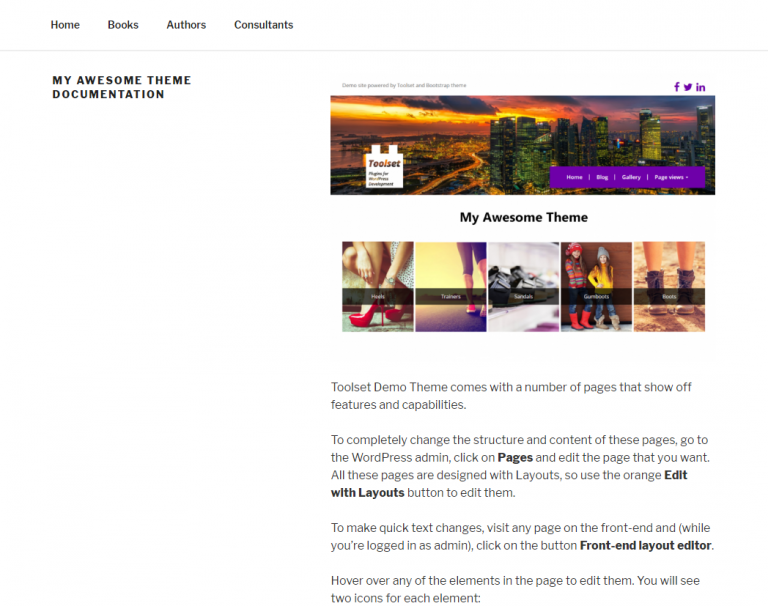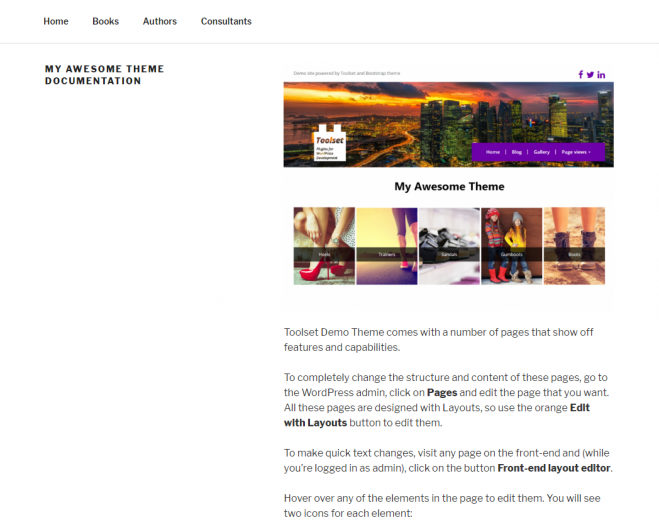 Do you love writing lengthy documentation for your end-users? Most don't. For this, the new Toolset-based themes system will automatically produce the documentation for you.
How can we? Simple. Since you create the theme using Toolset elements, the system knows what CPTs, fields and taxonomy you have. It knows how layouts are organized, which Views and CRED forms you use, etc. Our system will use the "description" fields that you enter for the different elements in the site to produce a very complete user guide for you. Spice it up with some screenshots and you have the most complete documentation you can imagine. For free and without any effort.
Known issues
This beta has a number of cosmetic problems that we're working through. The mechanism for setting the parent layout is going to move, there are a few places that display inconsistent instructions on the GUI and other similar stuff.
Download and try
Layouts 1.9 and Views 2.3 betas (2) are ready for download right now. Go to your Toolset account and click on Downloads. On the top-left, switch to Beta and you'll see just the beta downloads.
To use Layouts beta, you need to use:
The recent production version of Types
Layouts 1.9 beta
Views 2.3 beta
Remember that these are still beta versions. We'd love to get your feedback about them working on development sites. It's not yet ready for production sites.
Full QA for Layouts and Views will start next week. This testing normally takes us about two weeks. Then, we'll be ready to release the production versions of everything. Any feedback that we get from you will help us deliver smooth and polished versions. We got great feedback for the previous beta and I'm looking forward to your feedback on this one.