Learn how to build flexible custom searches with Toolset Real Estate
One of the most powerful features in Views is its custom search. Now, you can experiment with it and learn by following our real estate reference design.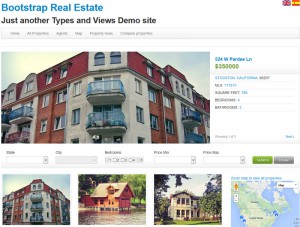 Bootstrap Real-estate is a complete reference site for building flexible, responsive, multilingual-ready WordPress sites.
Flexible construction – because it's all built using Toolset plugins, you can customize everything from inside the WordPress admin.
Responsive layout – the design is based on the Bootstrap CSS, meaning, it displays great on browsers of all sizes.
Multilingual ready – everything that you build with Toolset plugins runs great with WPML.
Custom content types for the real estate site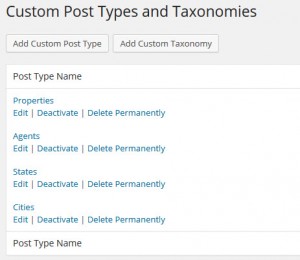 The content types in this site include properties, agents, cities and states. Of course, you can easily customize it to use other types such as provinces.
We've defined these custom types and their fields using Types. To tie the different content types together, we use the parent/child relationship in Types. This allowed us to correct properties with their agents, cities and states.
Customizing everything from the WordPress admin
Since it's all built with Toolset plugins, you can customize everything in this site without writing a single line of PHP.
The Bootstrap Classifieds comes with a complete customization guide, explaining what different Views do.
The properties custom search
The custom search allows visitors to find properties based on their location, size and price range.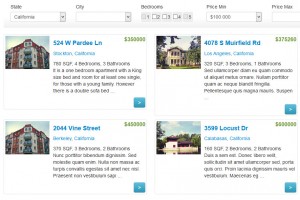 It's one View, which has several parts:
What content to load
How to filter (the custom search)
How to display (the output section)
Let's go through these one by one.
Choosing what to load in a custom search View
This is very simple. You set the View to load the post type that you want to search by. In our case, we load properties.

Setting up a custom search
Next, we build the custom search, using the View Filter HTML section.

Your job is to design the search box using HTML. When you need to enter a field, click on the Fields button. You will choose by which field you want to filter and then get all the relevant options for filtering by this sort of field.
This may seem intimidating at first, but you have nothing to worry. Follow the steps, read the different options for different inputs and you'll create your own beautiful custom searches in no time.
This is how our real-estate custom search looks like:

For step by step instructions, see the Views Custom Search documentation.
Input dependency in custom searches
The coolest feature in the Views custom search is that it automatically hides input values that don't yield results. For instance, if our database includes only 2,3 room properties in NYC, when we select the city NYC, all other 'room' options will be disabled.
This way, visitors don't need to experiment and look for valid results. They can drill down using our custom search and immediately reach their desired results.
To enable this magic, go to the 'custom search settings' and choose to 'show only available options for each input':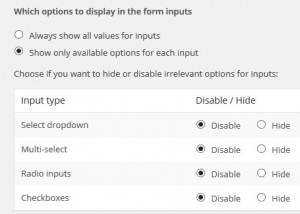 The View will now automatically disable all irrelevant inputs during searches.
Experimenting with your free practice site
You can experiment with Toolset Realestate on our discover-wp.com system. You will receive a complete copy of our master site, with everything configured and all content populated. Then, you can experiment by editing Views from the WordPress admin.
This service is available for free to both Toolset clients and to visitors (requires a quick and free registration). To get started, go to the real estate site on discover-wp.com.
How do I move from demo to real projects?
When you get excited about Toolset technology and want to use it for your client sites, we have a convenient solution for you. You will be able to download and install a complete mirror of the reference site on your server (or client server). Use our Framework Installer to receive a complete copy. Just like the training site in discover-wp.com, you get everything configured and sample content.
Now, you're running on your own server, so you can really control everything. These reference sites are created for your convenience. Delete our sample content and upload your own and you're good to go.
Want to talk with an expert about your project?
Toolset support are real experts and will be happy to help you decide. If you are already a client, go to the forum and ask your question. If you are new here, you can register (for free) and join the pre-sales forum. Our supporters are helping there too.
Describe your project and ask us how to implement it with Toolset plugins.