Types and Views 1.0 – Repeating Fields and Improved Usability
We're very excited to announce Types and Views 1.0. This major release is packed with new features and overall improvements.
Repeating Fields
Let's get the obvious out of the way. This might not be the largest thing in this release, but it's probably the most frequently requested.
Types and Views 1.0 support simple repeating fields. When you need to simply allow entering more than one instance of the same field, all you need to do is click on a checkbox, in the field group setup page.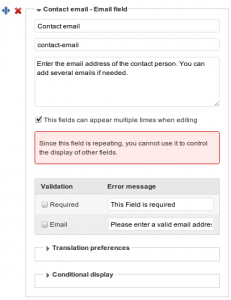 Then, Types lets you enter multiple values of that same field when editing content. You'll be able to 'add more' and delete items.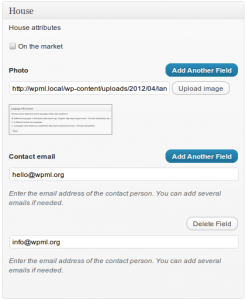 Types repeating fields store multiple values as separate post-meta items. This means that you can still search, index and filter by custom fields, but you cannot order them. You're right. We could have chosen a different solution, but there are ups and downs to everything.
For full control over field tables, including ordering, dragging and editing in groups, you're still welcome to explore bulk child editing.
Multiple-Option CheckBoxes
This is another popular request and one of my favorites too. You'll find a new field type called checkboxes (note the plural).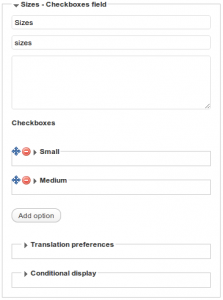 Checkboxes fields can contain any number of items. Each will be saved in its own post-meta entry in the database, so you cannot make this field type repeating.
Output Resized Images
If you're using Types image fields, you may have wondered how you can possibly output just the URL. For example, if you want to show an image in a fancybox, or just link to it, you'll need the URL of the resized image, without the entire IMG tag.
We've added a 'url' argument to the image fields. When you set it to 'true', you'll get just the URL and can use it whatever way you choose.
Styling Fields
Another small, but significant addition is support for the standard 'style' and 'class' attributes in all fields (except date). If you want to add any CSS, use the 'style' attribute. To set the CSS class, use 'class'.
Time and Date Filters for Views
Many Views applications need to have some sense of time. For example, if you're talking about events, it's pretty helpful to know which event has past already and which are upcoming. Now, it's easy to filter View Queries by time.
We've added a whole bunch of time and date filters to Views.

These filters let you:
Filter items with absolute time
Filter items relative to current time
Filter items relative to seconds, days, months and years
Usability Improvements for Views
We could easily see that there's a pretty steep learning curve when starting with Views and this release helps make it easier.
So, let's start with the very basics. When you create a new View, you don't really need to see all the super-advanced stuff that nobody ever edits. Right?
Now, when you create a View, you'll see just the Query and Layout sections and no extra stuff cluttering the screen.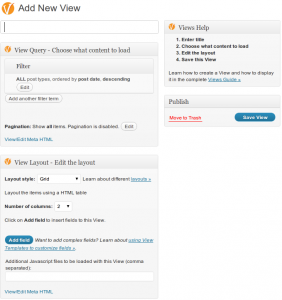 See the magic? A 'new view' fits into one screen and we don't need a 3600×2400 pixels screen to see it!
There's also a little checklist, on the top-right, that reminds you the steps needed to create this View.
But wait, there's more. If you have a few Views already, go to the Views list screen. You'll see something like this: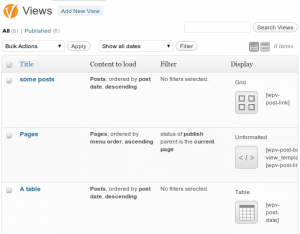 Now, you can see what each of your Views query, what they filter and how they display. We hope that this helps.
Translated into Major Languages
Both Types and Views are now fully translated into Spanish, French, German, Portuguese, Dutch and Italian. Translation to Russian, Chinese and Japanese is partial and being completed. We'll update again when these and other languages complete.
There was a bug in previous versions which made Types and Views not load .mo files, even if you created them yourself. It's all working fine now.
In case you want to translate yourself, go to:
/embedded/locale/orig
Download the .po file from there, translate and save it. You'll get a .mo file. Save it in:
/embedded/locale/
Follow the naming convention of the files that you'll find there and it should work.
A Heap of Fixes and Improvements
This list includes the big and sexy items in this release. Besides them, there are dozens of fixes and improvements in Types and Views 1.0.
We'd like to thank everyone who reported issues and helped us improve the plugins. Some were bugs, some usability and some just weird planned functionality.
How to Upgrade
We made sure that this new version is fully compatible with the previous ones. Your data should remain exactly the same and output shouldn't change.
This is a pretty major release with a huge amount of changes, compared to 0.9.5.x. We strongly recommend that you backup your database before updating. You know – just in case.
Then, you can get the update either from the Plugins menu in WordPress or by manually downloading from your wp-types.com account.
If you're using a CDN, remember that the Javascript files that work on public pages (like table sorting) have changed. You'll need to upload these files again to the CDN.