How do You Want to Create Content from Front-Pages?
One of the most popular requests for Types is to enable creating content from public pages.
What we want to have is:
Visitors see a form to submit stuff, like the 'Add your site' form in our Showcase (don't forget to submit your site).
That form includes the right fields for the content type. It will include the title, body, custom fields (with appropriate inputs and choices) and taxonomy. The input form should also include information about who's submitting it and something against SPAM.
Once submitted, you should get an alert and a new post is created. It can get published right away, or wait for moderation. I would also like to be able to give privileges to users, so that some can create published content and for some, moderation is required.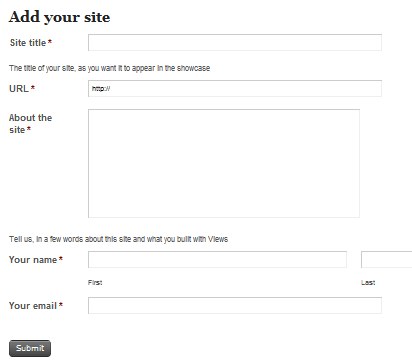 Our main concern is the 'how'.
My thoughts are:
Integrate with Gravity Forms
Integrate with Formidable Forms
Integrate with other form-building plugins
Build it ourselves
What do you think? What would you like to use most?
More comment -> more votes -> better chance you'll get what you want!