Meet CRED – Our Front-End Content Editing Plugin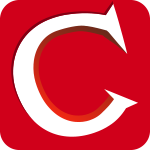 We're very happy to announce CRED (Create Edit Delete) – a fully integrated plugin for creating, editing and deleting content from front pages.
Let's suppose you want to create a classifieds site and need to let visitors create ads.  Or, you're building a real estate site and need to give agents a way to add houses (or edit listings). Or even something simpler – allowing visitors to add entries to your showcase (like we have here).
Many modern websites are interactive, allowing visitors to create and edit content. This is what CRED is all about.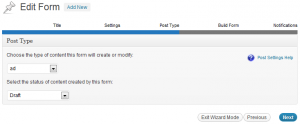 CRED Works on WordPress Content
The most important core 'feature' of CRED is that it works on WordPress content. CRED can create new content, edit and delete it.
CRED creates forms, which do this, but it's not a 'contact form' plugin. CRED Forms are a way to access content and not the other way around.
When you create a form in CRED, you choose if it's a new-content or edit-content form. Then you select what content type it operates on and build the form.
CRED lets you add fields for the basic post elements (title and body), for custom fields and for taxonomy. It supports repeating fields and different taxonomy types.
CRED pulls custom-field information from Types setup, so it already knows how to display the correct inputs for different field types.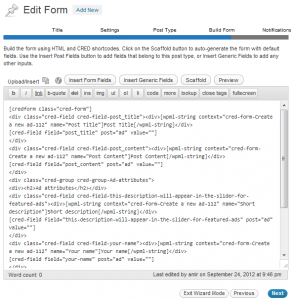 CRED Puts You in Charge of Form Structure
CRED forms are built using HTML and shortcodes. There's no fancy GUI, where you drag form elements around. Instead, there's an efficient scaffold feature which auto-constructs an entire form for every post type. That form will include all the custom fields, and taxonomy with their correct input types and default values.
You'll get the form's HTML, complete with a minimum structure and CRED input shortcodes. That's really all you need. You can either style that HTML with just CSS, or completely redo it, using whatever HTML structure you like.
And, if you prefer to build forms from scratch, without even a scaffold, you're welcome to this as well. You'll be able to insert post-fields (custom fields and taxonomy that belong to the post-type) and generic fields to your form.
The last step is to create your new page that you want to have your form displayed, including one of your custom post types, and simply insert the CRED form shortcode. This can be inserted anywhere on the page, co-existing with other content. With Views you'd be able to display a list of custom types and then add a CRED form at the bottom for people to add more items.
In any case, CRED will process the form and either create new content or update it in the database.
CRED is a Platform, for You to Build On
"Platform" is a big word, often used carelessly. We'll try to live up to the promise.
We've built CRED as a tool that you can extend and build on. Out of the box, CRED can create and edit content. But it also comes with a set of carefully constructed hooks and filters, which let you build complete web applications with WordPress.
Let's look at a simple example (which will soon be available to download as a reference site). Let's say that we want to build a classifieds site. 'Normal' ads are free to post, but 'featured' ads cost money. When visitors create featured ads, you want to send them to a payment screen. You also want to create user accounts for everyone who posts an ad, so that they can later edit their own ads.
CRED makes this possible, by providing you hooks that run on specific forms. After you create the form, it gets an ID. You can setup a hook that will run when a new ad is saved (only after CRED validates the fields). Then, write your own code for what to do with the ad. You can create the WordPress user and then send them to PayPal.
Other examples for using CRED hooks is to redirect visitors to different locations after submitting forms, to validate form input using your own rules or to process data in different stages.
These hooks are not an afterthought. We've building CRED with real applications in mind, and we're developing these reference apps as we go. CRED was born as a development platform.
CRED Validates Inputs
Remember that Types lets you set certain fields as required and validates field formats? CRED does the same.
Everything that you specify in Types, in custom field groups, is known to CRED. You don't need to duplicate these groups at all. Just create the form in CRED and all the rules that you defined in Types apply to CRED as well.
CRED is Fully Integrated with Types and Views and Also Runs by Itself
We consider Types, Views, CRED and WPML as one big happy family. As such, they all work together, know each other and avoid the need to define anything more than once.
CRED gets every configuration it needs from Types. You can easily include CRED forms in Views and Content Templates. And, everything that you build with CRED is immediately available for translation by WPML.
However, CRED is also a great stand-alone plugin. You can use it with other plugins that define custom content, and it includes a complete PHP API for displaying forms.
We encourage you to use all our plugins together, but the choice is up to you.
Download and Documentation
Basic CRED documentation is available in our manuals section. We'll be adding more there very soon and creating full-length tutorials and reference sites for you to follow.
You can download CRED from the Downloads page in your wp-types account. It's open to all Views clients.
We plan to run several more Beta releases. When CRED hits version 1.0, it will also receive its own price tag and will be available for purchase. New customers will be able to buy CRED separately, or with Views at a reduced rate. Existing clients will receive CRED at no additional cost.
CRED Roadmap
This release includes the minimum functionality that we felt had to go into the first beta release. We're still building things, which will go into coming beta releases.
Right now, CRED doesn't yet have an access control mechanism. There's also no export and import functionality. By the time we get to CRED 1.0, we'll have all that and much more.
What do you think? Leave your comments and let us know!