Types Plugin Download
Today started as a normal day here. New features, bugs and customer support. Really normal.
Than, somewhere around noon, I went to see if anyone needs any help on the wp.org Types download page. Instead of the normal page, I saw this: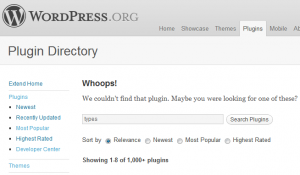 No worries. You can still get Types. Head over to Types page and click on the download link at the bottom.
Just to be clear:
Types is free. It started free and it continues free. If the wp.org guys don't want to host it, we'll host it here. We're not short on bandwidth, or anything like that.
We have no idea why Types is missing from the wp.org plugins directory. If you have someone to ask there, we'd love to know. There's no contact information in wordpress.org.
We know that we need to provide some sort of community support for Types. Taking down the plugin page with the support threads came as a surprise for us. We're considering different alternatives and I'll update you when we have something.
If you missed the link above, here's a bigger button:
[button link="https://toolset.com/home/types-manage-post-types-taxonomy-and-custom-fields/" size="large" style="download"]Get Types[/button]
Thanks for all your support!