Types and Views 0.9.1 with Tons of New Features
We're happy to announce an update to both Types and Views. This updates adds an embedded mode and loads of other new features.
Embedding Types and Views into Your Themes

The biggest item in this release is the new Embedded mode. This mode allows Types and Views to run as part of a theme or plugins. In Embedded mode, you're getting a minimal version of the plugins. It's lighter, doesn't require activation and doesn't allow end-users to change your configuration.
The embedded mode is intended for you to freeze your current design and include it in your code. You don't need to worry about future changes breaking functionality or about users unintentionally fiddling with configuration.
In Embedded mode, Types and Views do everything, except allow users to access the configuration screens. They will be able to use the custom types and fields that you've created, insert Views and use Content Templates, but not change them.
End-users will still have access to the configuration if they install the plugin version. This way, you can create complex themes that run on Types and Views and allow advanced users to fully customize them through the full plugin versions.
During this week, we hope to be ready with free themes on the WP.org themes repository – all based on TwentyEleven and built on Types and Views (without a single line of custom code). These will be good reference for using Types and Views embedded mode.
Types – Control Custom Fields Created Elsewhere
Types 0.9.1 includes an Admin screen for centrally controlling custom fields. In this screen, you can assign various custom fields to Types management. This means that you can tell Types to take charge of custom fields that you created manually, or using other plugins.
Go to Types->Custom Fields Control.
You'll see the custom fields that Types currently manages. There, you can change their groups association (which meta box they appear in) and their types.
You'll also notice all the other custom fields – the ones that Types is not responsible for. When you assign them a field type and place them into a group, Types takes control. The field values will display in the fancy meta boxes that Types creates and be well-formatted in Types and Views shortcodes.
This operation doesn't modify anything in the post-meta table. It only tells Types to start managing these fields.
Views – Caching and Prefetching for AJAX Pagination (a.k.a. smooth sliders)
Sorry for the uber-technical term for describing this great new feature.
If you remember, you can use Views to create sliders and other AJAX-updating elements. Until now, Views would have to load the next page from the database before transitions. This resulted in a delay and popped up a spinner image.
To eliminate this, we added caching and prefetching. Caching means that Views remembers page segments that it loaded before. Prefetching means that Views will load the next and previous segments before they're needed.
The result is smooth and elegant AJAX transition.
If you've already built anything that uses AJAX in pagination, go to these Views, click to change that Pagination settings and enable the caching and prefetching.
Then, back in the public page, you'll discover that pages transition immediately and without showing the loading time.
BTW, if loading is still required, we've added a way for you to specify the 'loading' GIF image. It's in the same place in the View editor.
Views – Specify Content Templates for Taxonomy (tags, categories, and custom taxonomy)
You can assign a Content Template to your custom content and display it in whatever way you choose. But, what did you do about the built-in Taxonomy listing pages that WordPress generates?
Now, you have a saying.
Go to Views->Settings.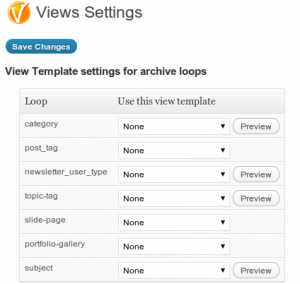 You'll see two sections on that page.
The top section lets you specify the Content Template to use in different taxonomy listings. Instead of displaying the dull post body on these listing you'll see the Content Template that you've selected. Now, you can finally customize everything in your custom-types-based site.
On this very page, you'll also see the summary for which Content Templates are default per post type. When you make changes, Types will also report how many posts don't use the selected template and allow to change them all. Try it.
Usability and Bug Fixes
Folks have reported usability issues and bugs in our forum. First of all, a huge thanks to everyone who took the time to carefully explain these issues.
All issues reported to date are resolved in this version. We're also working on adding new great features that you asked for.
Next, we'll have WYSIWYG fields for Types, post reference fields and other nice things that will make it easier for all of us to build great sites.
Let us know how it's going for you. Your feedback and ideas are priceless!