We Removed Old Toolset Support Topics
These days, we finished the project for archiving and deleting old Toolset support threads. This was done to remove old topics with out-of-date information. You may notice that some old support topics you find in Google may not be available anymore.
Update: We Reverted The Changes
After receiving a lot of feedback from the Toolset community, we reconsidered and reverted all of the changes. All forum topics, no matter how old they are accessible again.
We want to thank everyone that voiced their opinion and helped us see the whole picture.
Why This Is Necessary
We found that old topics in our Toolset forum often provide out-of-date information. Such topics were also often popular on Google so Toolset users would follow them and use old solutions and outdated workflows.
For example, there are many old threads about designing sites using the Toolset Layouts plugin. However, Layouts is a "legacy plugin" and didn't receive significant updates in years. Also, there are better solutions for building a site today, like Toolset Blocks. So, in this example, our new way of cleaning up the old topics will make sure that users don't get confused by an outdated plugin.
In short, most of the old support threads were causing more harm than good.
What We Are Doing
From now on, our support forum will filter topics like this:
Threads older than 5 years are deleted – we consider these completely outdated and remove them permanently.
Threads older than 2 years are archived – we hide these from the front-end but their author can still access them after logging into their account.
Also, you can easily request us to un-archive threads from the last 5 years that you think are still relevant.
To do this, click the Request Unarchiving button and fill out a short form.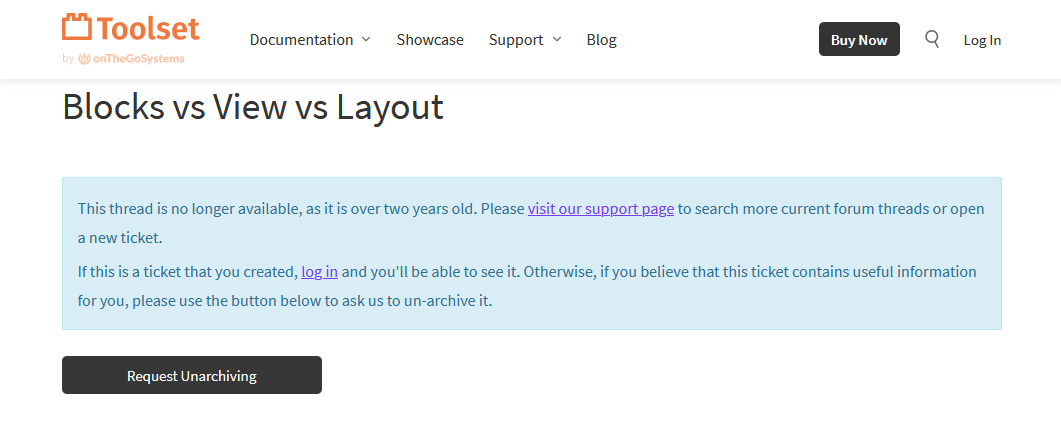 Thoughts, Feedback?
We are aware that this change might be inconvenient at first, especially until search engines reindex our site and update their results. However, we're certain that in the long term, this update will make it easier to find helpful, relevant information.
As always, we'll appreciate your feedback and thoughts.