Add other people to your Toolset Interactive and Agency account
Does your Web agency have multiple roles that use Toolset to download and register sites, open support tickets, and manage the subscription payments? You can now create user profiles for each of them on Toolset.com.
Toolset Interactive, Agency and Lifetime account owners can now create sub-accounts from their Toolset account. This allows different people on your team to log into Toolset using their own accounts. All other types of Toolset accounts do not have this feature available (i.e. Author, Presentation).
This way, important emails are sent to the right people, and users have access to the parts of the account that are relevant to their role.
For instance, one of your developers can ask a support question, and our reply will go directly to that person.
Update: Lifetime account owners can now also add sub-accounts
At first, this feature was meant to allow easier management of payments. As this doesn't apply to Lifetime accounts we didn't originally include them.
However, we ended up adding other useful capabilities but didn't adjust to include Lifetime accounts. So, this was really a misstep in our development process and not something we planned on purpose.
After hearing your feedback, we added these features to Lifetime accounts as well.
How to add a new user to your Toolset account
Log into your Toolset account and click My Team.
Add a new user by filling in their email and role. The role you choose for them determines their access within Toolset and which emails they receive. You can choose between these two roles:
Developer – Person that is building sites using Toolset
Finance manager – Person that manages the subscription and payment method

Once you create the new profile, the new user can confirm their account by clicking the link in the email they receive.
The user can then complete their profile and create a password.

Your new user will appear in the list under My Team.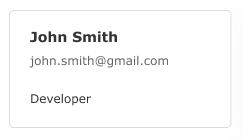 Note: only account owners can change a user's role. The user themselves can update their contact information, but not their role.
Leave us your feedback!
Do you plan on using multiple accounts?
Let us know what you think in the comments, and we'll reply.