New Documentation and Training Courses for Toolset
We're very happy to announce a major upgrade to Toolset's documentation and learning material. All of Toolset's documentation is now in one neat place, and organized as courses.
Since the last 6 months, Toolset has shifted from the "shortcodes" plugins to using blocks. Our documentation has finally caught up fully. And, it's organized by subject, making it easier to learn to use Toolset to build the kind of sites that you need.
So far, we're offering three complete courses:
Each of these courses starts from zero and walks you through everything you need. The courses are all modular, allowing you to quickly scan and skip parts that you don't need.
Toolset's Documentation hub now focuses on these courses and "programmer information". Everything that you can do with point-and-click is part of the courses. Everything that requires any coding is part of the "programmer information".
Courses share a lot of material. There are some basic things that you'll need to learn for almost any Toolset-based site. For example, you'll always need to learn how to create a View. So it's no surprise that the View lesson appears in all our courses. Other lessons on more niche functionality (like displaying posts on a map), appear in just one course.
If you want to find a specific topic, you can conveniently search for specific lesson. This replaces our huge (and not-so-well-organized) collection of user guides.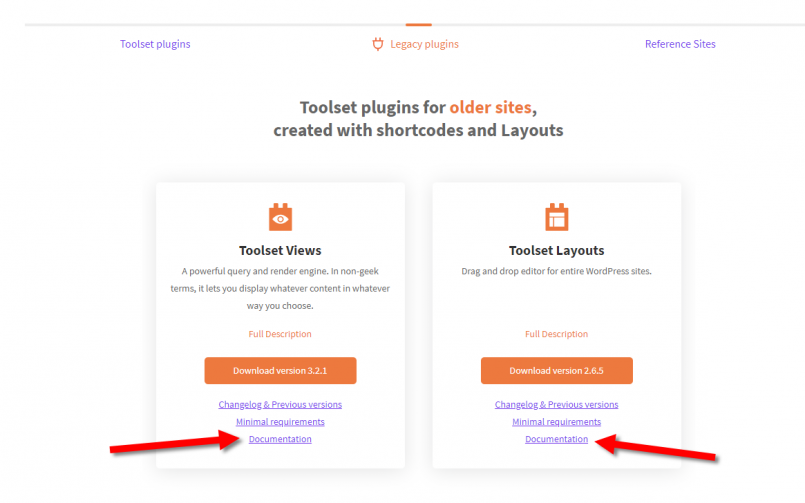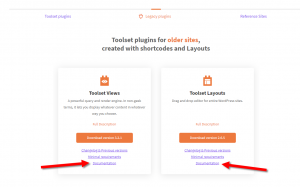 Documentation for Legacy Toolset Plugins
All this new documentation focuses on Blocks and how to use them best. If you're looking for the documentation for the legacy Layouts and Views (shortcodes based), you will find it in Your account → Downloads → Legacy plugins. We've added a "Documentation" link to each of the plugins. This way, there's no confusion between the documentation for Blocks and the older ways to use Toolset.
Besides this, you can find these plus a few other pages under the old User Guides and new Legacy Features sections. You can find links to both of these sections on our main documentation page.
Soon, we will move the remaining User Guides pages to this new Legacy Features section. This way, the whole documentation for "legacy" workflows will be in one convenient place.
Next Courses
We're very proud of this change, but we're not done yet. The next course we'll publish will be on WooCommerce sites. The current material is outdated and still talks about Layouts plugin (which is obsolete). We'll have the WooCommerce course ready very soon.
While we're working on more courses, is there a specific subject that you're interested in and want us to cover next? Leave your comments and we'll get back to you.