Visually create and design Views using Block Editor
Create your Views visually without leaving the WordPress editor. Select the output options and drag-and-drop blocks to design your lists of posts.
Completely visual Toolset experience
Recently, we announced Toolset Blocks, which allows you to design your templates visually. Now, you can do the same when creating lists of content using Views.
Here are the top features available in this beta release.
Build the View right from the WordPress editor
Edit any page, post or a template, insert the View Editor block and start designing your View right there.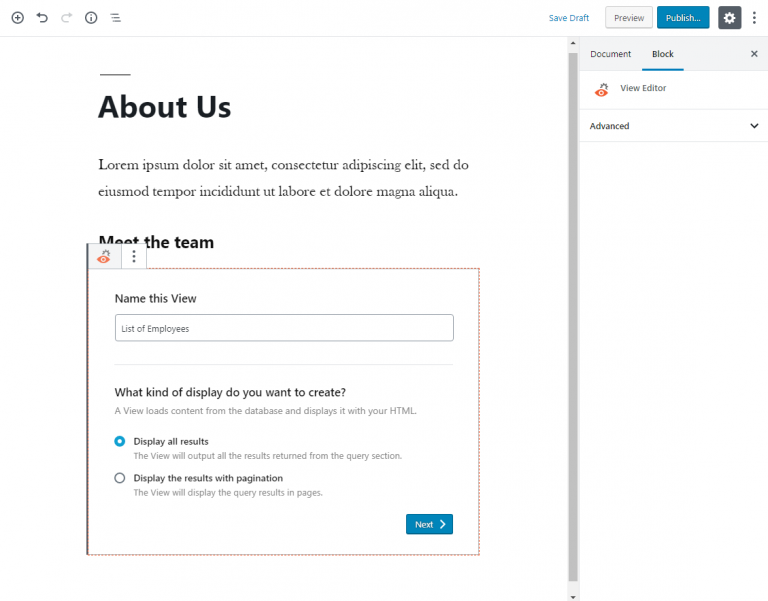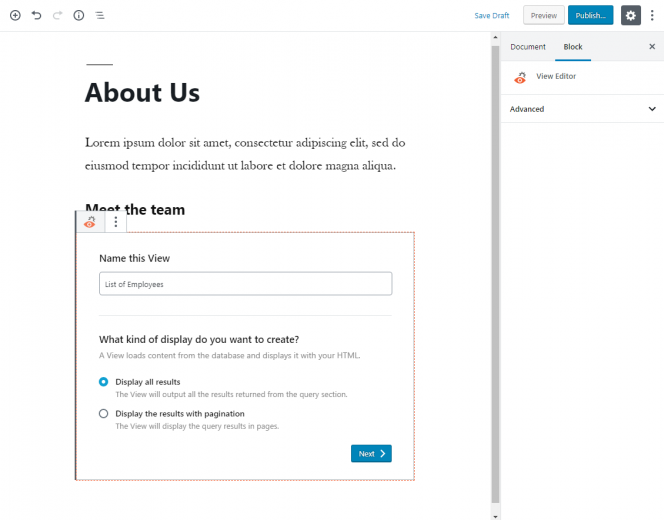 Complete design control
You can easily select and tweak all design aspects for your View. Start by selecting how the View loop is displayed. This can be a grid, table, list, and more. You can change this option at any point later.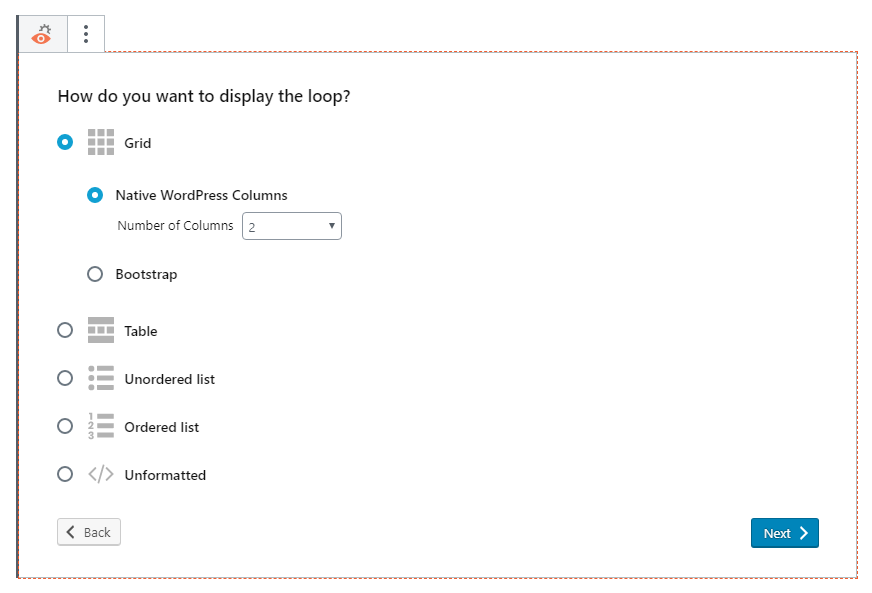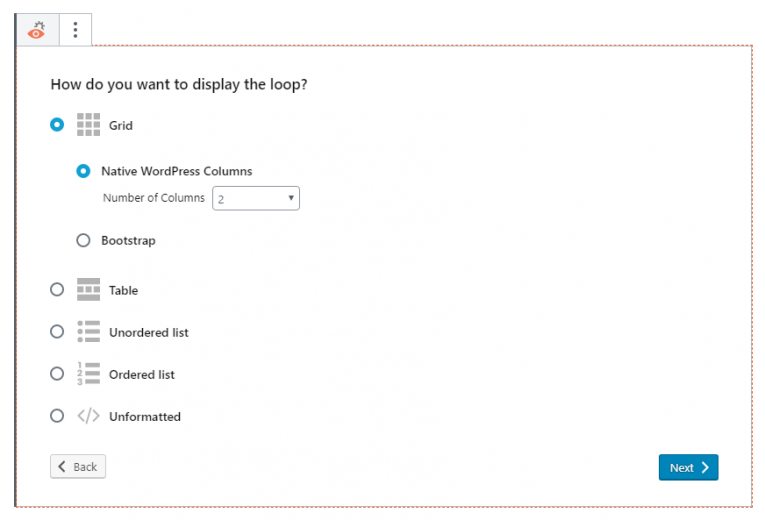 Drag-and-drop standard and custom fields
Use Toolset Blocks to add standard fields (post title, date, featured image), custom fields, and taxonomies. You can easily move elements around and arrange them into columns.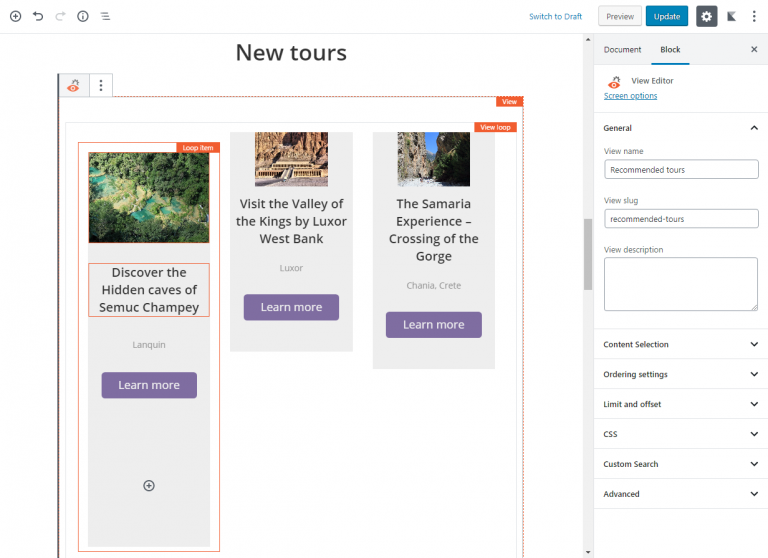 Toolset Blocks provides you with styling controls for each block.


Control the View's Loop Item
Besides controlling and styling individual fields and blocks that make up your View, you can tweak options for the View Loop Item. For example, you can add a background color or adjust margins and paddings. Additionally, you can switch the View editor to full-width for easier editing when using columns.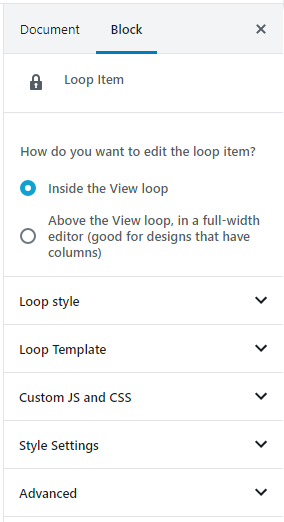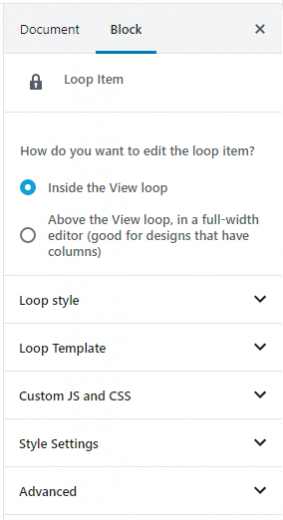 Customize the main View options
Finally, you can always use the sidebar panel to tweak the options for the whole View.
This includes changing the options for:
Pagination
Which post types to display
Post ordering
How many posts to display
To change any of these options, select your View Editor block and use the Block Editor sidebar.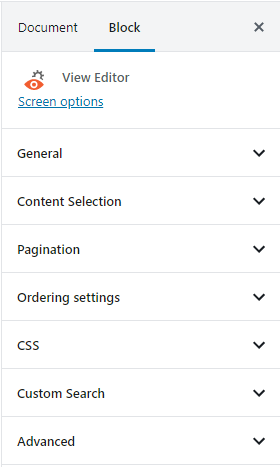 Next step
As you can see, this first beta release already packs most of the things you need to easily list your posts anywhere on the site.
There are two big features we are still working on and which are coming next:
Controls to filter the content
Creation of custom searches
These features are coming soon to the next beta releases of Views.
Give it a Try and Give Us Your Feedback
Designing Views with the Block Editor is a big step forward.
To get started using it with Toolset Blocks, we recommend quickly reading how to build Toolset-based sites with the Block Editor.
Then, you can either install everything locally or try it on Discover WP, where we've installed everything for you in the Travel Destinations site.
Installing Locally
You will need to download:
Types latest stable release
Views beta release
Toolset Blocks beta release
To download the plugins, go to your Toolset account and click on Downloads.
Feature Requests
This beta release is solid and works but as mentioned, some features are still missing. We are sure that by trying it yourself you will find more important features and improvements we can add.
Now is the perfect time for you to do this and request features.
We'd love to get your feedback and will consider each and every feature request. Please leave your comments and we'll get back to you.