Types 3.3 brings improved repeating images and REST API integration
You can now reorder repeating images as drag-and-drop galleries and select multiple images at once. Also, Types now allows you to expose custom fields in the REST API. Finally, this release brings some important bug fixes and we are preparing to raise the PHP requirement to 5.6.
Improved repeating image fields
Repeating image fields now work and feel like a gallery. You can drag-and-drop to re-order them and add many images in one go.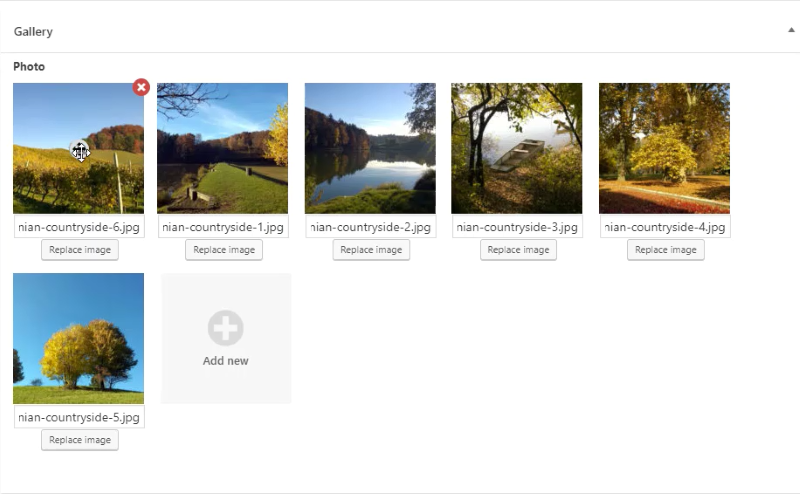 You can then easily use repeating image fields to display great-looking galleries on the front-end.
REST API integration
For WordPress developers, REST API is all the rage and rightly so because it allows them to use WordPress for much more than "just websites".
With this version, you can use Types filters to expose your custom fields to WordPress REST API.
You can activate this feature on the Toolset -> Settings page, under the Custom Content tab.
Read the detailed documentation page to start using Toolset Types with the REST API.
Improvements to the Related Content metabox
We also fixed multiple important issues in the metabox for connecting related posts in Types:
Stop disconnecting related posts when they're trashed from the Related Content metabox, but trash all their translations.
Hide trashed posts from the metabox.
Improve wording and behaviour of affected confirmation dialogs.
Next Types release will require PHP 5.6
Types 3.3 is the last version before we raise the PHP requirement to 5.6.20. Of course, we highly recommend using PHP 7.0 and above.
WordPress 5.2 just raised its requirements and we are happy to do it as well.
This means Toolset sites will now be more secure, faster, and able to provide more advanced features.
Bugfixes
As with any version, this one brings a lot of bugfixes.
Various performance improvements.
Fixed an issue with preserving the default user's settings for displayed metaboxes when saving a post type.
Fixed an issue with custom field validation not working properly on the Add New post page, when the block editor is used.
Fixed over-escaping description, title, placeholder and default value of custom fields.
Fixed an issue where only the first Repeatable Field Group is imported when importing a Module that contains a Custom Field Group featuring multiple Repeatable Field Groups.
And many more.
Check out the full changelog for a complete list.
Download and Update
If you registered Toolset on your site, you can get this update automatically from the admin. To download plugins manually, go to your Toolset account's Downloads page.
Don't forget to backup your site before updating.
Feedback?
Let us know how you like this release. Any comments or ideas? Please leave your comments here and we'll get back to you.