Toolset's Plans for WordPress 5.0 and Gutenberg
For over a year, Toolset project has been following Gutenberg and preparing for WordPress 5.0. In this post, I'll share our current status and present our vision for WordPress + Gutenberg + Toolset.
Our Vision – One Visual Editor for Everything
Right now, Gutenberg is somewhere between an editor and a page builder. It allows for more than writing plain text, but it doesn't yet offer a rich design experience.
We're hoping (and betting) that in the next few months, this will change. Gutenberg will continue development and offer more control over the entire site. WordPress and plugins will offer greater design richness. For this to happen, many more people in the WordPress ecosystem will go deep into React and will be able to enrich Gutenberg (like plugins today enrich WordPress).
Today, in order to build sites with Toolset, you need to use HTML and CSS for styling. Once Gutenberg project matures, we plan on offering to design everything with Gutenberg. This includes Toolset's Content Templates, Views, custom searches, Archives and more.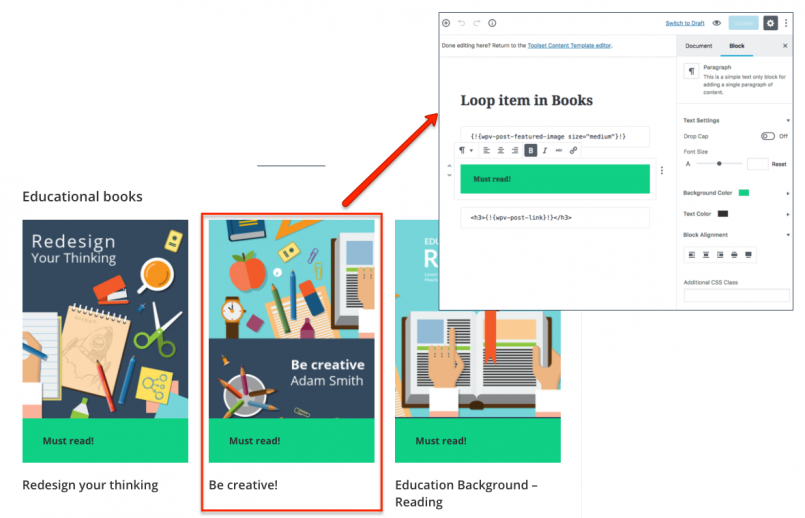 If you need "pixel perfect" designs, you may still choose to code the output using HTML. However, if you want to put together a site that looks good, you should be able to design everything using the new editor.
Where We Are Today
Right now, Gutenberg doesn't yet allow the level of integration that we're aiming for. The first version of WordPress and Gutenberg appears to be optimized for using Gutenberg to compose blog posts. That's a great achievement by itself.
Today, you can already insert a View block into your Gutenberg designs. This makes it easy to include Views in content that you create with Gutenberg.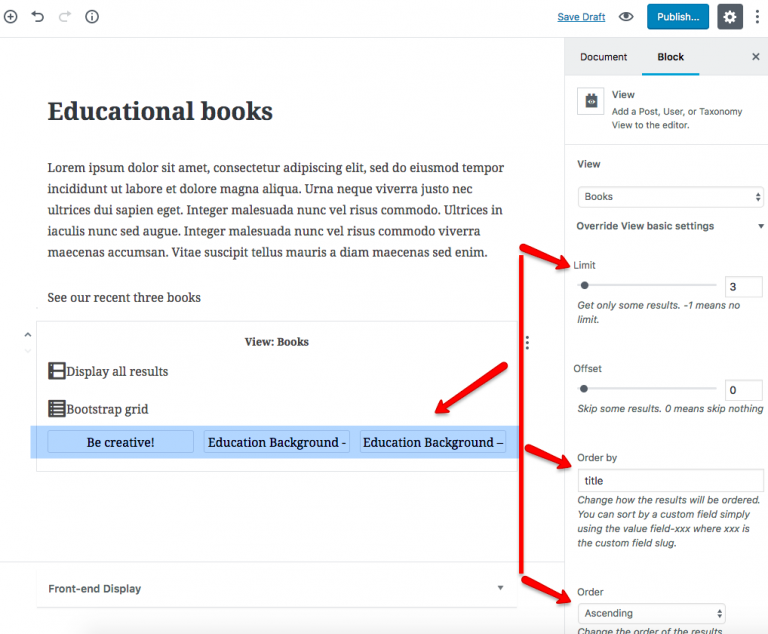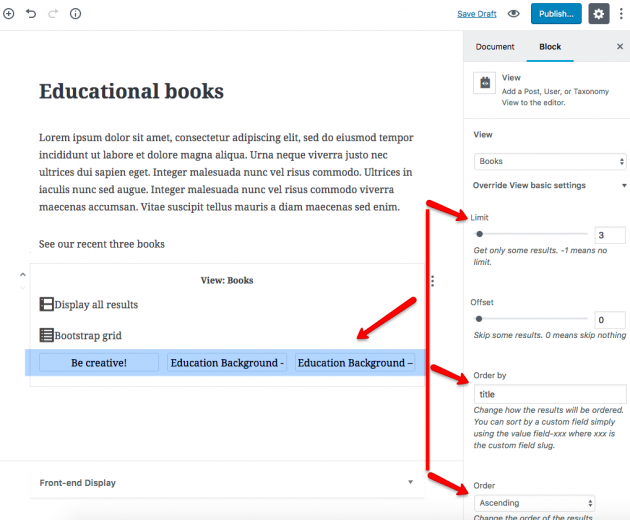 Read about all currently available features on the page about using Toolset with Gutenberg.
You can also check out this WordPress Gutenberg tutorial on how to create a custom website using blocks.
How Do We Get From Here to There
What we'd like to see in Gutenberg, which isn't there yet, is mainly:
The ability to design templates, which will work similar to PHP templates, but with Gutenberg
The ability to launch Gutenberg editor for any content, not only the post body
The ability to insert dynamic values (fields and taxonomy) into block attributes
WordPress is an open source project. Everyone is welcome to use it and many of the people who build WordPress are doing so on their own time.
Besides offering advice and making requests, we're also making ourselves available to contribute to Gutenberg.
We will continue working with Gutenberg team in the coming weeks to promote our agenda and we'll probably ask you to vote for features that we want to promote. Our hope is that WordPress core and Gutenberg teams will see the Toolset team as people who are capable to take these projects. If we're allowed to implement it, we promise to over-deliver.
Schedule
The Basic Gutenberg integration is already available in the Views plugin. We're waiting for the release candidate of WordPress 5.0, so we can release an update for Toolset plugins. Right now, WP 5.0 is still rapidly changing and introducing breaking changes. What worked last week doesn't work today and what we fix today will probably not work next week.
So, instead of bombarding everyone with frequent versions of Toolset, we'll wait for a release candidate. Then, we'll quickly release our updates, in the hope that the production version of WordPress will not be very different.
Comments? Ideas? Questions?
Please leave your comments and we'll get back to you.