Contractor Offers Help Toolset Clients get Custom Work from Peers
Toolset support handles around 1,000 tickets every month. If you've ever used our support, you probably know that we're doing our absolute very best to resolve problems and come up with creative solutions. However, sometimes you may need work which is beyond our support. To answer this need, we're proud to introduce Contractor Offers.
The idea is to allow Toolset contractors to make offers for all sorts of work. This could include troubleshooting your code, helping come up with content architecture, implementing custom shortcodes, writing PHP code that fires on hooks and many more offers.
To make this possible, contractors now have a new "offers" section, where they can write such offers. An offer includes a heading, description and price. You can think of it like a dedicated Fiverr, for Toolset.

We will show these offers, only to clients who are interested, inside the support search.
When you search the support forum, you will see a new section for offers.

You can choose to permanently hide that section if you are not interested in seeing any offers.
Are these offers intended to get load off Toolset support team?
Definitely not. Toolset support team was and remains responsible for anything related to support. If you run into a problem, need our help using Toolset or want our advice on how to do something, you don't need to pay anyone. This is entirely our responsibility and we're getting better and better at it.
What kind of offers do I expect to see?
We hope that contractors will create offers for the kind of work that is entirely outside of the scope for support, but other clients still need. We will not permit to SPAM our support search with irrelevant offers. We will not allow offers for "expedited support", etc. Support is our responsibility.
What is Toolset team hoping to achieve with these offers?
Happier clients. We wish we had the capacity to also do custom work for clients and many clients have offered to pay us for this. Our support team can handle support and not a lot more. We hope that these offers will allow to bring together the supply and the demand.
How to get started?
If you are already a Toolset contractor, you will see a new Offers section. Go ahead and create your offers. Ask us if you're not sure about anything.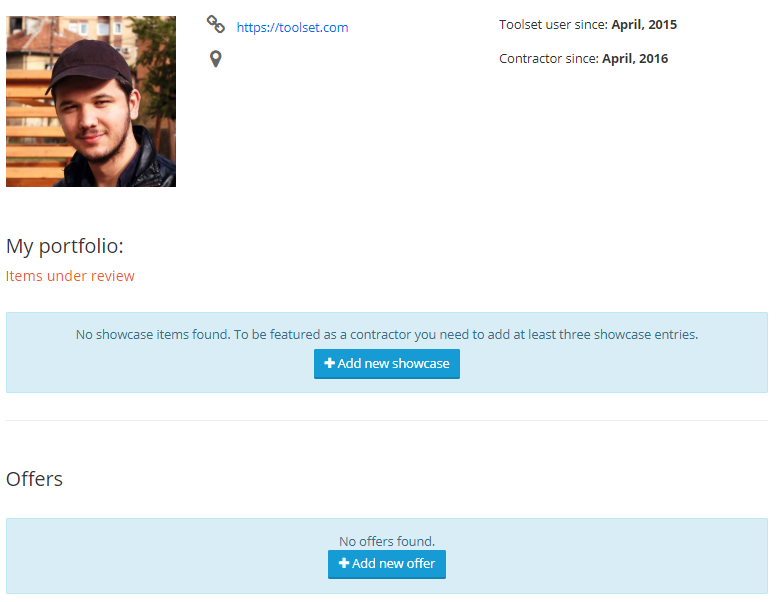 Feedback?
please tell us what you think, what you're hoping to get and if you have any suggestions. Lease your comments and we'll get back to you.