It's been a couple of weeks since we released the Contractors system for Toolset. We're very happy to report that a good number of consultants have signed up and are ready to help with custom development work.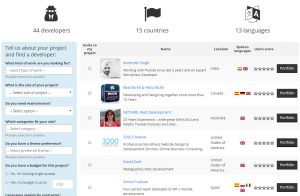 AT the time of writing this post, there are already 44 contractors who are ready to help with custom development project. We are carefully reviewing each of the applications and contractors' showcase sites, so this is not instantaneous.
There are contractors from 15 countries, speaking 13 languages, available to help with everything from building complete sites to developing custom components.
We want to thank everyone who applied as a contractor. The application process had a few glitches, but they are all resolved now. Both the application process and the contractor search are working smoothly.
Always, if you need technical support, ask Toolset team in our technical forum. When you need custom development, big or small, look for a Toolset contractor to get the job done.