Summary of Survey About Layouts Plugin
Yesterday we ran a short survey about Layouts plugin and we got interesting results. These will influence our development roadmap, so I'm sharing it with everyone.
Q: How are you finding Layouts so far?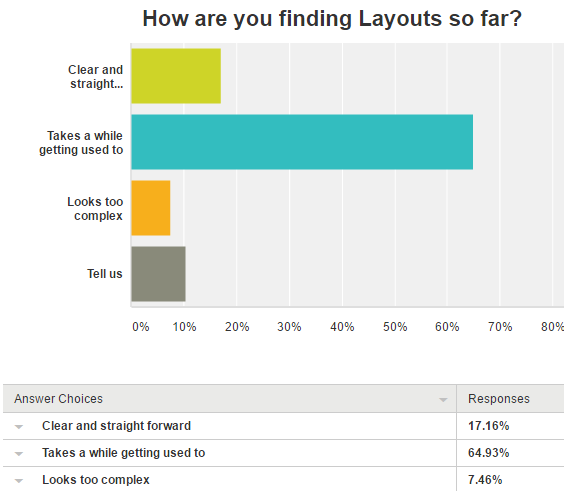 17% of the respondents said that it's "clear and straight forward". 65% said that "it takes a while getting used to". 7.5% said that Layouts is too complex.
So, I'd say that Layouts usability is mediocre. It's not a total fail, but there are certainly things that we need to improve.
The upcoming Layouts 1.8 doesn't much improve usability. We have plans to improve the listing page and assignments of Layouts to individual pages in Layouts 1.9.. In the survey we got a lot of feedback about what would help you. If you have other feedback, please add comments to this post.
Q: What features do you like best in Layouts?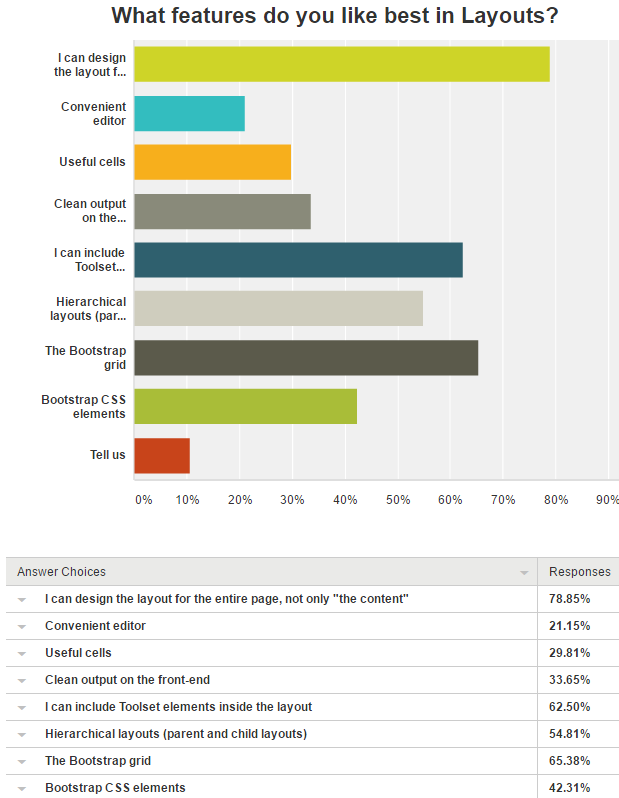 The #1 thing that people like about Layouts is the ability to design the entire page and not only "the_content". The next favorite features are the Bootstrap grid and integration with Toolset elements.
Here, we have great news coming in Layouts 1.8. Layouts 1.8 will offer new cells for the advanced Bootstrap 'tabs' and 'accordion' elements. It will also make it much easier to use all the fancy Bootstrap CSS elements (buttons, badges, breadcrumbs, and more). We want you to leverage the full power of Bootstrap, using Layouts, without spending hours struggling with complex CSS and JS.
Q: Which themes are you using with Layouts?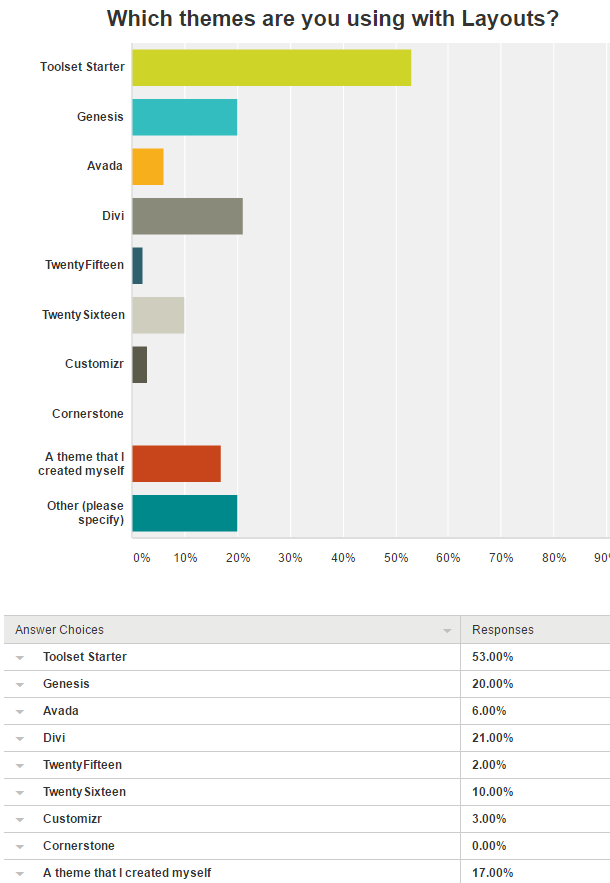 Most people using Layouts do that with our Toolset Starter theme. The next popular themes are Genesis, Divi, TwentySixteen and themes that folks build themselves.
To us, this is part clean and part puzzling. If you can tell us your reasons in comments, it would help a lot.
Genesis doesn't have a drag-and-drop editor, so we expected to see it high. However, we don't understand why you use Layouts with Divi but not so much with Avada.
Given this feedback, we'll spend more time on the popular integrations and start retiring the unused integrations. We'll also spend more time on our own Toolset Starter theme, making sure that it's a solid base for your client projects.
Let us know your thoughts about this in your comments.
Thank you for completing to our survey
Our survey contains more questions, but these here summarize the ones that we're looking to understand better. We got a lot of comments about what you'd like us to change and add. Fortunately, many of these requests repeat and most are already in our near term planning. This survey taught us a lot about where we need to focus best. I'd like to thank everyone who took the time to reply and help us.