Views 1.10 and Layouts 1.3 Improve Usability and Performance
We just released updates for all Toolset plugins for WordPress 4.3. Among this release, you will find Views 1.10 and Layouts 1.3 with big improvements to usability and performance. Views and Layouts pack more performance and features, but are also simpler to use.
Important – be sure to update all Toolset plugins
Toolset plugins share some of their functionality and have 'shared PHP code'. If you use several Toolset plugins, be sure to update all of them together. Running older versions of one plugin with a newer version of another can cause unexpected problems. These problems will not damage your database, but will make things appear broken.
When you update, always update ALL Toolset plugins together.
Views 1.10 Highlights
Conditional output made simple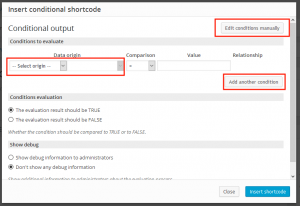 The major new feature in Views 1.10 is a brand new engine for conditional output. As of this version, when you want to create blocks that display conditionally, you no longer need to learn cryptic syntax. Use the GUI to easily create conditionally displayed blocks and choose the conditions from a convenient dialog.
Super-fast custom searches through caching
The other very exciting addition to Views 1.10 is a new caching engine for rendering Views. This makes it possible for you to display custom searches with Views on pages like the site's homepage, without worrying about the performance.
A custom search naturally requires a lot of resources from the server. Loading content according to complex filters is expensive. This feature makes you only pay once and not on every page load. A View with a custom search will typically display all the results before inputs are set. Now, Views will remember these results, so subsequent page loads are lightening fast. Only when people actually start using your search, will your server need to run new database queries.
Reuse and control Views by setting arguments
Now, when you insert a View into content, you can set its basic settings. For example, if you create a View as a slider, you can control the number of items and their ordering. This makes it much easier to use the same View with different settings in different parts of your site. The new feature comes with a GUI, so you don't need to memorize anything. Just insert the View and select its options.
All of Views 1.10 goodness
Views 1.10 comes with yet more great features for you. Read the Views 1.10 release notes for the complete description, screenshots and installation instructions.
Layouts 1.3 Highlights
Support for CRED user forms in upcoming CRED 1.4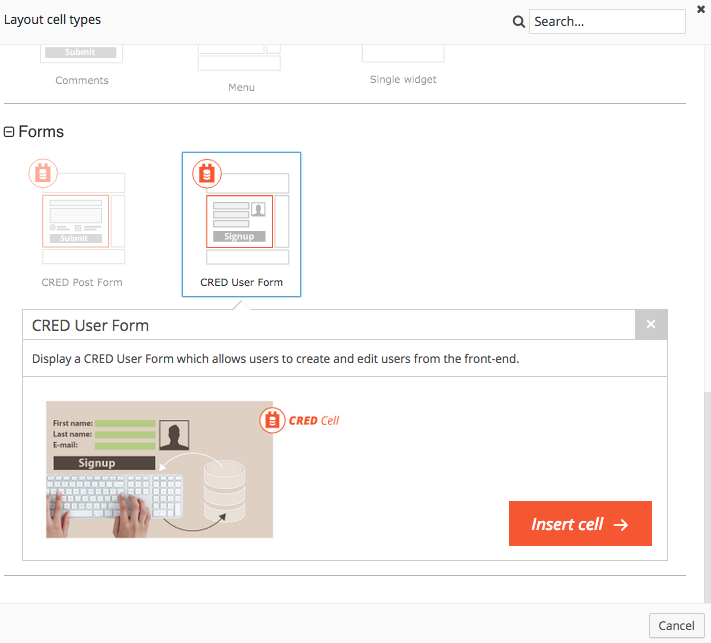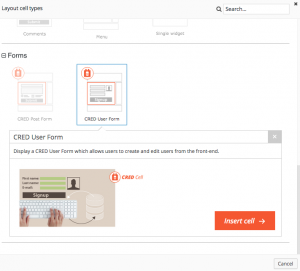 Layouts got a new integration with the upcoming 'user forms' in CRED 1.4. We are preparing to close CRED 1.4, which will support forms for creating and editing users. Layouts 1.3 is already prepared for this.
Module Manager support for Layouts
The other major addition to Layouts 1.3 is support for our Module Manager. Now you can create modules that include all of Toolset elements, including Layouts. You can export a module with Layouts from one site and import it into your other sites.
Robust import process
We've updated the importer process, so that it can handle any number of layouts, without timing out. Now, we import layouts in steps and give updates during the process. This means that you can safely import layouts into existing sites and not have to worry about the importer failing due to size.
Complete compatibility with page caching
Layouts 1.3 will check if you are using page caching and will invalidate cache for content that uses layouts that you edited. This makes the content editing flow with Layouts much more natural and simple. You update a layout and that's it. No more need to manually check for updated pages and invalidate their cache. Layouts plugin does that for you now.
Full layouts 1.3 release details
See the details in Layouts 1.3 release notes.
Complete WordPress 4.3 compatibility
This release of Toolset plugins comes just before WordPress 4.3 is out. Before you update WordPress, you should update all of Toolset plugins, to avoid any compatibility issues. WordPress 4.3 depracated a number of API functions and Toolset plugins made the necessary changes to use replacement functions.
Next for Toolset
This release of Toolset plugins wraps up a long development cycle which focused on improving the development experience with Toolset. We've set it our goal to make it easier to use Toolset and allow you to build sites while needing a lot less support.
Next, we continue with more powerful features for Toolset. I will write a preview of coming features and ask for your feedback on them.
Questions? Ideas? Suggestions?
We hope that you enjoy this update of Toolset plugins. If you have any questions, ideas or suggestions, leave your comments here. We love your feedback and will reply to everyone.