Types Access lets you control who can access what
We're very proud to release a first version of Types Access – our very own access control plugin, which works hand-in-hand with Types and Views.
Types Access lets you specify which user types, or specific users, can access different content type.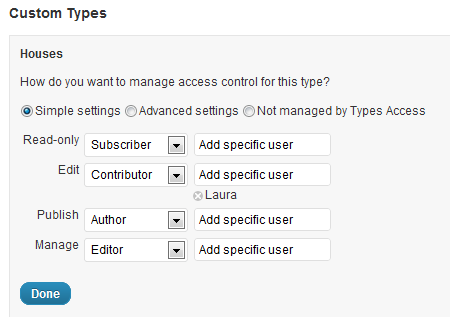 In 'simple setting' mode, you choose minimal user levels to read, edit, publish and manage each content type. You can choose user types or specific users. For example, if you have a showcase, you can let a specific user add content to it and another user will review and publish.
In 'advanced settings' mode, you have complete control over every operation that WordPress defines. This is useful if you want to craft your own special workflows and fine-tune what different users can and cannot do.
Types Access lets you manage posts and taxonomy. For taxonomy, you can choose the same setting as the related post-type, or independent controls.
You can read more about it in the Types Access page.
Download
Right now, Types Access is only available to Views customers. To download, login to your Views account, go to Downloads and select 'Types Access'.
Types Access uses new functionality that we've added to Types. To use it, please download Types 1.0.2 Beta. It's working fine and fully tested. Get it from the bottom of the Downloads section.
What do you think?
Give us some feedback and tell us what you think about Types Access. We're eager to hear!