Views 1.1 with WordPress Archives
WordPress Archives let you take full control over built-in WordPress listing pages. These include the 'index', custom post archives, taxonomy and even 'search'.
'Normal' Views include a Query part and a Layout part. The Query part loads content and the Layout part displays it.
The new WordPress Archive includes only the Layout part. WordPress provides the content and the View only displays it. We can use these Views to override the appearance of the WordPress listing pages. These include:
Blog (the main index)
Author archives
Date archives
Custom post type archives
Search
Tags
Categories
Taxonomy
and, basically any other list that WordPress produces.
Example
We're starting from this page, which is a standard author archive: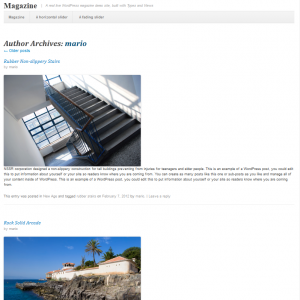 Go to Views->Settings. You'll see two sections for customizing archive loops and taxonomy. The 'author archive' is under the 'archive loop' section. Click 'edit' to expand it.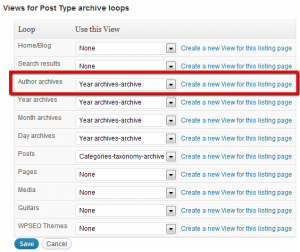 If you have a View already prepared, you can assign it there. Otherwise, click on the link to create a new one. This will take you to the New View page, with some settings filled-in already.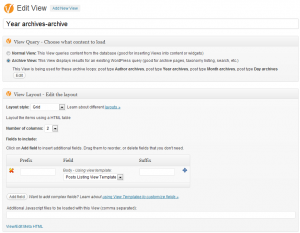 Click to see the full-size image. You'll notice that the View Query section says it's an 'WordPress Archive'. This means that the Query section is disabled and the View gets its data from the WordPress query. The Layout section is where we need to focus on.
This View will display results in a Grid. Here are the results: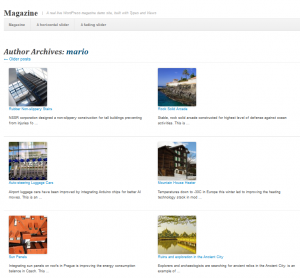 Download and Test
All this is found in Views 1.1. It's right now in 'advanced beta'. We like it, it's running on our reference sites and is looking very stable. We've also tested it with a bunch of themes and on different WordPress versions. Still, I recommend that you test it locally before upgrading live sites.
Login to your wp-types.com account, click on Downloads and scroll to the bottom. You'll see this release under Views Beta.