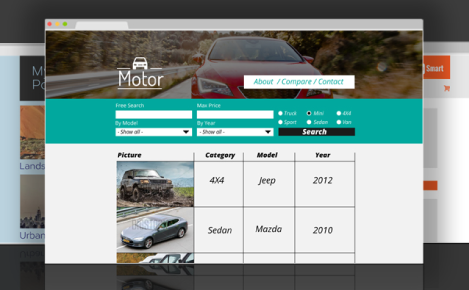 Toolset lets you build custom directory and classifieds sites with WordPress. You have full control over everything in the site, without being limited to what a theme offers.
You can find directory sites for ads, houses, cars, recipes, courses, tours, and much more. In fact, any site that lists things and offers visitors to search is a directory.
Toolset lets you build directory sites for anything. You can start from scratch (and follow the instructions here) or use one of our reference sites as a starting point.
Key features of reference sites (that you can build with Toolset)
Display any kind of data, with its fields and taxonomy
Build powerful searches that allow visitors to find exactly what they need
Build detailed navigation to browse in categories
Display listings as tables, grids, sliders or on Google Maps
Create forms for front-end user registration and front-end listing submissions
Create user accounts, where site members can manage their own items
Charge payments (if you need) for registration and for submitting listings
With Toolset, you can build even the most complex directory sites without writing PHP.
Building a directory site from scratch
You can use any theme that you prefer. We recommend using simple themes, because you're going to create much of the functionality with Toolset.
We're going to use almost all Toolset components in directory sites. This includes Types, Views, Forms, Access and Layouts. We can also use WooCommerce if we want to charge money for registering or adding items to the site.
Part 1: Setting up the custom post types, fields, and taxonomy
First, we need to set up the custom post type that will appear on the directory site.
In our example, we are creating a directory site for "ads." Of course, you can create directory sites for anything else.
Steps to follow
Go to Toolset->Dashboard.
Create a new Post Type for Ads.

Use the post title to store the title of your ads.
Use the editor to store your ad body.
Return to the Toolset Dashboard. Now, add fields for that type.
Click Create field group.
Use the Add New Field button to add the following fields:

Price (as Number)
Ad Image (as Image)
Contact email (as Email)
Phone number (as Phone)
Return to the Toolset Dashboard.
Use the Create taxonomy button to add the "Ad category" taxonomy.You will use this to categorize your ads.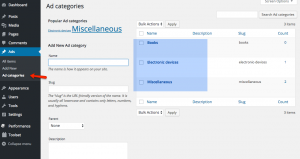 Now, when your taxonomy is ready, add the categories of your ads (terms).
Go to Ads -> Ad categories.
Add the following categories:

Books
Electronic devices
Miscellaneous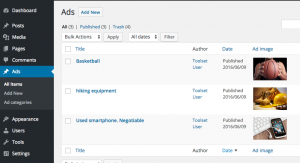 Add a few example ads to your site.
If you need help creating custom post types, fields, or taxonomies, read the full explanation in Types documentation
Part 2: Displaying items on the front-end
Now, when your WordPress back-end is ready to store the items, it's time to display them on the front-end.
In Table 2 below, you will find some example templates you could create for your site and learn how Toolset can help you.
Table 2: Example templates you might need for a directory site
Template
What you need to do
Single Ad details

Create a

Template Layout

for the custom post type that you set up.

Your template will display custom fields that belong to your post type.

Learn in:

Getting Started guide: Create templates to display custom posts

8 most recent ads in a grid

Create a

View

that lists your items.

When creating a View, you decide how your items are displayed (as a list, grid, table, etc.) and which fields to include for each item.

Learn in:

Getting Started guide: Create and display custom lists of content

Random featured ads in a slider

Create a

View

that lists your featured items in a

slider

.

Use filters based on your post field to select featured ads only.

Learn in:

Custom search for ads
Create a Custom Search View.

Use custom fields and categories as filters.

Learn in:

Getting Started guide: Filter content lists and add custom search

Category Tree

If you have divided your categories into subcategories, you can build a category tree.

Create two taxonomy views (one for first-level categories and one for subcategories) and include one within the other.

See details:
Part 3: Adding and editing items from the front-end
Most directory sites allow visitors to create front-end content submissions. To add and edit items from the front-end, you need to create relevant forms. Next, you need to establish who can access which forms.
Check Table 3 below to learn what front-end forms you might need and how Toolset can help you.
Table 3: Front-end forms you might need for your directory site
You can also set an automatic expiration duration for all posts submitted through these forms.
Learn in: Forms training course, part 4: Setting automatic expiration for posts
Part 4: Handling user registration and account management
User registration
If you allow your users to edit items from the front-end, most likely you will also need front-end forms for user registration and editing profiles directly from the front-end.
Table 4.1 below summarizes what user forms you will need and how Toolset can help you.
Login form and account management
To allow users to log into your site, create a custom login form that fits the overall look of your site. After the user logs in, display links to the user's resources.
The login form and user's assets make up the "My account" page. Check Table 4.2 below to see what to cover in the account page and how Toolset helps you.
Table 4.2: Building the "My account" page with Toolset
Part 5: Charging fees for content submissions or membership
Often, directory site owners would like to make profits from the site.
Examples:
Users are allowed to add

free ads

that will expire

after a pre-set duration

and also

long lasting ads

that never expire but are

paid.

The site might offer courses. Some courses are available to everybody, while others are for premium customers only – customers who have

paid for their membership

.
Both cases can be handled with Toolset and the WooCommerce plugin.
Use the Toolset Forms Commerce plugin to charge fees for content submission and membership.
Check Forms documentation for details:
Questions?
I look forward to hearing your feedback. If you are not a Toolset customer yet, feel free to send me your questions using the presales questions form. I'll be happy to answer. If you're already a Toolset client and you need help, use the technical support forum.