With Toolset Forms, you can register users from your website's front-end.
Go to the Toolset -> User Forms page and click the Add New button at the top. A wizard will guide you through the steps.
First, give a name to your form.
In the next step, select the main form options. This includes selecting a role for the created user, what to show after submitting the form, and other.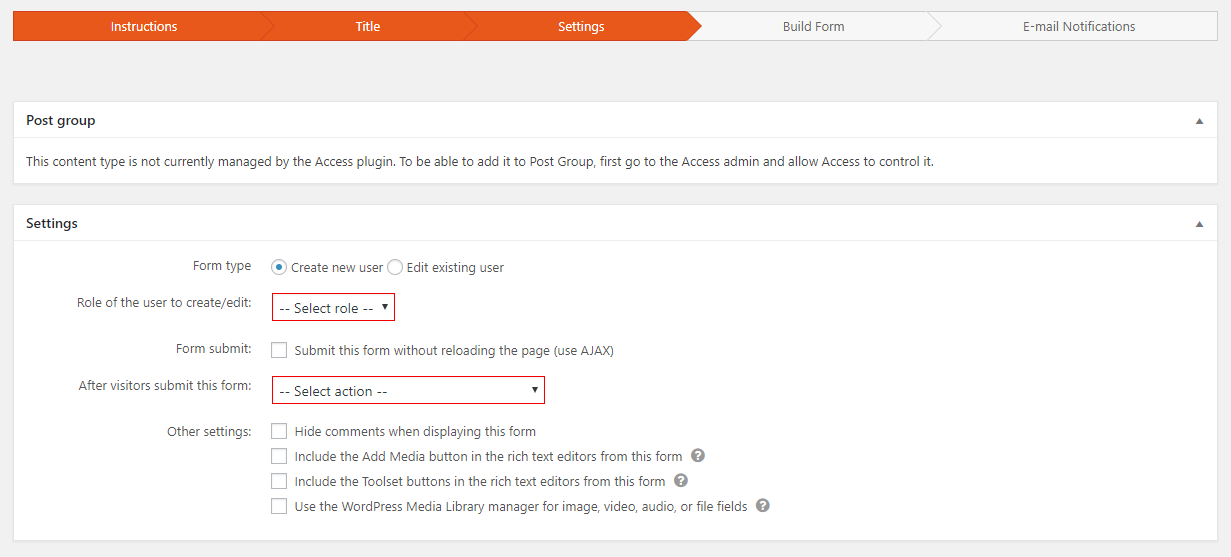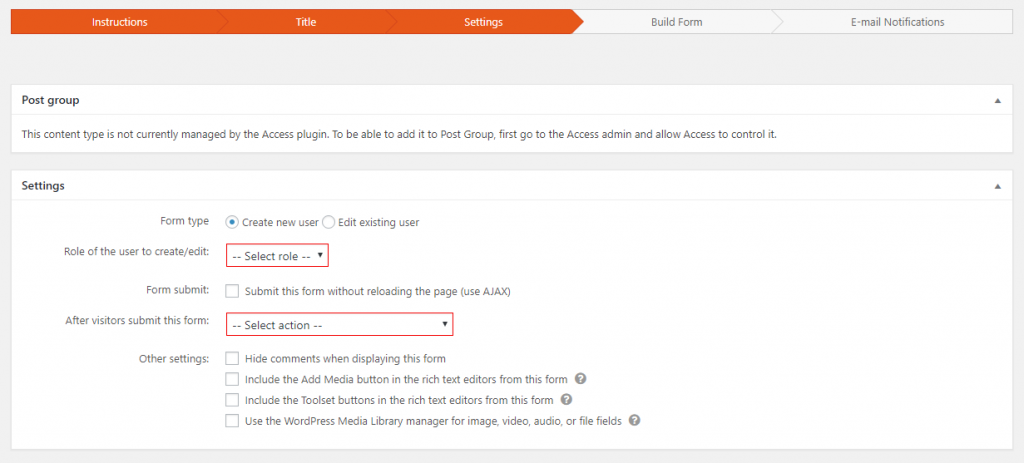 Designing the user form
In the next step, you need to design the form's contents. You will see two main areas on your screen:
Form area
Available form fields and elements
You can delete and reorder fields. Mandatory form fields cannot be deleted and you will see a lock icon next to them. To add elements to your form simply drag and drop them to the desired location.
You can also turn on the Export mode switch to manually edit the form's auto-generated markup. For example, you might change the labels for the inputs, insert generic fields or display certain sections conditionally.
If you need to add custom CSS styling or JavaScript to your form, expand the sections at the bottom of the Form editor.
E-mail notifications
The final step of the form-creation wizard allows you to add e-mail notifications.
When the user form is submitted, it can send notification emails. For example, when users register, you will want to send them their username and password, or a reset password link.
You can add multiple email notifications to be sent to different recipients.
User Forms Email Notifications
Displaying Toolset forms
You can insert Toolset forms into any WordPress content. This includes pages, posts and any custom type. When you edit content, click on the Toolset Forms to add it to yours page.
In the pop-up dialog that appears, select the form of your preference.
In the pop-up dialog that appears, select the form you want to insert.
Displaying user forms when using Layouts
When using Toolset Layouts to design your content, insert a User Form cell into your layout and select the form you just created.
Need help?
Go to the Getting Started support page, leave a comment and we will reply to you.
What's next?