Module Manager is a Toolset component that allows you to export and import Toolset elements. You will be able to reuse your work on different sites and also download ready-to-use modules from the Toolset Modules Library.
Module Manager is a great tool when you have some site features you want to re-use on multiple sites. For example, you might have created a custom Views Slider on one site and you want to use this same feature on another site. There is no need for you to recreate it from scratch. Simply create a module on one site and import it to another site.
Create your own library of building blocks
Module Manager makes it easy to move Toolset elements from one site to another (or to many other sites).
First, install the Toolset Module Manager plugin. You need to install it on the site from which you want to create the modules and on the sites where you want to import modules into.
Exporting (creating) modules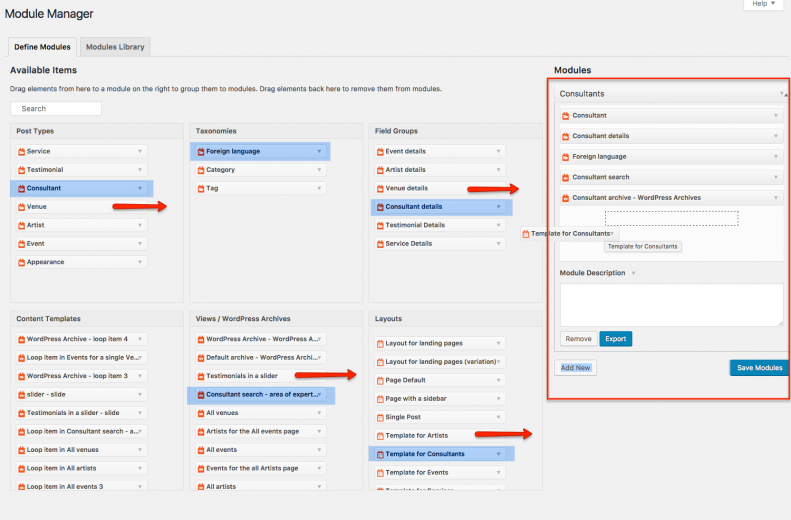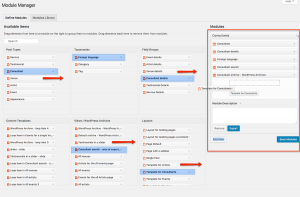 On site A:
Go to Toolset->Modules.
Click Add new to a create a module.
Select Toolset elements you want to include in the module by dragging them into the Module area.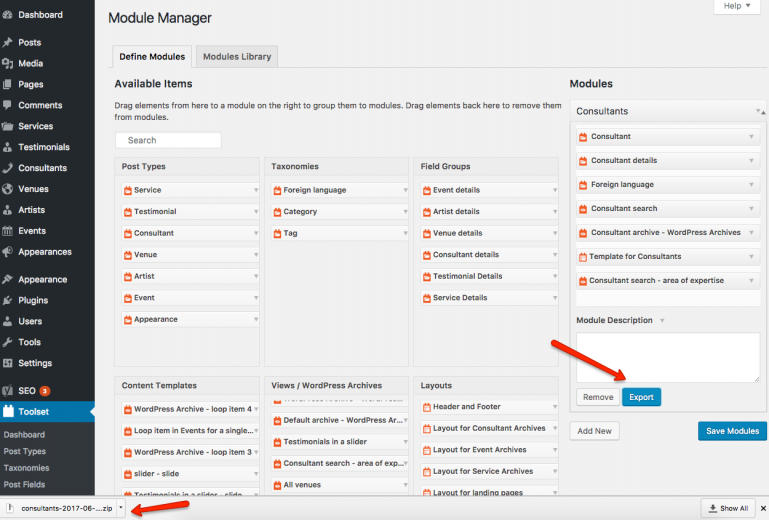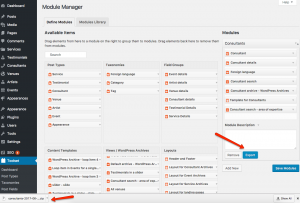 Click Export.
A zip file will be created and downloaded to your local drive.
Create as many modules as you like. Modules are simple ZIP files, which you can save anywhere (they are not saved for you in your Toolset account).
Importing modules
On site B:
Got to Toolset->Import/Export
Switch to Modules tab.
Drag and drop your zip file into the Choose file button
Click Import.
On the next screen you will see a list of Toolset elements that will be imported.
Click Import selected items.
Now, the same Toolset elements that you added to the module will appear on the site, where you've imported the module into. You can use these elements right away or edit them. When you import a module, you're creating a copy, so any edits that you make do not affect the original design.
Toolset module library
To be able to use the Module Manager Library on your site, you need to enable the allow_url_fopen option in your server's PHP configuration or contact your server administrator.
To make your development work faster, the Toolset team maintains a library of modules, which you are welcome to download and use on your own sites.
Visit Toolset Modules Library, select a category, download modules and import them to your site. Remember to install the Toolset Module Manager plugin in order to be able to import modules to your sites.
Hint: You can also browse the library directly in your WordPress site: Toolset -> Modules -> Modules Library tab.
Exporting and Importing post content
Note that you use Toolset Module Manager to move only structures, not the actual content.
For example, if you moved the Consultants Post Type using Module Manager, what you'd migrate is the definition of this Post Type.
The actual consultants (posts along with related field values and taxonomy terms) wouldn't be exported.


To move your pages and posts (including posts based on Custom Post Types) along with their content use WordPress Import/Export tools. After you are done with importing of your content visit your Post Type. You should see your posts now along with all related fields and taxonomy terms.